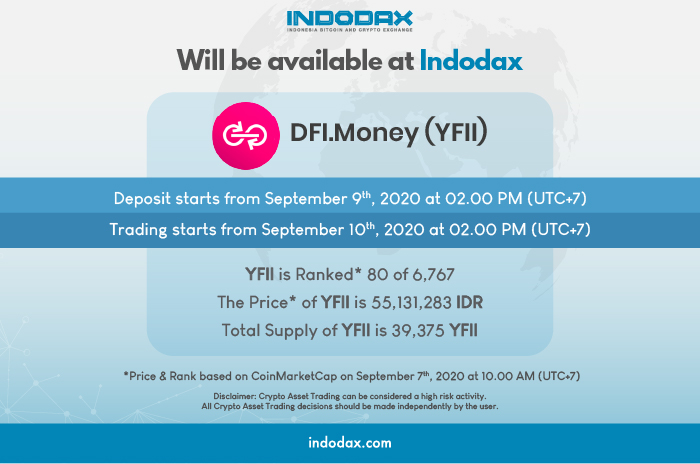 [For English Version See Below]
Halo Member Indodax,
Dengan senang hati kami mengumumkan aset kripto baru yang akan ditambahkan ke marketplace Indodax yaitu DFI.Money (YFII). Deposit YFII dimulai hari Rabu, 9 September 2020 jam 14:00 WIB dan trading dimulai hari Kamis, 10 September 2020 jam 14:00 WIB.
YFII merupakan Aset Kripto pilihan manajemen Indodax yang telah melalui tahap Due Diligence. Untuk informasi hasil Due Diligence YFII dapat diakses melalui link berikut.
Tentang YFII
DFI.Money, sebelumnya dikenal sebagai YFII Finance, adalah platform DeFi milik komunitas yang bertujuan untuk memungkinkan pengguna menentukan produk apa yang mereka inginkan dan mendapatkan hadiah. Platform mereka berfokus pada pembuatan produk untuk perdagangan DeFi seperti penyediaan likuiditas agregat, perdagangan leverage, dan pembuatan pemasaran otomatis. YFII berada di peringkat 80* dari 6767 aset kripto dengan harga Rp.55,131,283,-. Total supplynya adalah 39,375 YFII.
Untuk informasi lebih lengkap mengenai YFII, silakan kunjungi link berikut.
*Harga dan peringkat berdasarkan Coinmarketcap.com pada 7 September 2020 pukul 10.00 WIB.
Apabila Anda memiliki pertanyaan lebih lanjut, silakan hubungi [email protected] atau melalui Call Center kami 021-50525588.
Salam,
INDODAX – Indonesia Bitcoin & Crypto Exchange
~
Hello Indodax Member,
We are pleased to announce a new Crypto Asset that will be added to the Indodax marketplace, DFI.Money (YFII). YFII deposits start on Wednesday, September 9, 2020, at 02:00 PM and trading starts on Thursday, September 10, 2020, at 02:00 PM.
YFII is Crypto Asset that has passed the Due Diligence process and will be listed based on indodax management choice. For more information on the results of Due Diligence, can be accessed via the following link.
About YFII
DFI.Money, previously known as YFII Finance, is a community-owned DeFi platform that aims to enable users to determine what products they want and earn rewards. Their platform focuses on building products for DeFi trading like aggregated liquidity provision, leveraged trading, and automated marketing making. YFII is ranked 80th* out of 6767 crypto assets at a price of Rp.55,131,283-. The Total supply is 39,375 YFII.
For more complete information about YFII, please visit the following link.
*Prices and rankings are based on Coinmarketcap.com on September 7, 2020, at 10.00 AM.
For further questions, please contact [email protected] or through our Call Center 021-50525588.
Regards,
INDODAX – Indonesia Bitcoin & Crypto Exchange