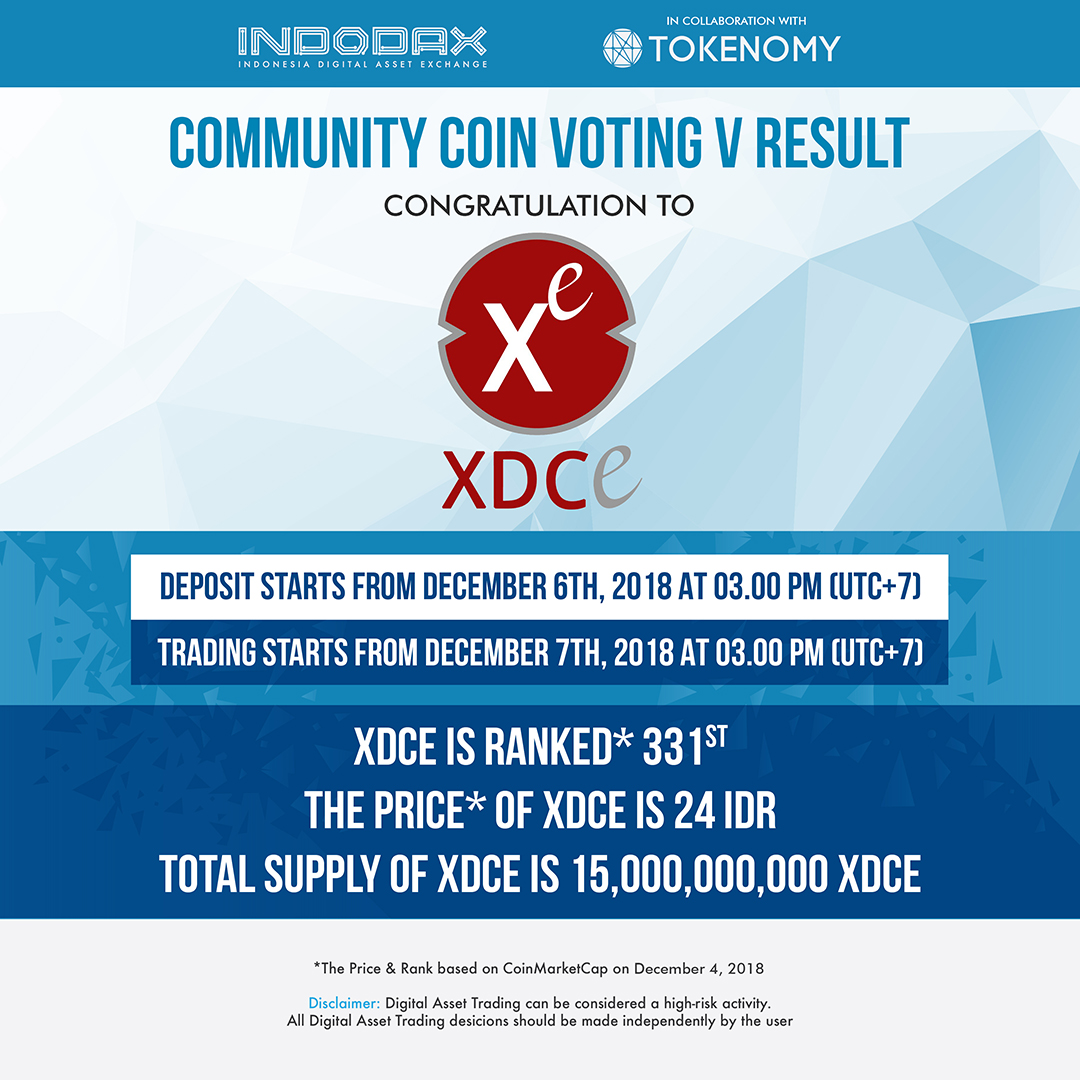 For English Version See Below
Halo Member Indodax,
Indodax telah menyelesaikan proses Due Dilligence dan integrasi XDCE. Terima kasih atas partisipasi Anda pada Community Coin Voting V lalu. Deposit XDCE akan dimulai pada tanggal 6 Desember 2018 pukul 15.00 WIB dan dapat ditradingkan pada tanggal 7 Desember 2018 pukul 15.00 WIB.
XDCE adalah token ERC20, memiliki beragam manfaat bagi pedagang, investor swasta, dan mitra tingkat kelembagaan. Token XDCE sebagian besar akan diperuntukkan bagi para pedagang untuk bersaing dengan token ERC20 lainnya di seluruh exchanger sehingga XinFin menjadi lebih serbaguna di pasar aset digital terbuka dan dapat ditukarkan dengan token XDC standar. Saat ini XDCE menempati peringkat ke 331* dari 2076 aset digital dengan harga Rp 24,76* berdasarkan Coinmarketcap dengan supply total 15,000,000,000 XDCE.
Informasi lebih lanjut mengenai CCV silakan kunjungi halaman berikut.
*Per 4 Desember 2018
Salam,
Indodax
Hello Indodax Member,
Indodax has finished Due Dilligence on XDCE and is ready to trade. Thank you for your participation in Community Coin Voting periode V. XDCE deposit will start on 6 December 2018 at 03.00 PM (UTC+7) and trading will start on 7 December 2018 at 03.00 PM (UTC+7).
XDCE is an ERC20 token, has a wide array of benefits for traders, private investors and institutional level partners. The XDCE token will largely be for traders to compete against other ERC20 tokens across exchange boards making XinFin's reach more versatile in the open Crypto Market and can be swapped with the standard XDC token.In Coinmarketcap, XDCE ranked 331st* from 2076 digital assets and the price is 24 IDR* with total supply 15.000.000.000 XDCE.
More information about CCV please visit this link.
*Per 4 December 2018
Regards,
Indodax