Vexanium dan The Abyss Hadir di Indodax.com!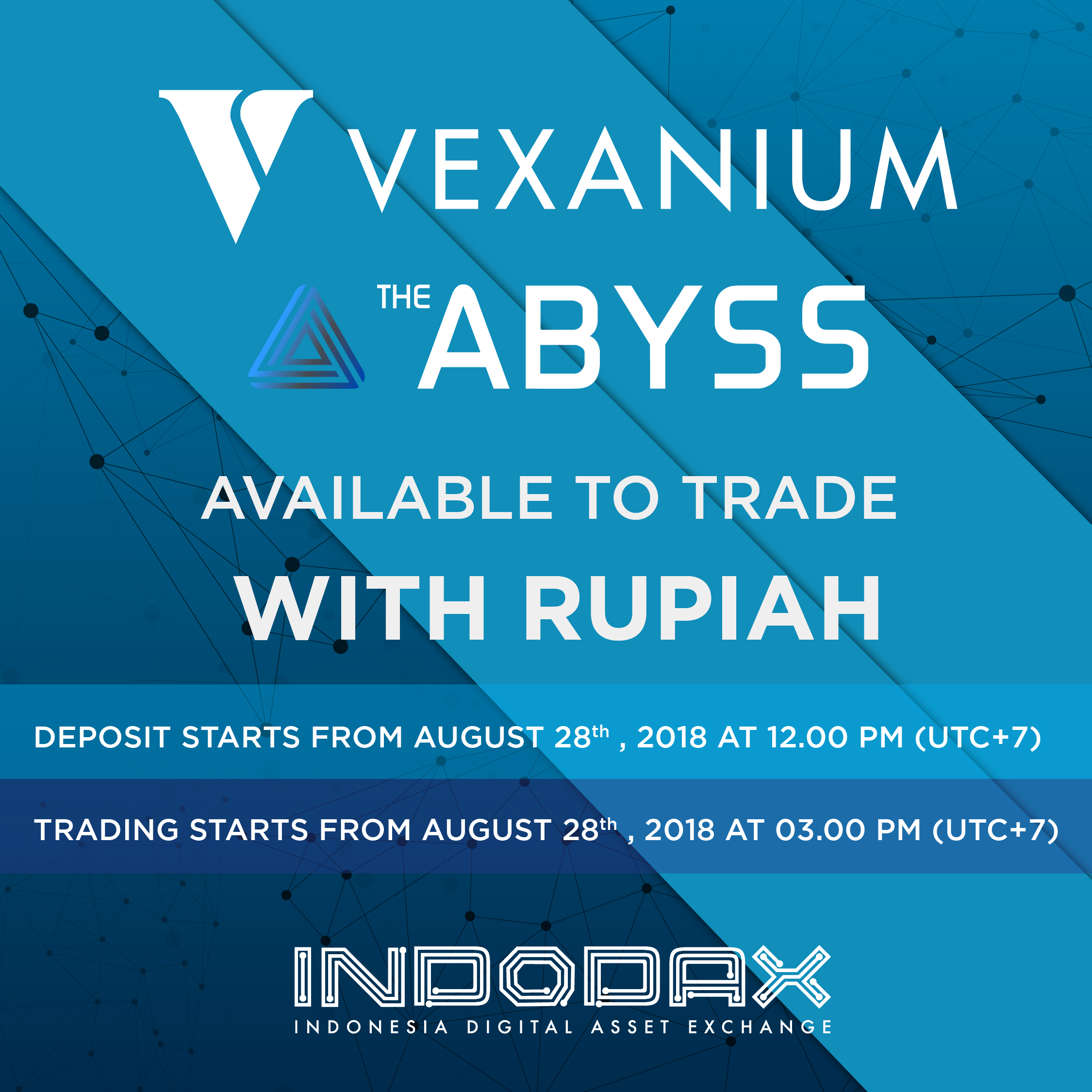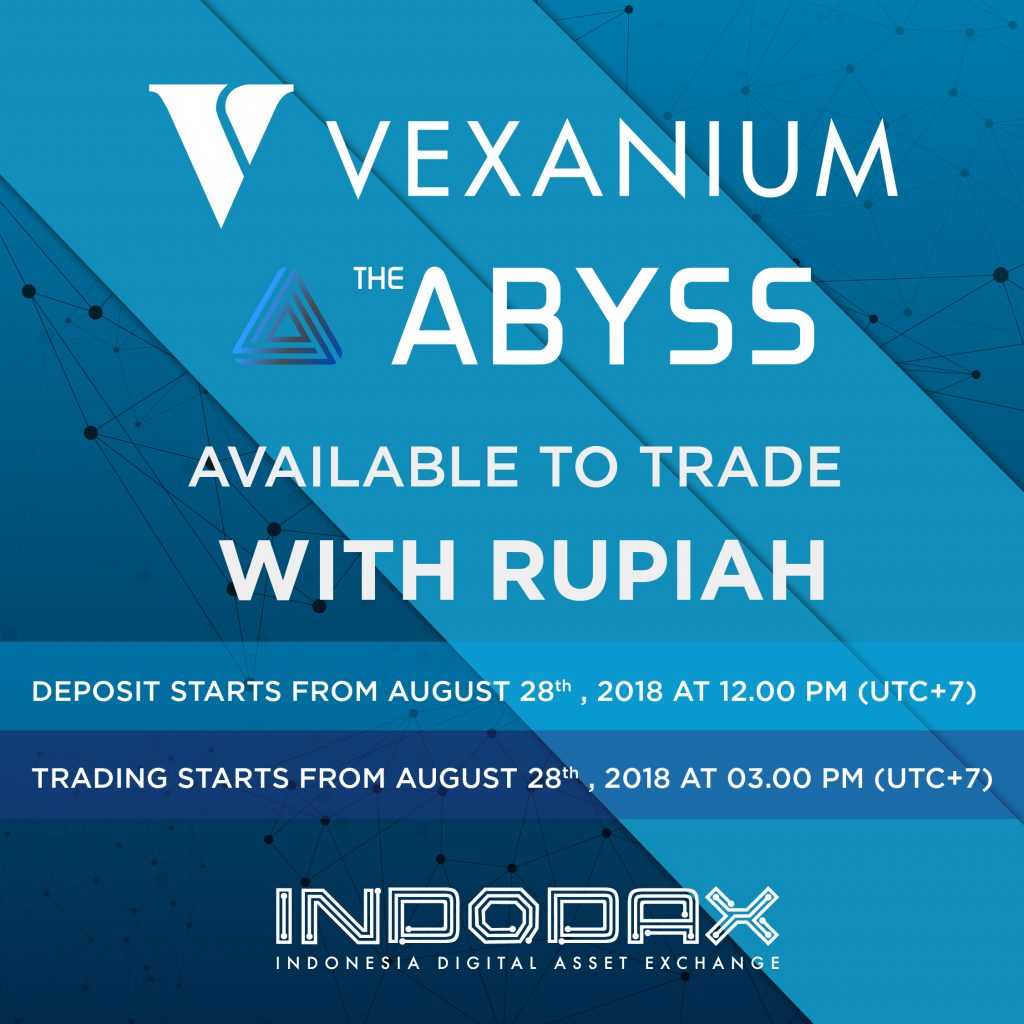 For English version see below
Halo Member Indodax,
Tim kami telah menyelesaikan integrasi dengan Vexanium dan The Abyss yang merupakan pemenang Community Coin Voting periode ketiga. Kedua aset digital ini sudah bisa didepositkan mulai 28 Agustus 2018 mulai pukul 12.00 WIB dan bisa ditradingkan dengan Rupiah pada mulai pukul 15.00 WIB.
Sebagai informasi singkat, Vexanium merupakan platform yang dibangun secara desentralisasi untuk ditujukan pada produk voucher dan airdrop bagi retailer. Vexanium adalah platform yang menyediakan produk voucher, serta penyedia airdrop menggunakan teknologi blockchain bagi perusahaan-perusahaan besar yang bergerak di bidang digital dan mulai melirik teknologi blockchain. Vexanium berada di ranking 1428 di coinmarketcap.com.
Sementara itu, The Abyss adalah platform distribusi digital generasi berikutnya, yang menyediakan semua jenis permainan video (Free2play MMOs dan cryptogames menjadi prioritas utama), termasuk AAA-title, ke komunitas game global yang berkembang pesat. Tidak seperti platform lain (Steam, Origin, GOG, dll.), The Abyss menawarkan sistem motivasi dan rujukan yang inovatif, yang memungkinkan para gamer untuk mendapatkan penghasilan dari dalam game dan kegiatan sosial, serta pembayaran pemain lainnya. The Abyss berada di rank 475 di coinmarketcap.com.
Hubungi [email protected] bila Anda memiliki pertanyaan.
Salam,
INDODAX – Indonesia Digital Asset Exchange
Hello Indodax Member,
Our team has completed marketplace integration with Vexanium and The Abyss, which is the winners of Community Coin Voting period 3. Members can start to deposit these two coins starting August 28th, 2018 at 12.00 PM (UTC+7) and can be traded with Rupiah starting at 03.00 PM (UTC+7).
Just a little information, Vexanium is a decentralized platform that is build for product vouchers and airdrop using blockchain technology towards retailer. As platform, Vexanium provides product vouchers and airdrop for digital companies that's looking to grow using blockchain. Vexanium is currently ranks 1428 in coinmarketcap.com.
Meanwhile, The Abyss is the next generation digital platform that provides all sorts of video games (Free2play MMOs and cryptogames is the main priority), including AAA-title, to the growing global game community. Unlike other platforms, (Steam, Origin, GOG, etc.), The Abyss offers a groundbreaking motivational and multilevel referral system, allowing gamers to earn from in-game and social activities, and other gamers' payments as well. The Abyss currently ranks 475 in coinmarketcap.com.
Regards,
INDODAX – Indonesia Digital Asset Exchange