USDT dan ONT Kini Hadir di Indodax.com!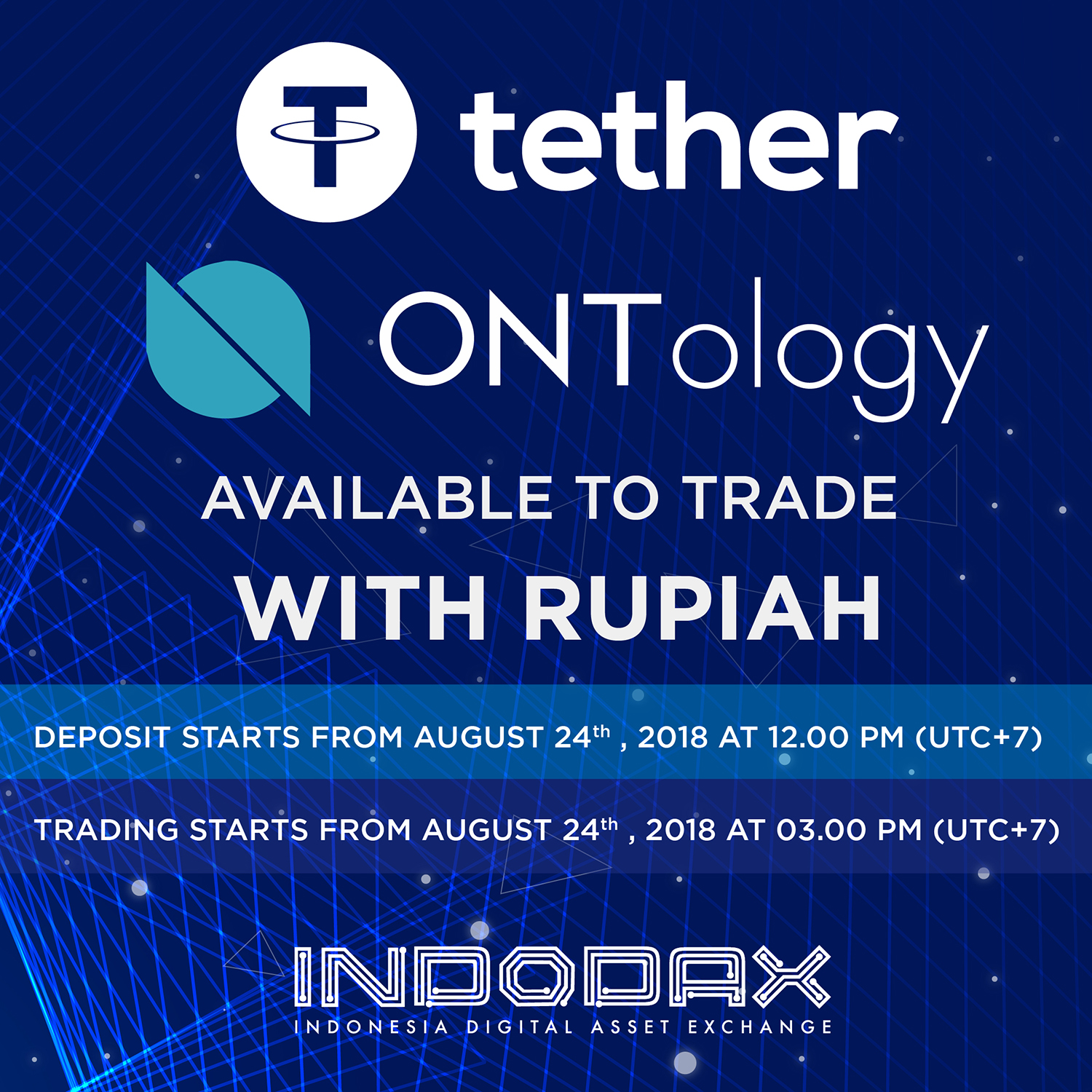 For English version see below
Halo Member Indodax,
Sesuai komitmen kami untuk selalu menghadirkan aset digital berkualitas baru di marketplace kami, dengan press release ini kami umumkan bahwa ONT (Ontology) dan USDT (Tether) sudah mulai bisa didepositkan mulai tanggal 24 Agustus 2018 pukul 12.00 WIB dan bisa ditradingkan pada hari yang sama mulai pukul 15.00 WIB. Dua aset digital ini merupakan pilihan dari management internal INDODAX.
ONT (Ontology) berada pada peringkat ke 25 di coinmarketcap adalah proyek publik  blockchain baru dimana termasuk didalamnya distribusi lengkap dari buku besar dan sistem smart contract. Jumlah total supply ONT adalah 1.000.000.000 ONT. Selengkapnya mengengai ONT bisa dilihat di link berikut ini.
Sedangkan USDT (Tether) yang berada pada peringkat 8 di coinmarketcap adalah token digital yang menyediakan metode desentralisasi untuk individu maupun organisasi menggunakan unit akuntansi. USDT menggunakan blockchain Bitcoin untuk memastikan token yang dikeluarkan sepenuhnya aman. Total supply USDT adalah 3,080,109,502 USDT. Untuk informasi selengkapnya mengenai USDT bisa dilihat di website ini.
Jika Anda mempunyai pertanyaan lebih lanjut, silakan hubungi kami di [email protected].
Salam,
INDODAX – Indonesia Digital Asset Exchange
Hello Indodax Member,
As our commitment to provide good quality digital assets in our marketpace, with this press release, we gladly inform that you may start deposit ONT (Ontology) and USDT (Tether) on 24th of August 2018 at 12.00 PM (UTC+7) and can be traded at the same day starting 03.00 PM (UTC+7). We decide to list these two digital assets based on our internal consideration.
ONT (Ontology) is ranked 25th in coinmarketcap. This is a new high-performance public blockchain project & a distributed trust collaboration platform that provides new high-performance public blockchains that include a series of complete distributed ledgers and smart contract systems. Total supply ONT is 1.000.000.000 ONT. You can read more about ONT on this link.
USDT (Tether) is ranked 8th on coinmarketcap. USDT is a digital token backed by fiat currency provides individuals and organizations with a robust and decentralized method of exchanging value while using a familiar accounting unit. USDT use the Bitcoin blockchain to prove that issued tokens are fully backed and reserved at all times. Total USDT supply is 3,080,109,502 USDT. More information about USDT, visit this link.
If you have any question, please contact us to [email protected]
Regards,
INDODAX – Indonesia Digital Asset Exchange