Win Umrah Tour and Gold on CCV 7!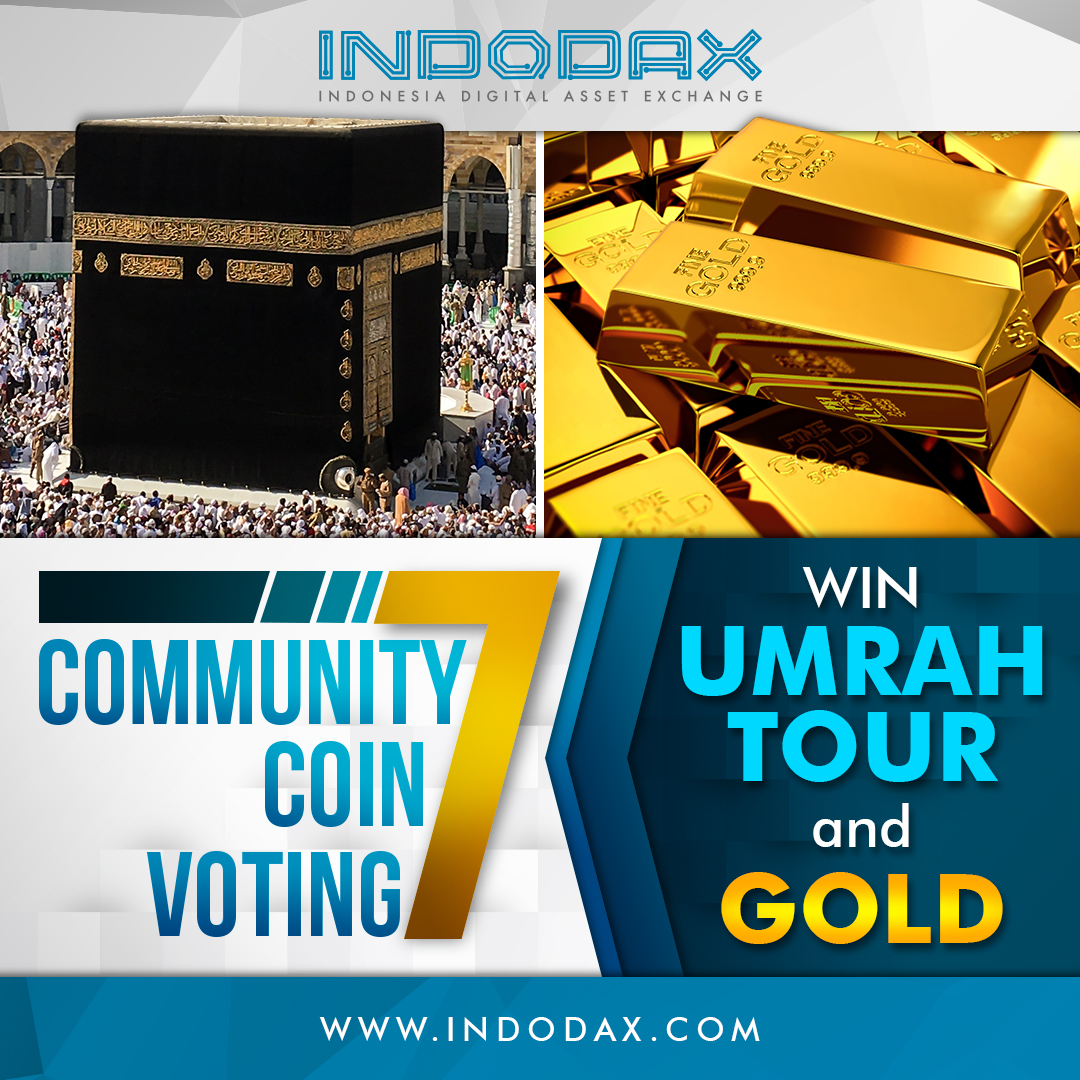 For English Version See Below
Halo Member Indodax,
Raih kesempatan berangkat Umroh gratis dari Indodax dan Logam Mulia Emas hanya dengan cara vote coin favoritmu pada Community Coin Voting 7.
Seluruh Member Indodax yang telah melakukan verifikasi akun dapat mengikuti periode voting hanya dengan menggunakan 0,1 TEN.
Kategori Hadiah:
1 Paket Umroh (Hadiah Umroh dapat ditukar dengan paket tour bagi pemenang Non-Muslim)
3 Logam Mulia @5gr untuk 3 pemenang
Syarat dan ketentuan:
Pemenang merupakan member INDODAX yang sudah terverifikasi
Pemenang mengikuti voting di dalam Community Coin Voting 7
Pemenang akan dipilih secara acak oleh sistem
Pemenang akan diumumkan 1 minggu setelah pemenang Community Coin Voting 7 diumumkan
Hadiah Paket Umroh tidak dapat ditukar menjadi paket Tour (kecuali bagi Non-Muslim)
Pemenang paket umroh menentukan jadwal pemberangkatan yang telah disediakan oleh Indodax, 5 April 2019 atau 27 April 2019 atau tanggal lain yang ditentukan oleh Indodax
Pemenang paket tour wajib menginformasikan tanggal penerbangan kepada Indodax minimal 2 bulan sebelum tanggal penerbangan, paling lambat sebelum 1 Mei 2019
Hadiah paket tour hanya berlaku untuk jadwal keberangkatan dari tanggal 1 April 2019–1 Januari 2020
Hadiah paket umroh maupun liburan dapat di alihkan kepada keluarga dalam satu Kartu Keluarga
Setelah paket tour sudah dipesan, tidak dapat dijadwal ulang
Hadiah tidak dapat diuangkan
Hadiah tidak termasuk Visa
Seluruh hadiah akan hangus apabila tidak memenuhi syarat dan ketentuan
Indodax dapat mengubah syarat & ketentuan tanpa pemberitahuan sebelumnya
Indodax tidak memungut biaya apapun kepada pemenang
Keputusan Indodax bersifat mutlak dan tidak dapat diganggu gugat.
Cara Voting:
Login pada akun Indodax Anda
Pilih menu Community Coin Voting
Klik Vote pada Coin Favoritmu
Masukan jumlah vote yang diinginkan
Klik Vote
Semoga beruntung!
Salam,

Indodax
~
Hello Indodax Member,
Win free umrah from Indodax and gold by simply voting your favorite coin on Community Coin Voting 7.
All verified members can join the voting period with just 0,1 TEN.
Prize Categories:
1 Umrah package (Umrah package can be exchanged with tour package for Non Muslim winner)
3 Gold @5gr for 3 winners
Terms and Conditions:
Winners are verified Indodax members
Winners participate in the Community Coin Voting 7
Winners will be chosen randomly by the system
Winners will be announced 1 week after the winner of Community Coin Voting 7 is announced
Umrah package can not be exchanged with tour package (except for Non Muslim)
Umrah package winner must choose between departure dates provide by Indodax, 5 April 2019, 27 April 2019 or other dates chosen by Indodax
Tour package winner must inform Indodax flight date at least 2 months before the flight, no later than 1 May 2019
Tour package prize only valid for flight from 1 April 2019 – 1 January 2020
Umrah package or tour package can be transferred to family in one family card
Once the flight tickets have been booked, it cannot be rescheduled
Airplane ticket prizes cannot be cashed
Visa is not include
All prizes will be cancelled if winners do not meet terms and conditions
Indodax may change terms and conditions without prior notice
Indodax do not charge any fees to the winners
Indodax decisions are absolute and cannot be contested
How to vote digital asset:
Login to your Indodax account
Choose Community Coin Voting
Choose your favorite coin and click Vote
Enter number of votes
Click vote
Good luck!
Regards,

Indodax