Total Hadiah 25.000 TEN Untuk 2.050 Pemenang!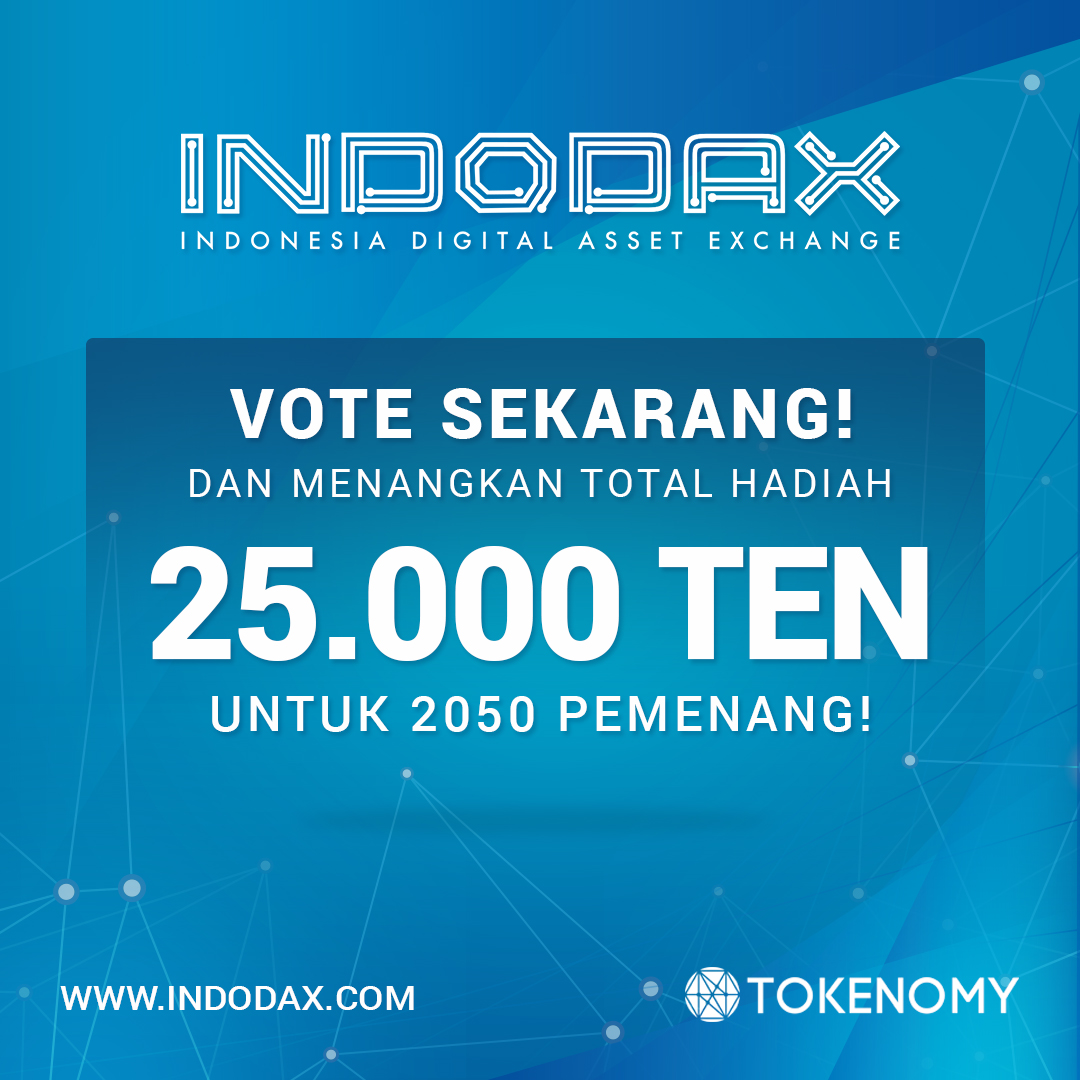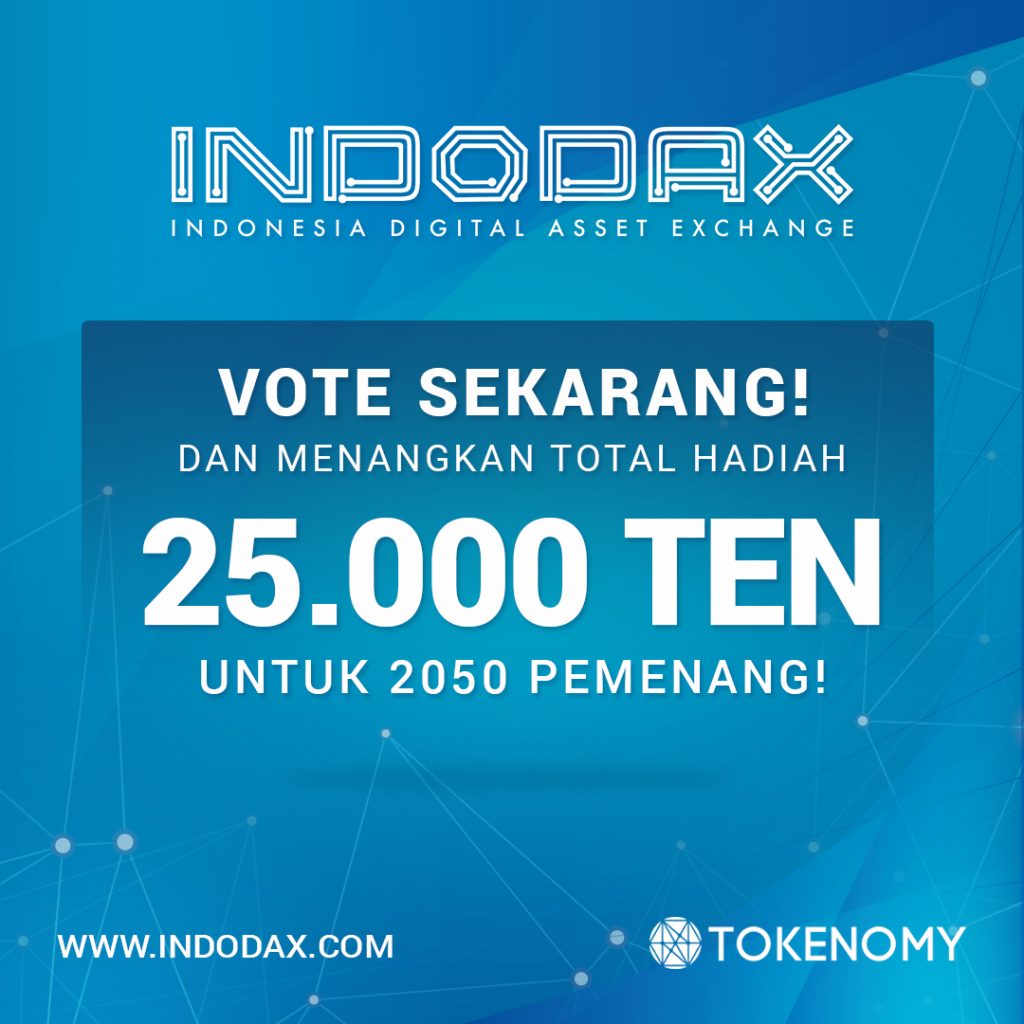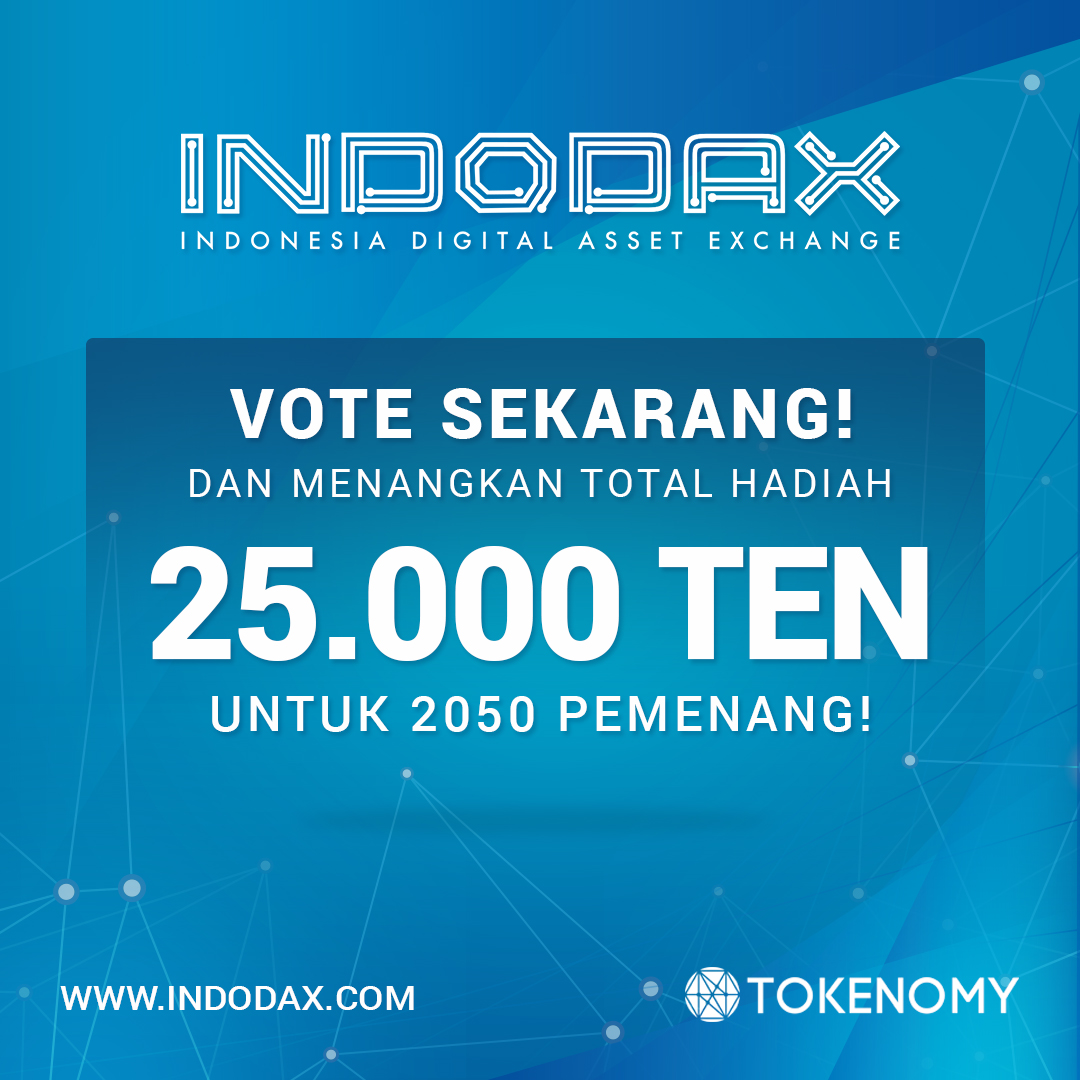 For English and Mandarin version see below
Halo member Indodax,
Community Coin Voting periode IV sedang berlangsung. Anda memiliki kesempatan untuk mendapatkan total hadiah 25.000 TEN yang akan dibagikan kepada para member yang ikut memilih di Community Coin Voting periode ini.
Cara voting Coin:
1. Login pada akun Indodax Anda
2. Pilih menu Community Coin Voting
3. Klik Vote pada Coin Favoritmu
4. Masukan jumlah vote yang diinginkan
5. Klik Vote
Syarat dan ketentuan:
1. Pemenang merupakan member INDODAX yang sudah terverifikasi.
2. Pemenang mengikuti voting di dalam Community Coin Voting periode IV (10 september 2018-17 september 2018).
3. Pemenang akan dipilih secara acak oleh sistem.
4. Hadiah:
– 100 TEN masing-masing untuk 50 orang pemenang.
– 10 TEN masing-masing untuk 2000 orang pemenang.
5. Pemenang akan diumumkan 1 minggu setelah pemenang Community Coin Voting periode IV diumumkan.
6. Hadiah akan dibagikan 1 hari setelah pengumuman pemenang diumumkan.
7. Keputusan manajemen bersifat mutlak dan tidak dapat diganggu gugat.
Peraturan Community Coin Voting IV sama dengan periode sebelumnya, di mana setiap member dapat berpartisipasi dengan menukarkan 0.1 TEN per suara. Untuk keterangan lebih lengkap bisa didapatkan di link berikut ini.
Salam,
INDODAX – Indonesia Digital Asset Exchange
Hello Indodax member,
Community Coin Voting period IV is ongoing. You have the opportunity to get a total of 25,000 TEN prizes that will be distributed to the members, who participate in this Community Coin Voting period IV.
How to Vote:
1. Login to your Indodax account
2. Choose Community Coin Voting
3. Choose your favorite coin and click Vote
4. Enter the desired number of votes
5. Click vote
Terms and Conditions:
1. Winner is a verified member of INDODAX.
2. Winners are members who participate in the Community Coin Voting IV (10 September 2018-17 September 2018).
3. Winners will be randomly selected by the system.
4. Rewards:
– 100 TEN each for 50 winners.
– 10 TEN each for 2000 winners.
5. Winners will be announced 1 week after the winner of the Community Coin Voting IV is announced.
6. Prizes will be distributed 1 day after the announcement of the winner is announced.
7. Management's decision is absolute.
The Community Coin Voting IV rule is same as previous Community Coin Voting, members can participate by exchanging 0.1 TEN per vote. For more details please visit this link.
Regards,
INDODAX – Indonesia Digital Asset Exchange
Indodax 用户:
社区货币投票已经成功的经历了前面3个阶段,为遵守我们的承诺,现在我们正准备第四阶段的投票。
为了答谢第四阶段的社区货币投票的参与者,我们总共发布25.000 TEN(十全币)分发给所有参与者作为奖
励。
怎样投票:
1. 登陆 您的 Indodax账户;
2. 选择 社区货币 投票;
3. 选择您最喜欢的货币点击投票;
4. 输入希望的投票数;
5. 点击投票。
规则与条件:
1. 获胜者必须是 INDODAX 认证用户;
2. 获胜者必须是参与了社区货币投票的第四阶( 2018年9月10日至2018年9月17日);
3. 获胜者是系统随机筛选的;
4. 奖励:
100TEN (十全币)有 50人;
10 TEN (十全币)有 2000人;
5. 获胜者将会在社区货币投票第四阶段公布后的一个星期通知;
6. 奖励会在被通知后的一个工作日发放;
7. 以上规则是管理层经研究慎重决定,不可变更。
第四阶段的社区货币投票与前面的参与规则一样,参与者每票可换取0.1TEN (十全币)。
更多详情可访问网站: https://help.indodax.com/community-coin-voting/
谢谢
INDODAX –印度尼西亚数字资产交易所。