Selamat untuk GSC dan Sumokoin!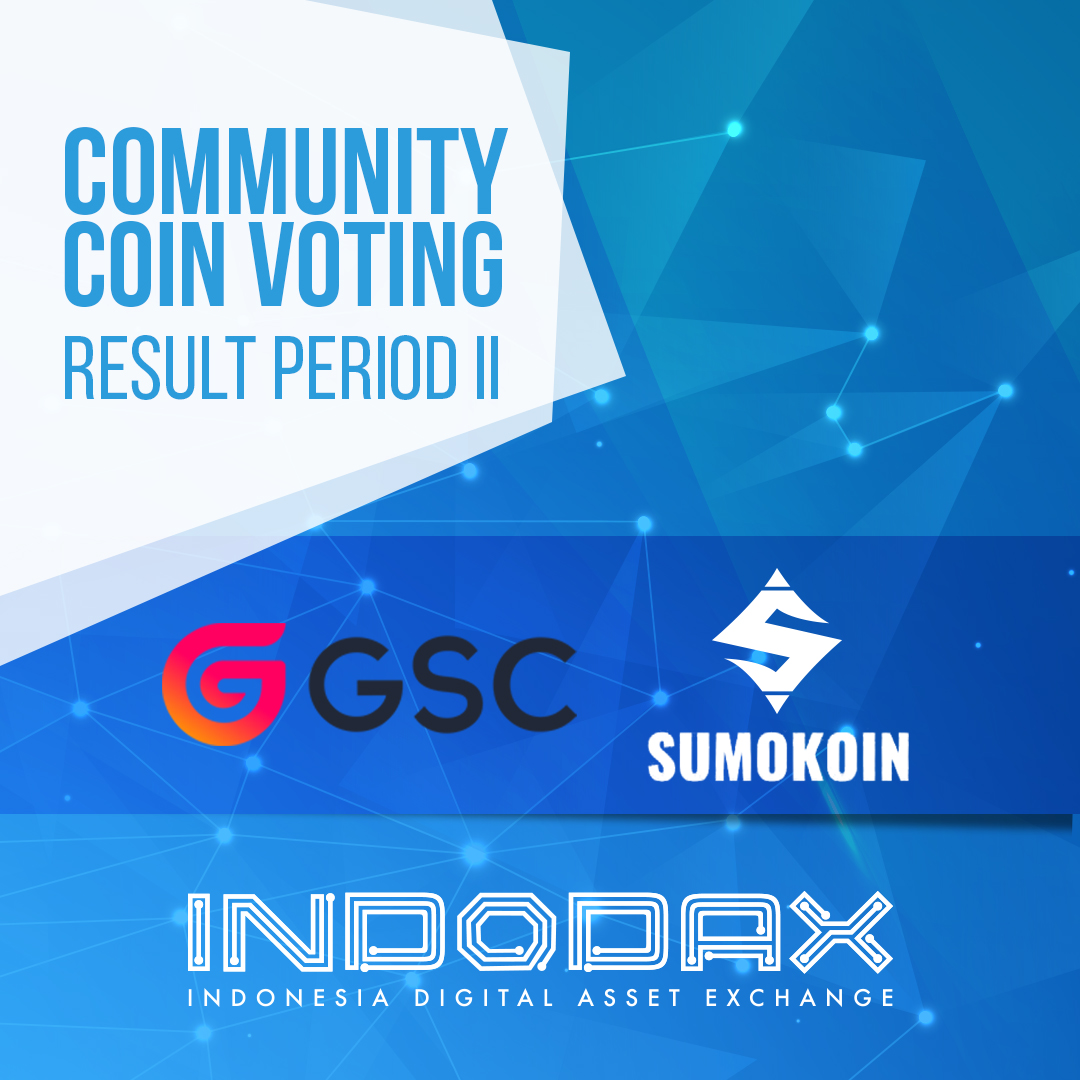 Halo Member Indodax,
Terima kasih atas partisipasi Anda dalam Community Coin Voting periode 2. Pemenang pada periode 2 ini adalah GSC (Global Sosial Chain) dan Sumokoin.
Global Social Chain adalah media sosial terdesentralisasi dimana merupakan generasi jaringan jejaring social pertama di dunia yang memiliki ratusan juta pengguna dengan system terdesentralisasi. GSC memiliki tujuan untuk menggunakan teknologi Blockchain dan menggantikan sistem jejaring media sosial yang bersifat terpusat atau centralized seperti Facebook, Wechat, dan lain sebagainya dimana pada sistem tersebut administrator memainkan peranan ganda yakni sebagai "Manajer" dan "Arbiter" secara bersamaan menjadi peer to peer dimana tidak ada lagi satu organisasi terpusat yang mempunyai control atas keseluruhan sistemnya. Baca di website berikut ini untuk selengkapnya.
Sumokoin, merupakan salah satu Aset Digital yang dikenal memiliki fitur yang menyediakan keamanan, privacy dengan tingkatan yang lebih tinggi, dan perkembangan yang aktif. Sumokoin diciptakan dengan visi jangka panjang. Memiliki fungsi hampir sama dengan bitcoin, namun Sumokoin memiliki tingkatan keamanan yang sangat tinggi sehingga sangat cocok untuk semua transaksi data rahasia yang memiliki nilai di dalamnya tanpa dapat dilacak, diawasi, ataupun diidentifikasi oleh pihak ketiga. Dalam jangka panjang, karakteristik dari crypto ini dapat digunakan untuk menghindari retasan dari pihak ketiga. Selengkapnya silakan dibaca di link berikut ini.
*GSC dan Sumokoin akan ditambahkan ke indodax.com untuk diperjualbelikan dengan Rupiah dalam jangka waktu 1-30 hari.
Salam,
INDODAX – Indonesia Digital Asset Exchange
Hello Indodax Member,
Thank you for your participation in the 2nd Community Coin Voting period. The winners in this 2nd period are GSC (Global Social Chain) and Sumokoin.
Global Social Chain is a decentralized social media which is the first generation of social network in the world that has hundreds of millions of users with decentralized system. GSC has aims to use Blockchain technology and replace centralized social media networking systems such as Facebook, Wechat and etc, where administrators play multiple roles as "Managers" and "Arbiter" simultaneously into peer to peers network where there is no longer a centralized organization that has control over the whole system. Read at https://www.gsc.social/ for the blank
Sumokoin, is one of the Digital Assets known to have features that provide security, privacy with higher levels, and active development. Sumokoin is created with long-term vision. It has a function similar to bitcoin, but Sumokoin possesses a very high level of security so it is suitable for all confidential data transactions that have value in it without being traceable, supervised, or identified by any third party. In the long run, the characteristics of this crypto can be used to avoid retribution from third parties. Read more please visit https://www.sumokoin.org/
* GSC and Sumokoin will be added to indodax.com for reselling in Rupiah within 1-30 days.
Regards,
INDODAX – Indonesia Digital Asset Exchange