Selamat Datang Sumokoin di Indodax.com!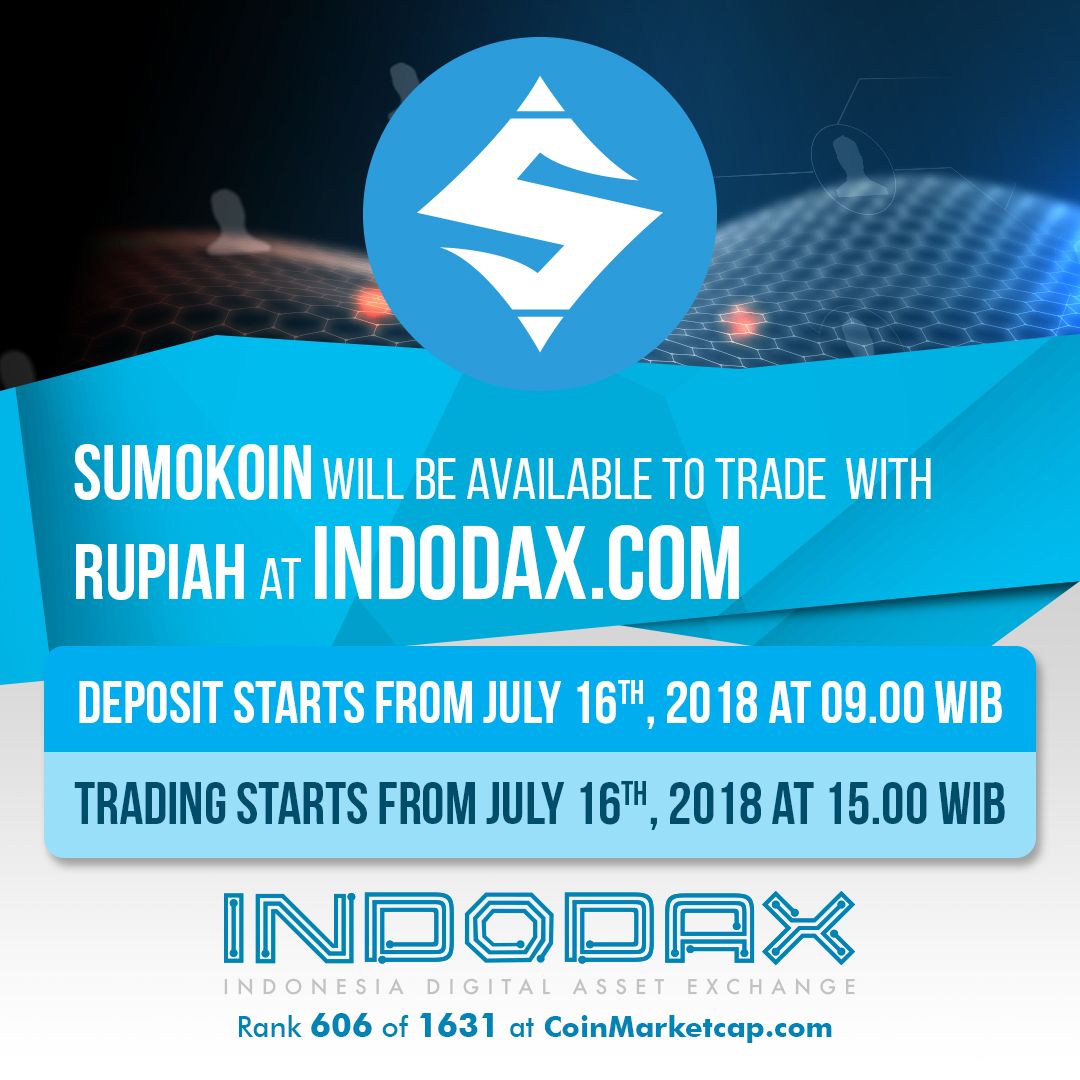 For English version see below
Halo Member Indodax,
Mainnet Sumokoin sudah selesai diintegrasikan. Maka dari itu Sumokoin pemenang Community Coin Voting periode II akan ditambahkan ke Indodax.com. Anda bisa melakukan deposit pada hari Senin, 16 Juli 2018 pukul 09.00 WIB dan bisa diperjual-belikan pada pukul 15.00 WIB.
Sumokoin, merupakan salah satu aset digital yang dikenal memiliki fitur yang menyediakan keamanan, privasi dengan tingkatan dalam jangka panjang, karakteristik dari crypto ini dapat digunakan untuk menghindari retasan dari pihak ketiga. Selengkapnya silakan dibaca di link berikut ini. Sumokoin berada di perangkat 606 dari 1631 token di Coinmarketcap.com dengan maksimum supply 88,888,888 SUMO.
Jika Anda memiliki pertanyaan, silakan hubungi [email protected]
Salam,
INDODAX – Indonesia Digital Asset Exchange
Hello Indodax Member,
Sumokoin mainnet has been successfully integrated. Therefore, Sumokin as the winner of Community Coin Voting II will be added to Indodax.com. You can make a deposit on Monday, July 16, 2018 at 09.00 am and can be traded at 15:00 pm.
Sumokoin, is one of the Digital Assets known to have features that provide security, privacy with higher levels, and active development. Sumokoin is created with long-term vision. Sumokoin possesses a very high level of security so it is suitable for all confidential data transactions that have value in it without being traceable, supervised, or identified by any third party. In the long run, the characteristics of this crypto can be used to avoid retribution from third parties. Read more please visit this link.
If you have any questions, please contact [email protected]
Regards,
INDODAX – Indonesia Digital Asset Exchange