Ravencoin Listing on Indodax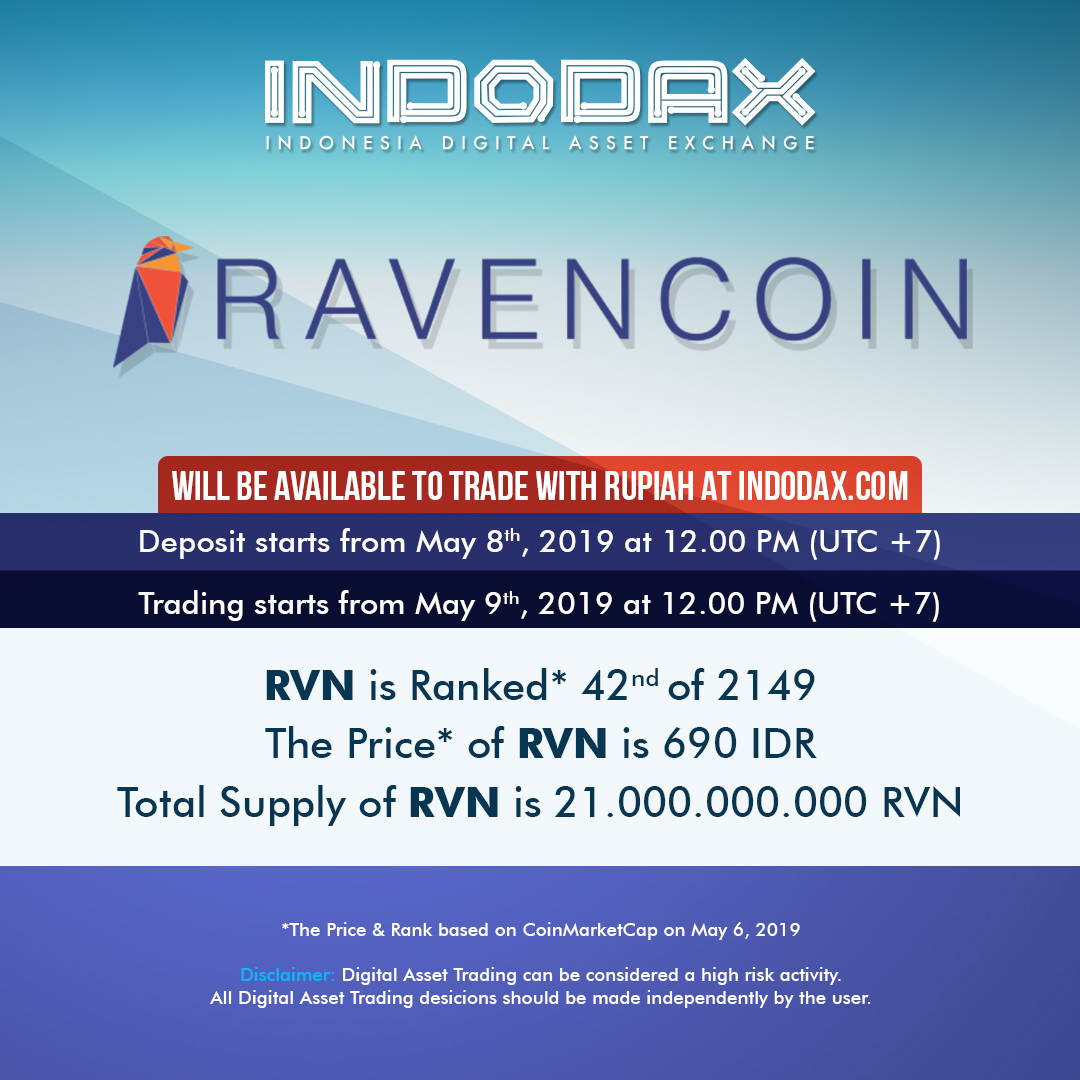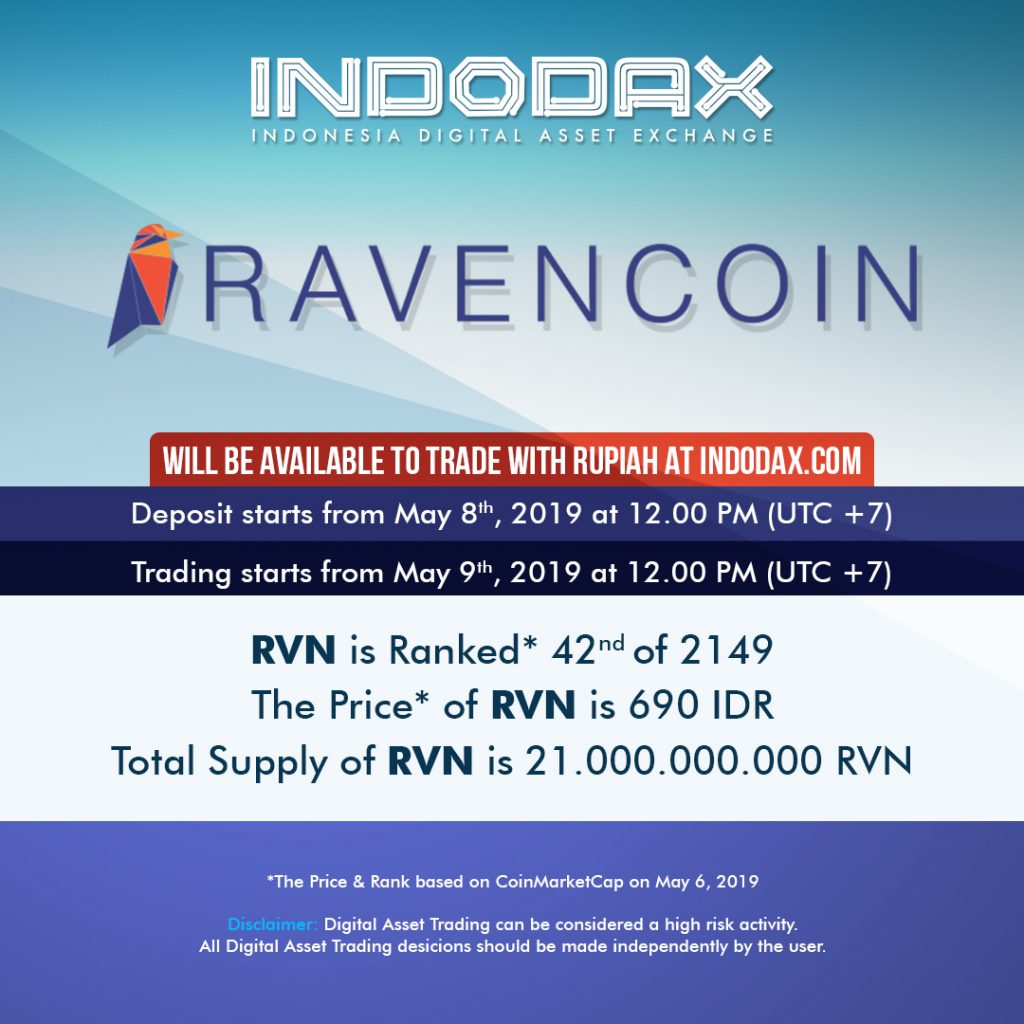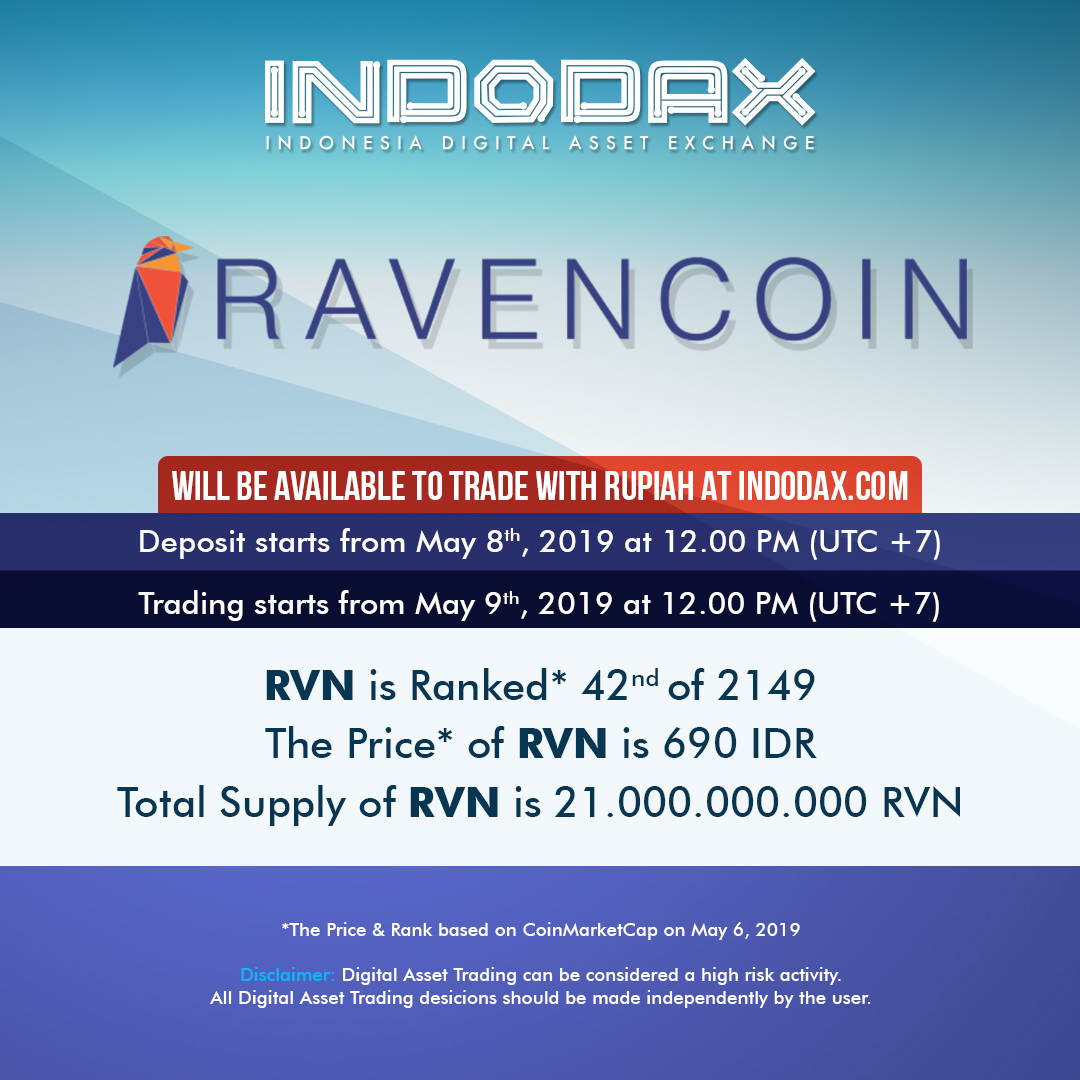 For English Version see below
Halo Member Indodax,
Dengan bangga kami mengumumkan bahwa Ravencoin (RVN) akan ditambahkan ke marketplace Indodax. Deposit RVN dimulai hari Rabu, 8 Mei 2019 pukul 12.00 WIB dan trading dimulai hari Kamis, 9 Mei 2019 pukul 12.00 WIB. RVN merupakan pilihan manajemen Indodax untuk dapat ditradingkan.
Tentang RVN
Ravencoin adalah blockchain peer-to-peer, yang menangani pembuatan dan transfer aset digital yang efisien dari satu pihak ke pihak lain. Ravencoin dibangun diatas fork kode Bitcoin. Block reward dari Ravencoin sebanyak 5.000 RVN dan block time adalah 1 menit. Ravencoin dikeluarkan dan ditambang berdasarkan metode Proof of Work (POW) menggunakan algoritma x16r. Ravencoin dimaksudkan untuk memprioritaskan keamanan, kontrol pengguna, privasi dan resistensi sensor yang dapat digunakan oleh siapapun dan memungkinkan adanya fitur tambahan sederhana untuk pengguna berdasarkan kebutuhan. Silakan kunjungi untuk info lebih lengkap mengenai RVN.
Saat ini RVN berada pada ranking 42* dari total 2149 aset digital yang terdaftar pada coinmarketcap.com. Serta kini memiliki harga Rp 690,-* dengan maksimal total supply 21.000.000.000 RVN.
*berdasarkan data tanggal 6 Mei 2019
Apabila mempunyai pertanyaan, silakan hubungi [email protected] atau melalui fitur livechat di website Indodax.com.

Salam,
Indodax
~
Hello Indodax Member,
We are excited to announce that we will list RVN with Rupiah pair in Indodax.com. Deposit starts from Wednesday, 8 May 2019 at 12.00 PM (UTC+7) and trading starts from Thursday, 9 May 2019 at 12.00 PM (UTC+7).
About RVN
Ravencoin is a peer-to-peer blockchain, handling the efficient creation and transfer of assets from one party to another. Ravencoin is built on a fork of the Bitcoin code. Key changes include a block reward time of one minute, a change in the number of coins issued. All Ravencoin (RVN) are fairly issued and mined publicly and transparently using Proof of Work (POW) using the x16r algorithm. Ravencoin is intended to prioritize security, user control, privacy, and censorship resistance. It is open to use and development in any jurisdiction, while allowing simple additional features for users based on need. Please refer to this link for more info about RVN.
RVN ranked 42nd* from total 2149 digital assets registered in coinmarketcap.com. RVN price is 690* IDR with total supply 21.000.000.000 RVN.
*based on coinmarketcap.com per 6 May 2019
If you have any question, suggestion or critic, please feel free to contact us to [email protected].
Regards,
Indodax – Indonesia Digital Asset Exchange