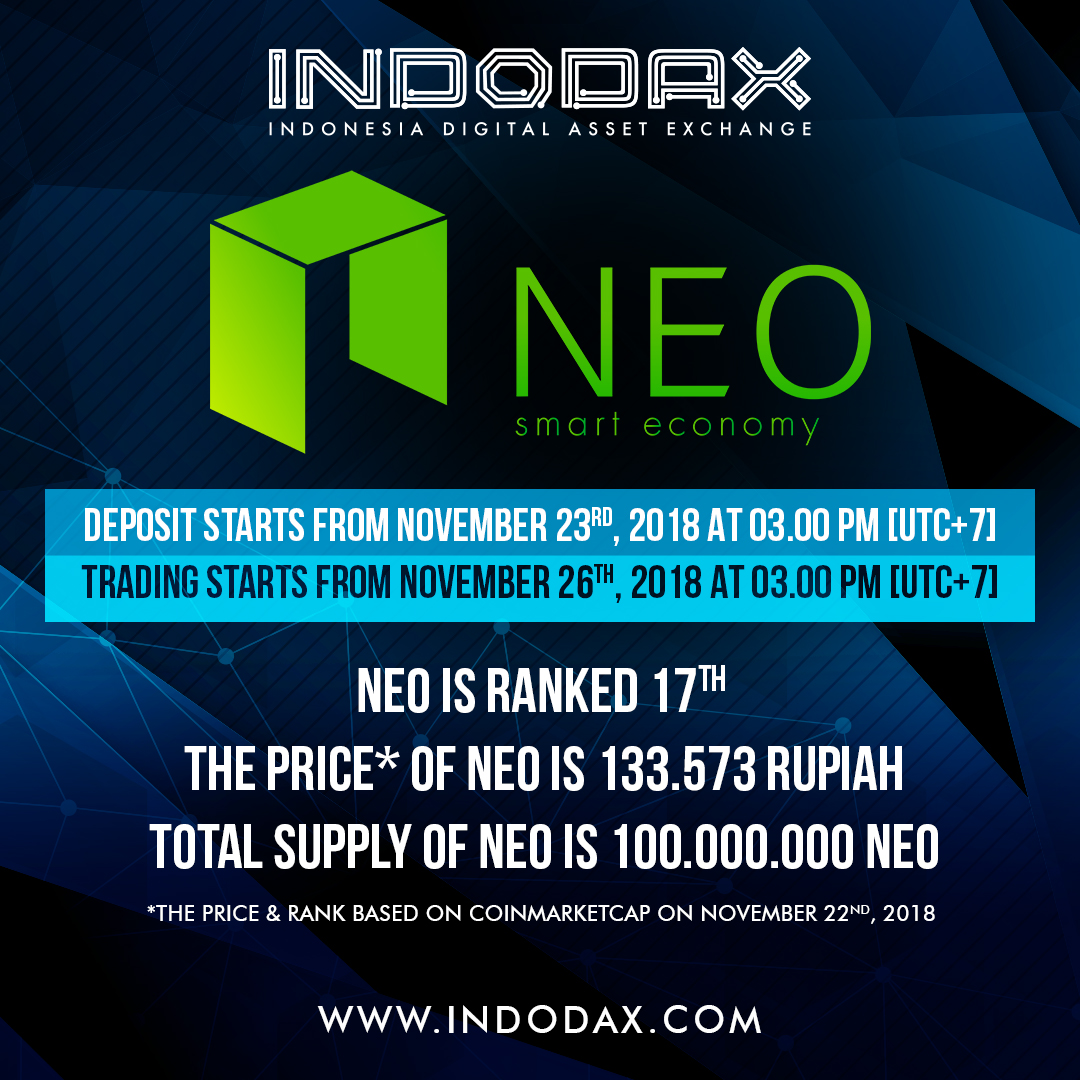 For English Version See Below
Halo Member Indodax,
Dengan senang hati kami umumkan bahwa kami akan menambahkan aset digital baru untuk dapat diperdagangkan di marketplace indodax.com yaitu NEO. Deposit NEO akan dimulai pada 23 November 2018 pukul 15.00 WIB dan trading akan dibuka pada 26 November 2018 pukul 15.00 WIB.
NEO menggunakan teknologi Blockchain dan identitas digital untuk mendigitalkan aset, penggunaan smart contract pada aset digital untuk dikelola sendiri, dengan tujuan merealisasikan "smart economy" dengan jaringan yang terdistribusi.
NEO mewakili hak untuk dapat mengelola jaringan. Hak pengelolaan tersebut termasuk voting untuk pembukuan, perubahan parameter jaringan NEO, dan lain sebagainya. Minimal unit dari NEO adalah 1 NEO dan tidak dapat dibagi lagi.
Saat ini NEO berada pada Ranking 17* dari total 2071 aset digital yang terdaftar pada coinmarketcap.com. Serta NEO kini memiliki harga Rp 133.573,-* dengan maksimal total supply 100.000.000 NEO .
NEO merupakan pilihan manajemen untuk dapat ditradingkan di Indodax.
*berdasarkan data tanggal 23 November 2018
Salam,
INDODAX – Indonesia Digital Asset Exchange
Hello Indodax Member,
We are excited to announce a new digital asset to trade in Indodax. Welcome NEO to our marketplace! You can start deposit on November 23rd, 2018 at 03.00 PM (UTC+7) and you can start trading on November 26th, 2018 at 03.00 PM (UTC+7).
NEO is the use of Blockchain technology and digital identity to digitize assets, the use of smart contracts for digital assets to be self-managed, to achieve "smart economy" with a distributed network.
NEO represents the right to manage the network. Management rights include voting for bookkeeping, NEO network parameter changes, and so on. The minimum unit of NEO is 1 and tokens cannot be subdivided.
NEO ranked is 17* from total 2071 digital assets at coinmarketcap.com and its price is 133573* IDR with total supply 100.000.000 NEO.
NEO is Indodax management choice to be traded at Indodax.com.
Regards,
INDODAX – Indonesia Digital Asset Exchange