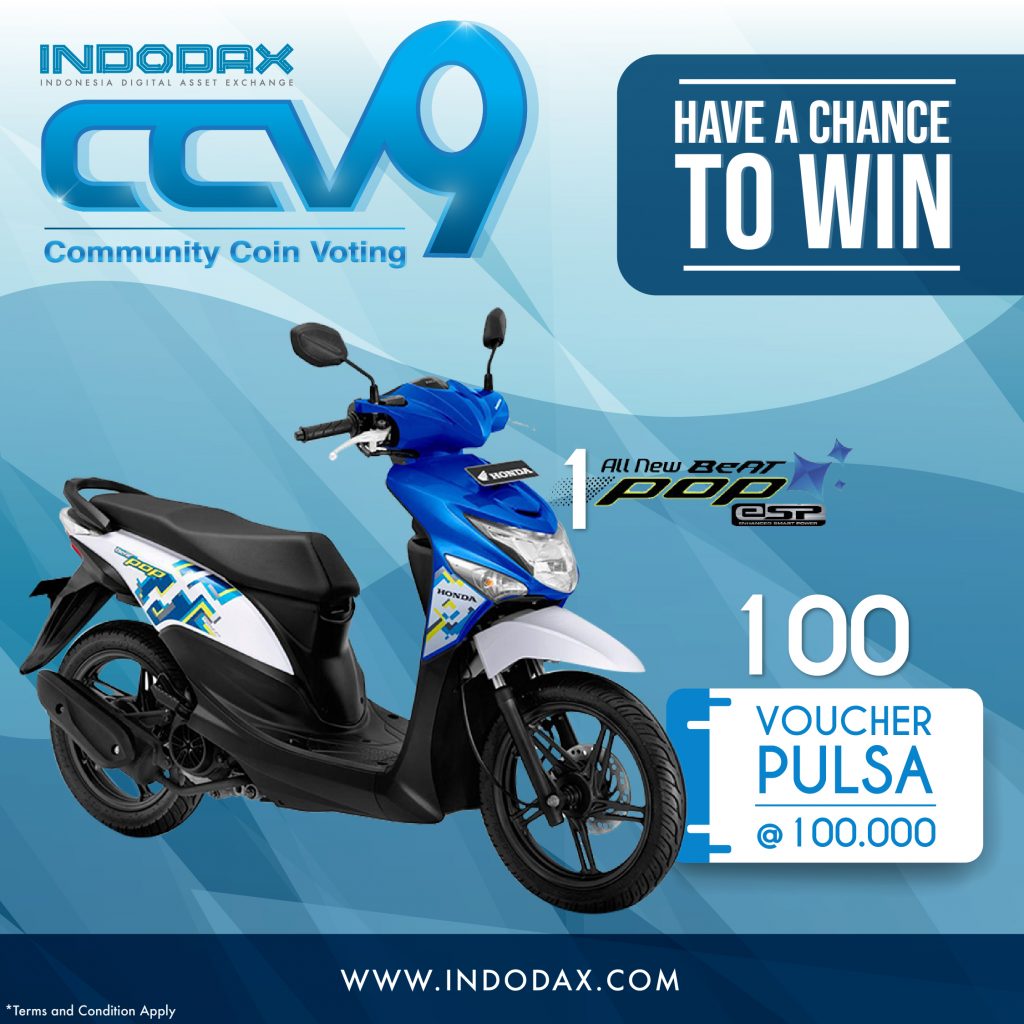 Halo Member Indodax,
Community Coin Voting 9 telah dimulai. Anda berkesempatan mendapatkan hadiah 1 Honda Beat Pop eSP dan voucher pulsa total 10juta Rupiah untuk 100 pemenang hanya dengan vote aset digital favorit Anda di Community Coin Voting 9. Seluruh member Indodax yang telah melakukan verifikasi akun dapat mengikuti periode voting hanya dengan menggunakan 0,1 TEN/vote.
Hadiah*:
– 1 Honda Beat Pop eSP
– 100 voucher pulsa masing-masing senilai 100.000 Rupiah
*Minimal vote untuk mendapatkan hadiah 1 TEN per akun
Syarat dan ketentuan:
1. Pemenang merupakan member INDODAX yang sudah terverifikasi
2. Pemenang mengikuti voting di dalam Community Coin Voting 9
3. Pemenang akan dipilih secara acak oleh sistem
4. Pemenang akan diumumkan 1 minggu setelah pemenang Community Coin Voting 9 diumumkan
5. Hadiah berupa kendaraan dibagikan dengan estimasi waktu 1 bulan (off the road)
6. Hadiah diambil oleh pemenang di Jakarta
7. Hadiah tidak dapat diuangkan
8. Indodax akan memilih warna untuk hadiah kendaraan
9. Seluruh hadiah akan hangus apabila tidak memenuhi syarat dan ketentuan
10. Indodax dapat mengubah syarat & ketentuan tanpa pemberitahuan sebelumnya
11. Hati-hati terhadap penipuan yang mengatasnamakan Indodax.
12. Keputusan Indodax bersifat mutlak dan tidak dapat diganggu gugat.
13. Karyawan Indodax tidak bisa ikut serta dalam acara ini.
Cara Voting :
1. Login pada akun Indodax Anda
2. Pilih menu Community Coin Voting
3. Klik Vote pada Coin Favoritmu
4. Masukan jumlah vote yang diinginkan
5. Klik Vote
Semoga beruntung!
Salam,
Indodax
Hello Indodax Member,
Community Coin Voting 9 has begun. You have the chance to get 1 Honda Beat Pop eSP and voucher total 10 million Rupiah for 100 winners just by voting your favorite digital assets at Community Coin Voting 9. All Indodax members who have verified their account can take part in the voting period using only 0.1 TEN / vote.
Prize*:
– 1 Honda Beat Pop eSP
– 100 vouchers worth 100,000 Rupiah each
* Minimum vote to get the prize is 1 TEN per account
Terms and conditions:
1. Winners are verified Indodax members
2. Winners participate in the Community Coin Voting 9
3. Winners will be chosen randomly by system
4. Winners will be announced 1 week after the winner of Community Coin Voting 9 is announced
5. Vehicle prizes will be distributed est. a month (off the road)
6. Winners can take the prize in Jakarta
7. Prizes cannot be cashed
8. Indodax will choose type and color of car and motorcycle
9. All prizes will be cancelled if winners do not meet terms and conditions
10. Indodax may change terms and conditions without prior notice
11. Please be careful of fraud using Indodax name
12. Indodax decisions are absolute
13. Indodax staff can not join the competition
How to vote digital asset :
1. Login to your Indodax account
2. Choose Community Coin Voting
3. Choose your favorite coin and click Vote
4. Enter number of votes
5. Click vote
Wish you best of luck!
Regards,
Indodax