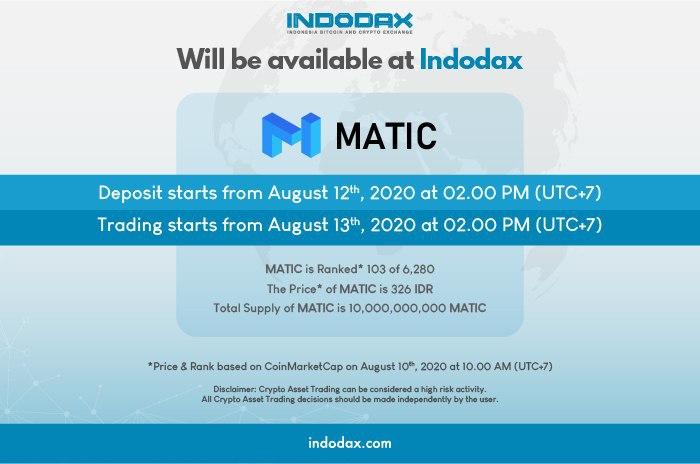 [For English Version See Below]
Halo Member Indodax,
Dengan senang hati kami mengumumkan aset kripto baru yang akan ditambahkan ke marketplace Indodax yaitu Matic Network (MATIC). Deposit MATIC dimulai hari Rabu, 12 Agustus 2020 jam 14:00 WIB dan trading dimulai hari Kamis, 13 Agustus 2020 jam 14:00 WIB.
MATIC merupakan Aset Kripto pilihan manajemen Indodax yang telah melalui tahap Due Diligence. Untuk informasi hasil Due Diligence MATIC dalam Bahasa Indonesia dapat diakses melalui link berikut.
Tentang MATIC
Matic Network adalah platform blockchain Layer 2 pada blockchain Ethereum. Menggunakan Plasma framework dan sejumlah validator, transaksi berlangsung lebih cepat (hingga 65 ribu transaksi per detik) dengan biaya transaksi jauh lebih murah. MATIC berada di peringkat 103* dari 6280 aset kripto dengan harga Rp.326,-. Total supplynya adalah 10,000,000,000 MATIC.
Untuk informasi lebih lengkap mengenai MATIC, silakan kunjungi link berikut.
*Harga dan peringkat berdasarkan Coinmarketcap.com pada 10 Agustus 2020 pukul 10.00 WIB.
Apabila Anda memiliki pertanyaan lebih lanjut, silakan hubungi [email protected] atau melalui Call Center kami 021-50525588.
Salam,
INDODAX – Indonesia Bitcoin & Crypto Exchange
~
Hello Indodax Member,
We are pleased to announce a new Crypto Asset that will be added to the Indodax marketplace, Matic Network (MATIC). MATIC deposits start on Wednesday, August 12, 2020, at 02:00 PM and trading starts on Thursday, August 13, 2020, at 02:00 PM.
MATIC is Crypto Asset that has passed the Due Diligence process and will be listed based on indodax management choice. For more information on the results of Due Diligence, can be accessed via the following link MATIC.
About MATIC
Matic Network is a Layer 2 blockchain platform on the Ethereum blockchain. Using the Plasma framework and a number of validators, transactions are faster (up to 65 thousand transactions per second) with much cheaper transaction fees. MATIC is ranked 103* out of 6280 crypto assets at a price of Rp.326-. The Total supply is 10,000,000,000 MATIC.
For more complete information about MATIC, please visit the following link.
*Prices and rankings are based on Coinmarketcap.com on August 10, 2020, at 10.00 AM.
For further questions, please contact [email protected] or through our Call Center 021-50525588.
Regards,
INDODAX – Indonesia Bitcoin & Crypto Exchange