LINK & BAT Listing on Indodax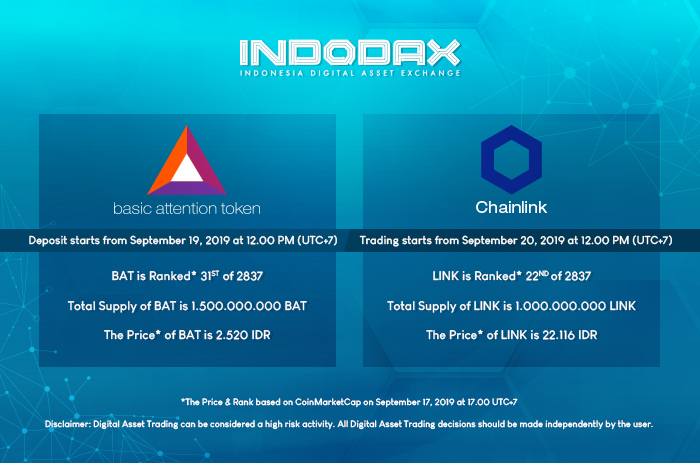 [For English version see below]
Halo Member Indodax,
Dengan senang hati kami mengumumkan dua aset digital baru yang akan ditambahkan ke marketplace Indodax yaitu Chainlink (LINK) dan Basic Attention Token (BAT). Deposit LINK dan BAT dimulai hari Kamis, 19 September 2019 pukul 12.00 WIB dan trading dimulai hari Jumat, 20 September 2019 pukul 12.00 WIB. LINK merupakan pilihan manajemen Indodax dan BAT adalah pemenang community coin voting 12.


Tentang Chainlink
Chainlink adalah proyek blockchain yang bertujuan untuk membangun jembatan antara layanan pembayaran seperti PayPal dan Visa, bank seperti HSBC dan Wells Fargo, dan blockchain seperti Ethereum dan Bitcoin. Chainlink ada di peringkat 22* dari 2822 aset digital dengan harga Rp. 22,116,-. Total supplynya adalah 1,000,000,000 LINK.
Untuk informasi lebih lengkap mengenai LINK, silakan kunjungi link berikut.
Tentang BAT
Basic Attention Token adalah token utilitas dalam platform iklan digital berbasis blockchain baru yang terdesentralisasi, open source, dan efisien. Basic Attention Token juga bekerjasama dengan Brave Browser yang mana pengguna bisa mendapatkan BAT dari melihat iklan. Developer dari BAT sendiri adalah pembuat bahasa pemrograman Javascript pada tahun 1995. Basic Attention Token menempati peringkat ke 31* dari 2822 aset digital dengan harga Rp. 2,525,-. Total supplynya adalah 1,500,000,000 BAT. Untuk informasi lebih lengkap mengenai BAT, silakan kunjungi link berikut.


*Harga dan peringkat berdasarkan Coinmarketcap.com pada 17 September 2019 pukul 17.00 WIB.


Apabila mempunyai pertanyaan, silakan hubungi [email protected]



Salam,
INDODAX – Indonesia Digital Asset Exchange



Hello Indodax Member,
We are excited to announce that you can start deposit Chainlink (LINK) and Basic Attention Token (BAT) on Thursday, 19 September 2019 at 12.00 PM (UTC+7) and trading start on Friday, 20 September 2019 at 12.00 PM (UTC+7). LINK are Indodax management choice and BAT is the winner of Community Coin Voting periode 12.

About Chainlink
Chainlink is a blockchain project that aims to build bridges between payment services like PayPal and Visa, banks like HSBC and Wells Fargo, and blockchains like Ethereum and Bitcoin. LINK ranked* 22nd from 2822 digital assets registered in Coinmarketcap. The price is 22,116 IDR with total supply 1,000,000,000 LINK.
More information about LINK, please visit the following page.
About BAT
Basic Attention Token is a token of utility in a new, decentralized, open source and efficient blockchain-based digital advertising platform. Users can earn BAT by viewing Brave Ads and can donate it to their favourite websites, YouTube creators, or Twitch streamers on Brave browser. BAT was created by Brendan Eich – that same developer who created the JavaScript programming language back in 1995. BAT ranked* 31st from 2822 digital assets registered in Coinmarketcap. The price is 2,520 IDR with total supply 1,500,000,000 BAT. More information about BAT, please visit the following page.

*Price and rank based on Coinmarketcap.com on 17 September 2019 at 09.00 UTC+7.

If you have any question, please feel free to contact us at [email protected]


Regards,
INDODAX – Indonesia Digital Asset Exchange