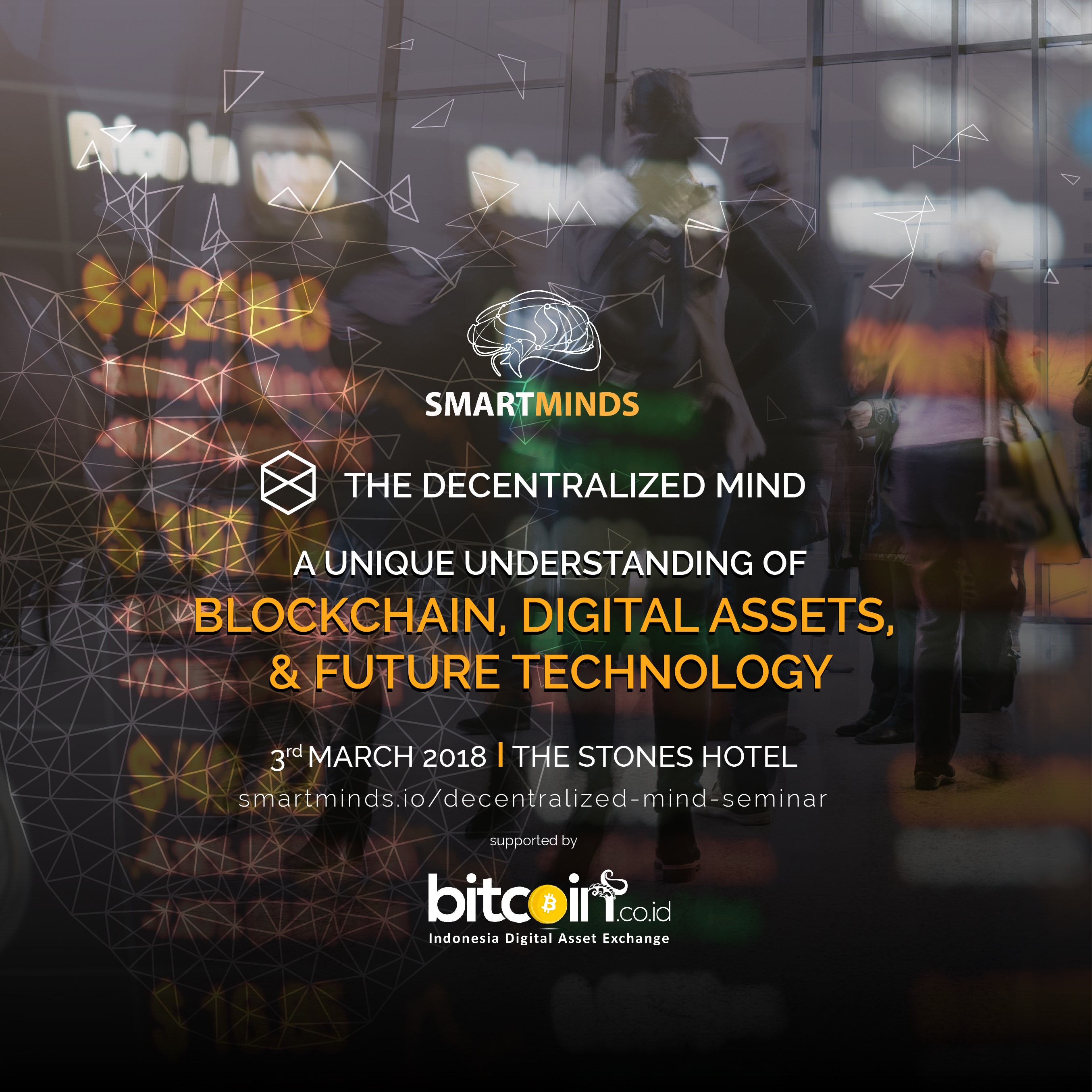 For English version see below
Halo Bitcoiners!
Kami sangat berantusias dalam memberikan pengetahuan mengenai digital asset dan teknologi Blockchain. Indodax.com akan menghadiri Blockchain Conference bulan Maret Nanti!
Memperkenalkan konferensi SmartMinds: 'The Decentralized Mind'. Acara yang diselenggarakan pada hari Sabtu, tanggal 3 Maret 2018 dihotel The Stone Legian, Jalan Raya Pantai Kuta, Bali, Indonesia pada pukul 09.00-18.00 WITA. Anda akan mendapatkan pengetahuan mengenai Blockchain, digital asset & teknologi masa depan!
Teknologi blockchain akan mengubah cara kita mendistribusikan kekayaan dan sumber daya bagi dunia. Bergerak melampaui Bitcoin dan temukan bagaimana teknologi masa depan akan mempengaruhi masyarakat dan cara kita menjalankan bisnis.
The Decentralized Mind adalah untuk orang-orang yang ingin mencari tahu tentang:
Cara mendistribusikan teknologi ledger dan mengapa hal tersebut penting
Mendapatkan cara pandang dan strategi mengenai digital asset dan manajemen portofolio
Mempelajari cara menjalankan bisnis dengan cara yang lebih mudah dan efisien.
Berinovasi cara kita saat ini tinggal dan berinteraksi satu sama lain secara internasional.
Temukan bagaimana kita dapat menciptakan ekonomi dan masa depan yang berkelanjutan bagi masyarakat dan lingkungan kita.
Untuk informasi selengkapnya silakan klik disini dan jika Anda memiliki pertanyaan, silakan menghubungi [email protected]!
Sampai jumpa di Bali, Bitcoiners!
---
Hello Bitcoiners!
We are so excited to announce that Indodax.com will be attending Bali's next Blockchain Conference in March!
Introducing SmartMinds' Conference 'The Decentralized Mind'. An event on March 3rd at The Stones Resort to learn about blockchain, digital assets & future technology! Discover what it is and how it can benefit you and your business.
Blockchain technology will transform the way we distribute wealth and resources for the world. Move beyond bitcoin and discover how future technology will impact communities and the way we run a business.
The Decentralized Mind is for individuals who are looking to:
Understand how Distributed Ledger Technology works and why it's important.
Receive insights & strategies about investing in digital asset & portfolio management.
Learn how to run a business in an easier more efficient way.
Innovate the way we currently live and interact with each other internationally.
Discover how we can create a sustainable economy & future for our society & environment.
Sign up for the event here!

If you have any questions or want to get involved please feel free to contact them at [email protected]!
See you in Bali, Bitcoiners!