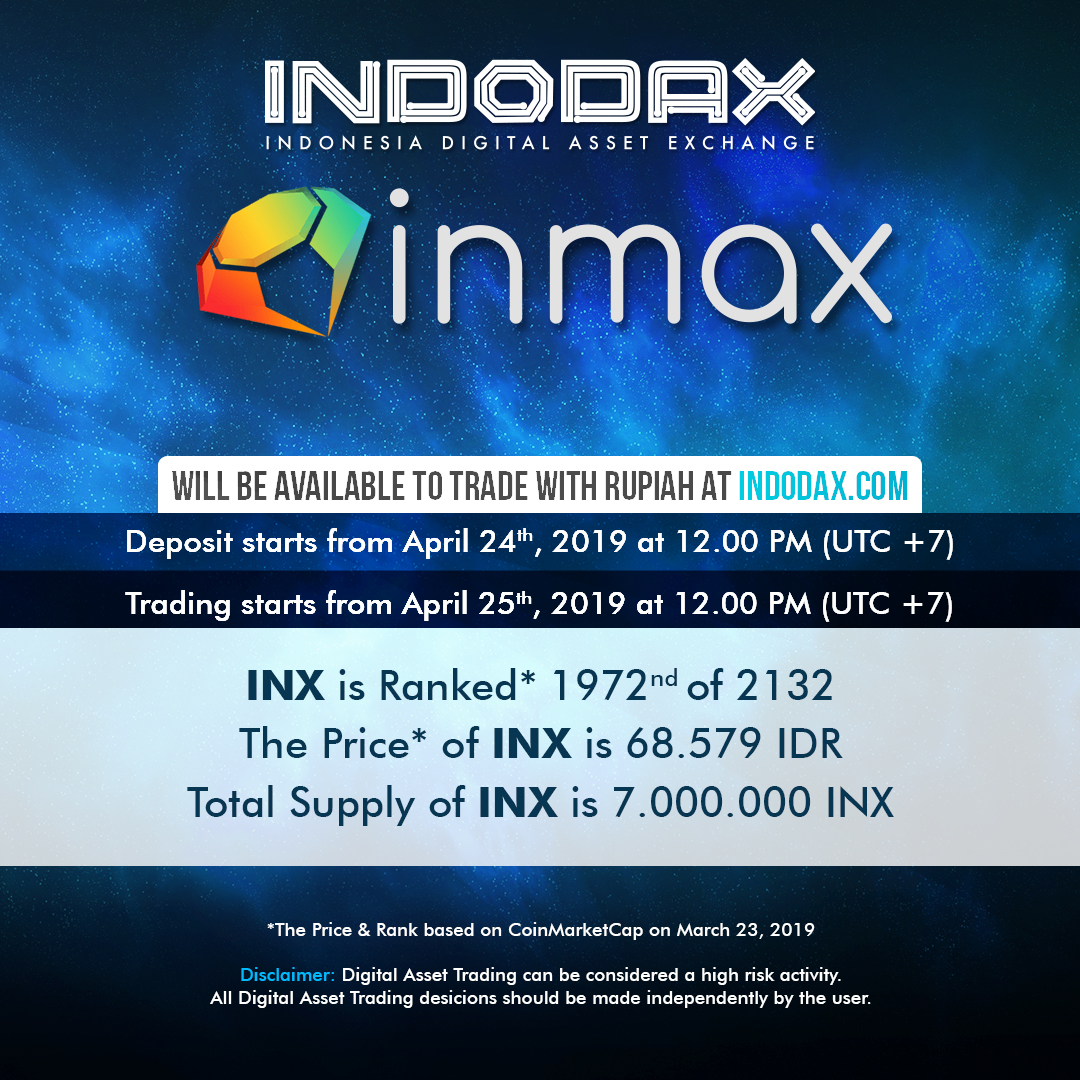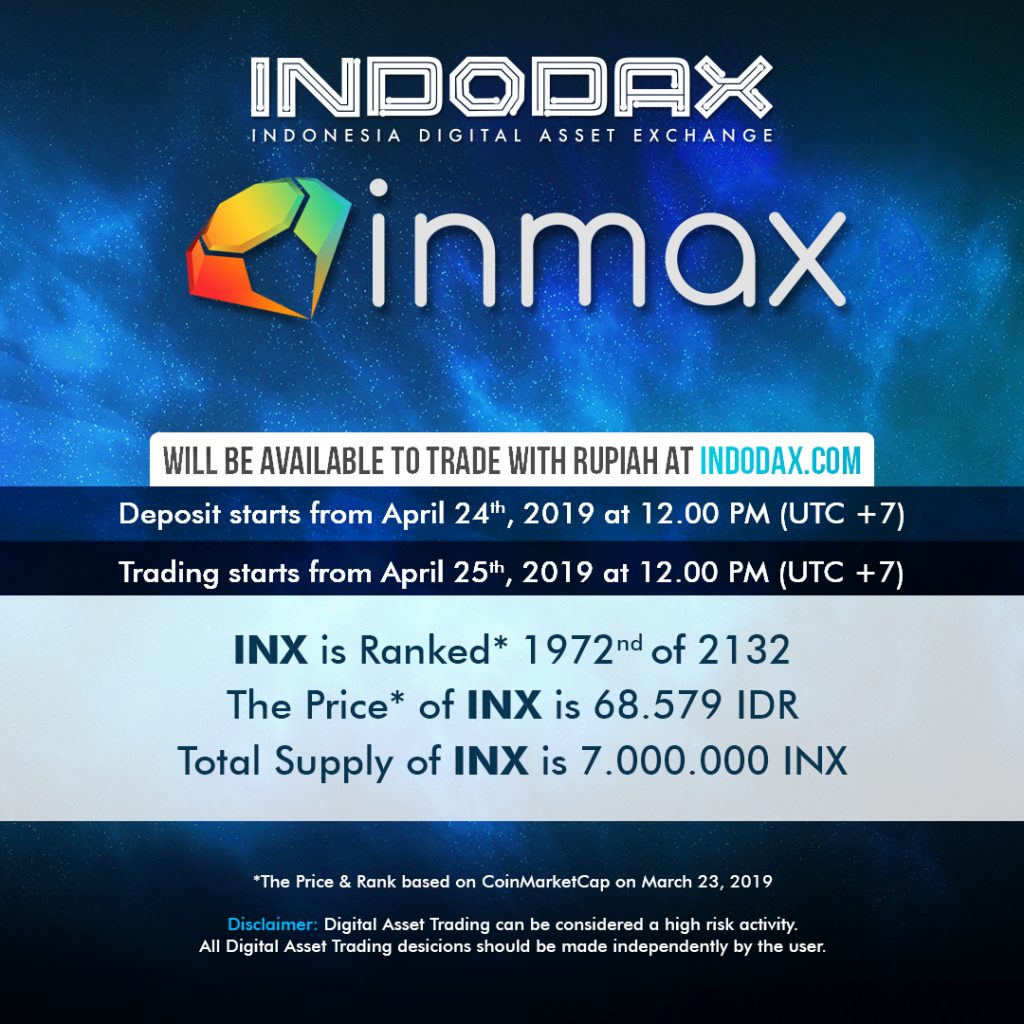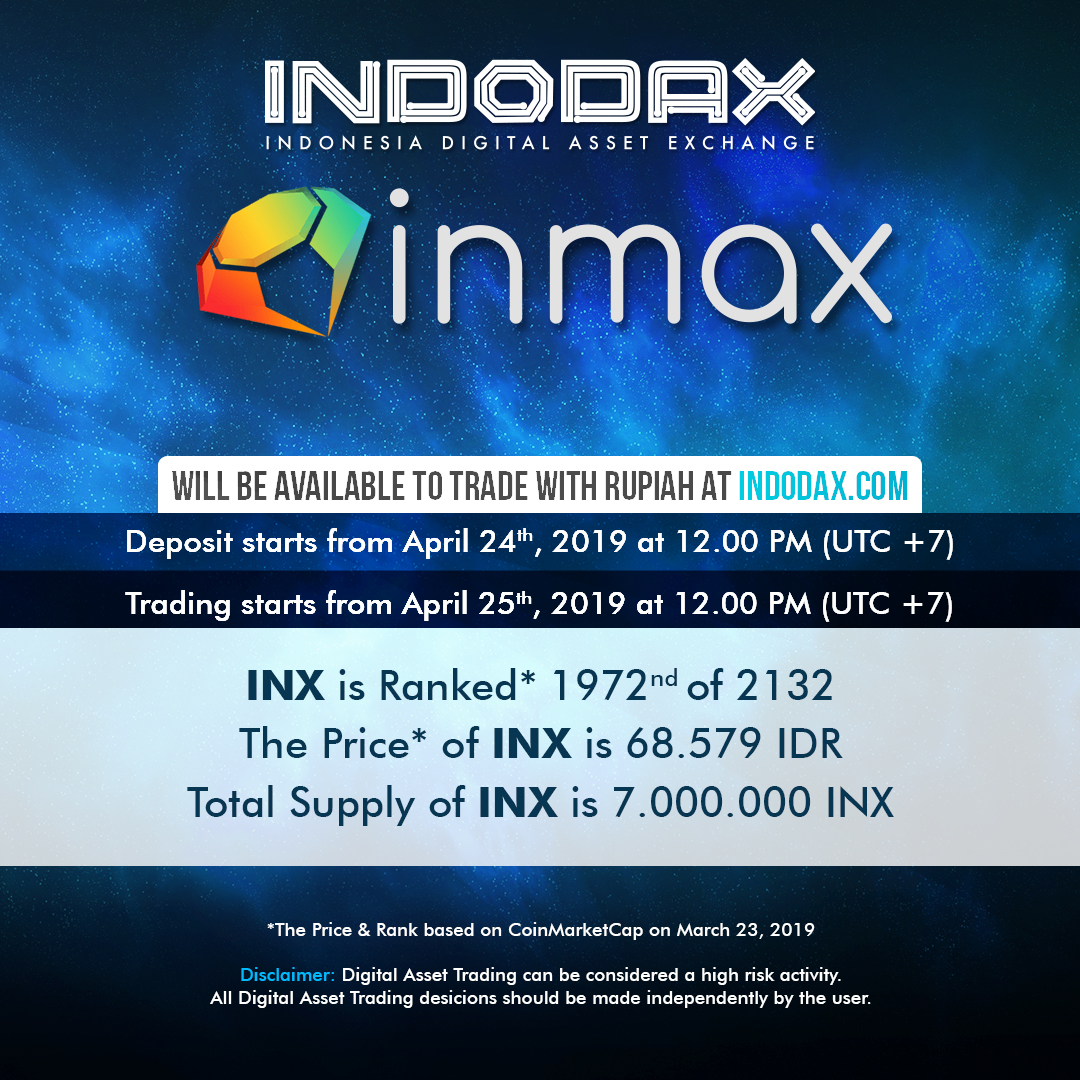 For English version see below

Halo Member Indodax,
Dengan senang hati kami mengumumkan INMAX (INX) pemenang Community Coin Voting periode 7 akan ditambahkan ke marketplace Indodax. Deposit INMAX (INX) dimulai hari Rabu, 24 April 2019 pukul 12.00 WIB dan trading dimulai hari Kamis, 25 April 2019 pukul 12.00 WIB.
Tentang INMAX (INX)
INMAX hadir sebagai platform perdagangan aset digital. Didirikan oleh PT.HAFIZC KOIN ASIA, sebuah perusahaan yang memiliki banyak pengalaman dalam perdagangan aset digital. INMAX menawarkan desain platform yang lebih sederhana namun lebih maju dan pelayanan member berkualitas tinggi. Hal ini menjadikan INMAX platform perdagangan yang dapat diandalkan, lebih cepat, lebih mudah, dan lebih aman. Saat ini INX menempati peringkat ke 1916* dari 2122 aset digital dengan harga Rp 170.750*. Total supplynya adalah 7.000.000 INX. Silakan kunjungi tautan berikut untuk info lebih lengkap mengenai INX.
*Harga dan peringkat berdasarkan Coinmarketcap.com pada 25 Maret 2019
Apabila mempunyai pertanyaan, silakan hubungi [email protected] atau melalui fitur livechat di website Indodax.com.
Salam,
INDODAX – Indonesia Digital Asset Exchange
~
Hello Indodax Member,
We are excited to announce that you can start deposit INMAX (INX) from Wednesday, 24 April 2019 at 12.00PM (UTC+7) and trading start from Thursday, 25 April 2019 at 12.00PM (UTC+7). INMAX (INX) is Community Coin Voting periode 7 winner.
About INMAX (INX)
INMAX is a dependable digital asset exchange and financial system INMAX comes as a novel digital asset trading platform with the abovementioned advantages. Founded by PT.HAFIZC KOIN ASIA; a company that has so much experience in digital asset trading, INMAX offers a simpler but more advanced platform design and high-quality customer support. These made INMAX a dependable, faster, easier, and safer trading platform. Currently INX ranked 1916* from 2122 digital asset registered in Coinmarketcap. The price of INX is 170.750 IDR* with total supply 7.000.000 INX. For more information about INX, please visit this link.
*Price and rank based on Coinmarketcap.com on 25 March 2019
If you have any question, please feel free to contact us at [email protected] or via livechat feature on our website Indodax.com.
Regards,
INDODAX – Indonesia Digital Asset Exchange