Indodax Kini Terintegrasi Dengan Aplikasi TabTrader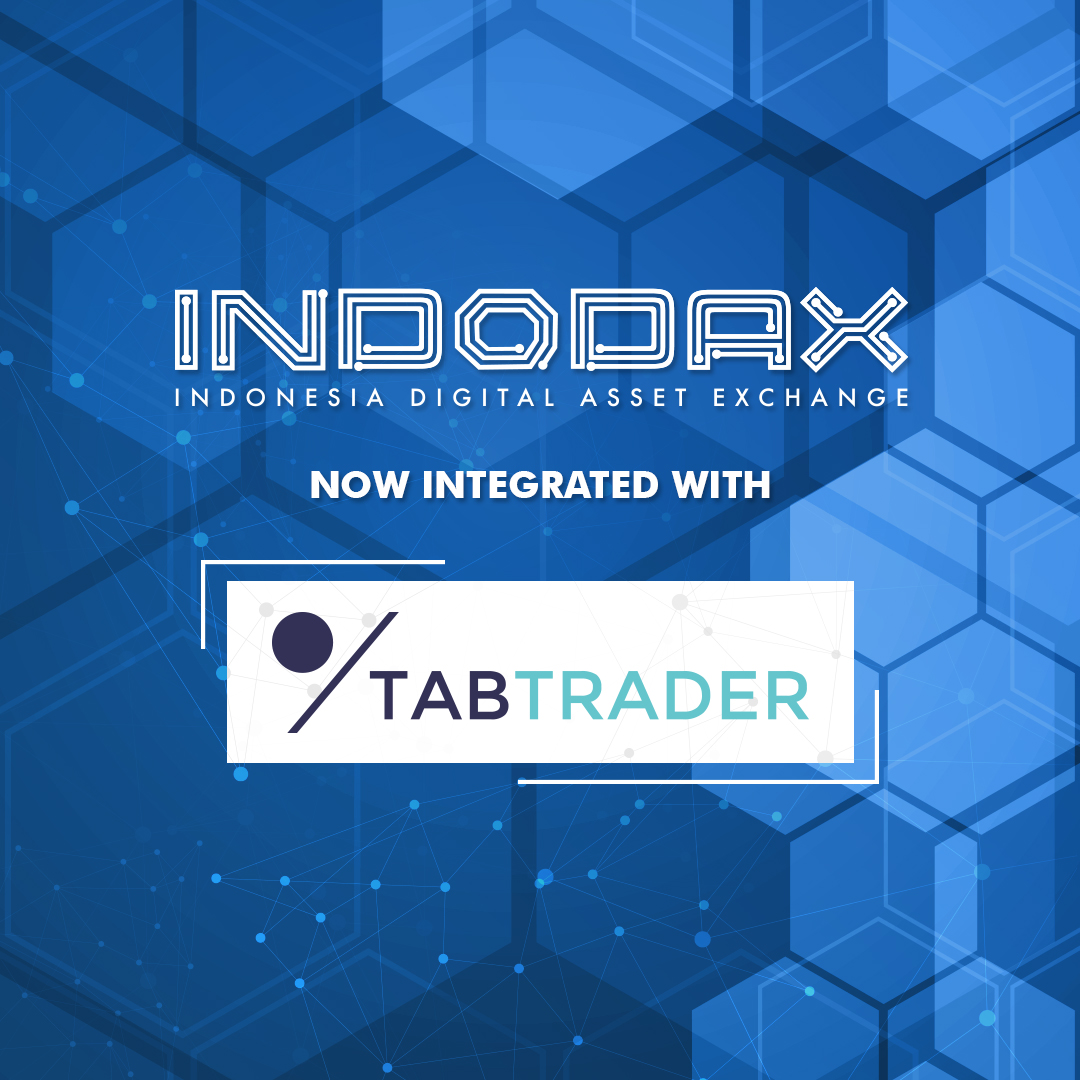 For English Version See Below
Halo Member Indodax,
Dengan bangga kami mengumumkan integrasi dengan aplikasi mobile trading, TabTrader. Aplikasi ini telah menambahkan support untuk Indodax pada 22 Agustus 2018. Berkat adanya kerjasama ini, member Indodax dapat melakukan transaksi menggunakan smartphone miliknya.
TabTrader adalah sebuah aplikasi yang memungkinkan para trader untuk mengelola akun mereka di beberapa exchanger aset digital sekaligus. Aplikasi ini tersedia di sistem operasi iOS (untuk trading di iOS masih dalam tahap pengembangan) dan Android.
Dengan ditambahkannya Indodax pada TabTrader, Indodax mendapatkan fitur tatap muka yang ergonomis dan fitur-fitur yang memudahkan para trader. Anda akan dapat mengamati deposit, mengatur transaksi order jual-beli dan akan mendapatkan peringatan order yang dilakukan hanya dengan mengetuk layar smartphone. Serta Anda dapat menganalisis grafik yang dilengkapi dengan indikator teknis, pola dan garis tren.
Dengan mesin pencari baru dari TabTrader, Anda bisa membandingkan harga di masing-masing exchanger dan melakukan sortir berdasarkan pair, exchanger, harga dan trade volume selama 24 jam. Fitur ini akan memudahkan Anda untuk mengatur strategi trading dan akan meningkatkan profit Anda.
Platform Indodax dapat terhubung dengan aplikasi ini melalui API key yang harus di generate pada akun Indodax. Teknologi ini memenuhi standar keamanan tinggi. Pengguna juga dapat mengelola transaksi trading mereka melalui TabTrader, tapi secara fisik akan dilakukan di exchanger. Serta terminal tidak bisa mendapatkan akses ke simpanan aset milik penggunanya.
Akun member Indodax dilindungi dengan Multi-Factor Authentication, kombinasi email dan verifikasi SMS dengan Google Authenticator. Kemanan berlapis ini akan menjamin keamanan dengan tingkat tertinggi. Tak satu pun dari tingkat keamanan tersebut dapat terpengaruh dengan menggunakan TabTrader.
Di dalam TabTrader, Anda dapat menemukan petunjuk dan tahapan mengenai cara mengasilkan dan menggunakan API. Ada juga informasi tentang indikator teknis dan jenis-jenis order. Dan Anda bisa meminta saran di Grup Telegram TabTrader. Semua ini akan membantu pengguna baru dan dengan mudah menguasai layanan dan fitur TabTrader.
Pada Juli 2018, aplikasi ini memiliki sekitar 350.000 pengguna aktif. Selain Indodax, TabTrader berisi 27 exchanger termasuk Bittrex, Binance, Huobi, Wex, Bitfinex, Bitstamp dan Kraken.
Unduh TabTrader di Google Play atau App Store dan hubungkan dengan Indodax sekarang juga.
Jika mempunyai pertanyaan lebih lanjut, silakan hubungi kami di [email protected]
Salam,
INDODAX – Indonesia Digital Asset Exchange
Indodax is Integrated in Popular Mobile Terminal TabTrader
Hello Indodax Member,
We are proud to announce our integration with the mobile trading terminal TabTrader. This app has added support for Indodax today, August 22, 2018. Thanks to this partnership, Indodax users can carry out transactions straight from their smartphones.
TabTrader is a terminal that allows traders to manage their accounts on multiple crypto exchanges at once. It is available as a mobile application for both iOS (for iOS trading is under development) and Android.
By being added to TabTrader, Indodax gets an ergonomic mobile interface with all sorts of lovely features. You'll be able to watch your deposits, set up orders and alerts by tapping the screen and analyze charts, supplementing them with technical indicators, pattern and trend lines.
With TabTrader's new search engine, you can compare exchange rates and sort the results by pair, exchange, price and 24-hour trade volume. It will help you as an Indodax user to promptly adjust your trading strategy and increase your profit.
The exchange connects to the terminal via API keys that must be generated on an Indodax account. This technology meets elevated security requirements. A user manages their trading transactions through TabTrader, but they are physically performed on the exchange. The terminal cannot get access to customer deposits.
In turn, Indodax user accounts are protected with Multi-factor Authentication, a combination of e-mail and SMS verification with Google Authenticator. These layers guarantee security of the highest level. None of them can be affected by using TabTrader.
Inside TabTrader you can find step-by-step instructions on how to generate and use API. There is also information about technical indicators and types of orders. And you can always ask for tips in the TabTrader Telegram Group. All of this will help newcomers easily master the service.
As of July 2018, the app has around 350,000 active users. In addition to Indodax, TabTrader's family contains 27 exchanges including Bittrex, Binance, Huobi, Wex, Bitfinex, Bitstamp and Kraken.
Download TabTrader on Google Play or the App Store to try Indodax.
Please contact our support at [email protected] for further questions.
Regards,
INDODAX – Indonesia Digital Asset Exchange