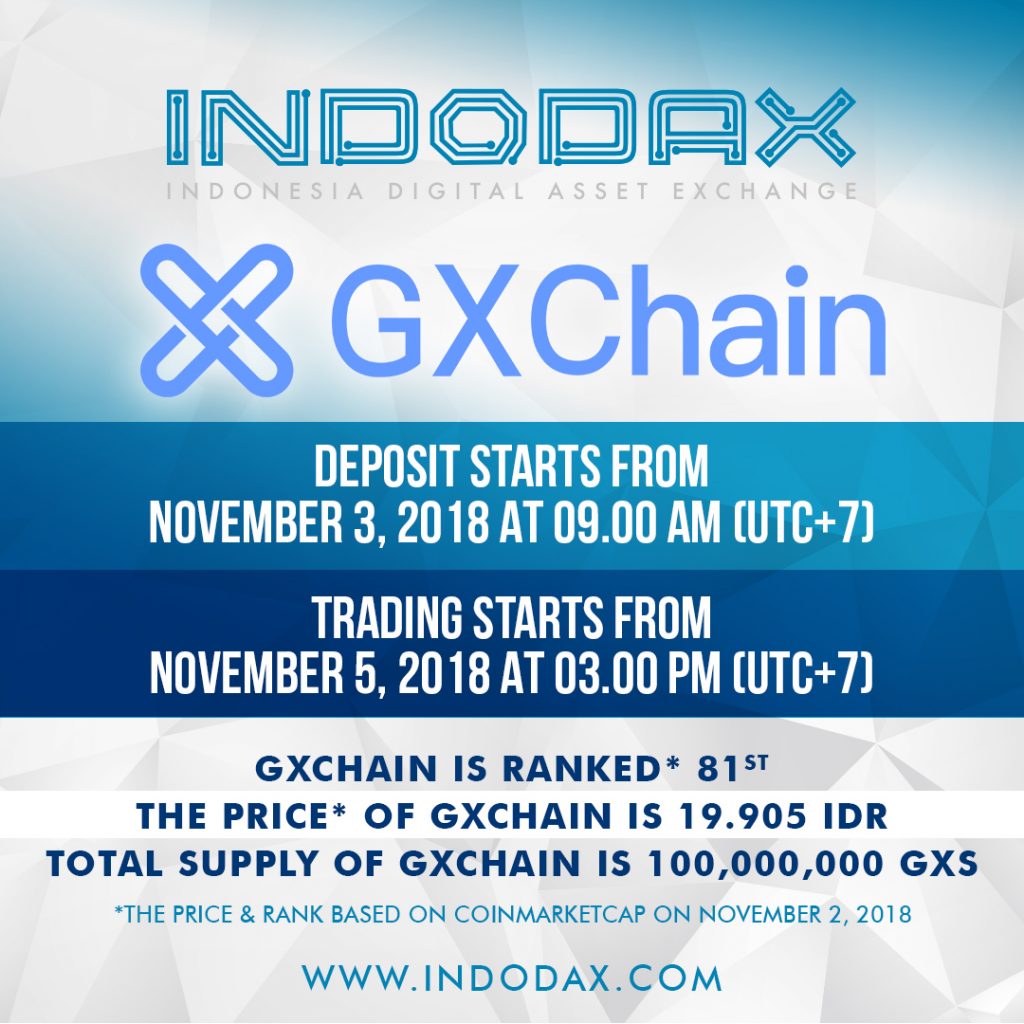 [For English Version See Below]
Halo Member Indodax,
Dengan senang hati kami umumkan bahwa kami akan menambahkan aset digital baru untuk dapat diperdagangkan di marketplace indodax.com yaitu GXChain. Deposit GXChain akan dimulai pada 3 November 2018 pukul 09.00 WIB dan trading akan dibuka pada 5 November 2018 pukul 15.00 WIB.
GXChain adalah blockchain fundamental untuk data ekonomi global, yang dirancang untuk membangun nilai pada data internet yang tepercaya. GXChain memberikan solusi terkemuka untuk ekonomi data dengan mengembangkan beberapa modul data yang terpercaya. Pengunggahan, penyimpanan, komputasi, dan pertukaran Data yang tepercaya telah secara bertahap direalisasikan dengan banyak aplikasi komersial.
Saat ini GXChain berada pada Ranking 81* dari total 2076 aset digital yang terdaftar pada coinmarketcap.com. Serta GXChain kini memiliki harga Rp 19.905,-* dengan maksimal total supply 100.000.000 GXS.
*berdasarkan data tanggal 2 November 2018
Salam,
Indodax
Hello Indodax Member,
We are excited to announce a new digital asset to trade in Indodax. Welcome GXChain to our marketplace! You can start deposit on November 3, 2018 at 09.00 AM (UTC+7) and you can start trading on November 5, 2018 at 03.00 PM (UTC+7).
GXChain is a fundamental blockchain for the global data economy, designed to build a trusted data internet of value. GXChain provides a leading solution for the data economy by developing multiple trusted data modules. Trusted Data uploading, storage, computation, and exchange have been gradually realized with many commercialized applications.
GXChain ranked 81st* from total 2076 digital assets in coinmarketcap.com and its price is 19905* IDR with total supply 100.000.000 GXS.
*based on November 2, 2018
Regards,
Indodax