Free Trading Fee for IDK Market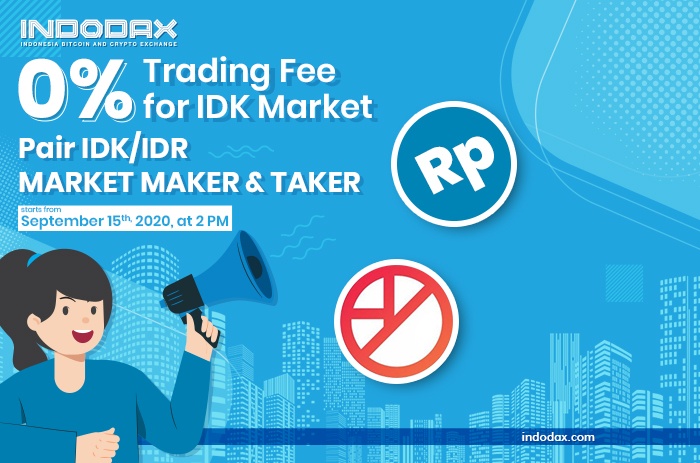 [For English Version See Below]
Halo member Indodax,
Dengan senang hati kami mengumumkan bahwa biaya trading untuk market IDK akan menjadi 0%. Berlaku untuk metode Maker dan Taker pada pair IDK/IDR.
IDK (IDK) adalah sebuah stablecoin yang dipatok sebesar 1:1000 IDR (Rupiah) sehingga harga IDK akan tetap di angka Rp.1,000-. IDK dibangun diatas jaringan Ethereum sesuai dengan standar token ERC20. IDK berusaha untuk mendorong adopsi aset kripto di Indonesia, ekonomi terbesar di Asia Tenggara.
Program ini dimulai pada hari Selasa, 15 September 2020 pukul 14.00 WIB.
Apabila Anda mempunyai saran atau pertanyaan, silakan hubungi kami di [email protected] atau melalui Call Center kami 021-50525588.
Salam,
INDODAX – Indonesia Bitcoin & Crypto Exchange
~
Hello, Indodax Member!
We are happy to announce that the trading fee for the IDK market will be 0%. Applies to Maker and Taker methods on IDK / IDR pairs.
IDK (IDK) is a stable coin pegged at 1: 1000 IDR (IDR) so the IDK price will always remain at IDR 1,000-,
IDK is built on the Ethereum network according to the ERC20 token standard. IDK seeks to supports crypto asset adoption in Indonesia, Southeast Asia's largest economy.
This program starts on Tuesday, September 15 2020 at 14.00 WIB.
If you have further questions, please contact [email protected] or through our Call Center 021-50525588.
Regards,
INDODAX – Indonesia Bitcoin & Crypto Exchange