Empowering Blockchain Summit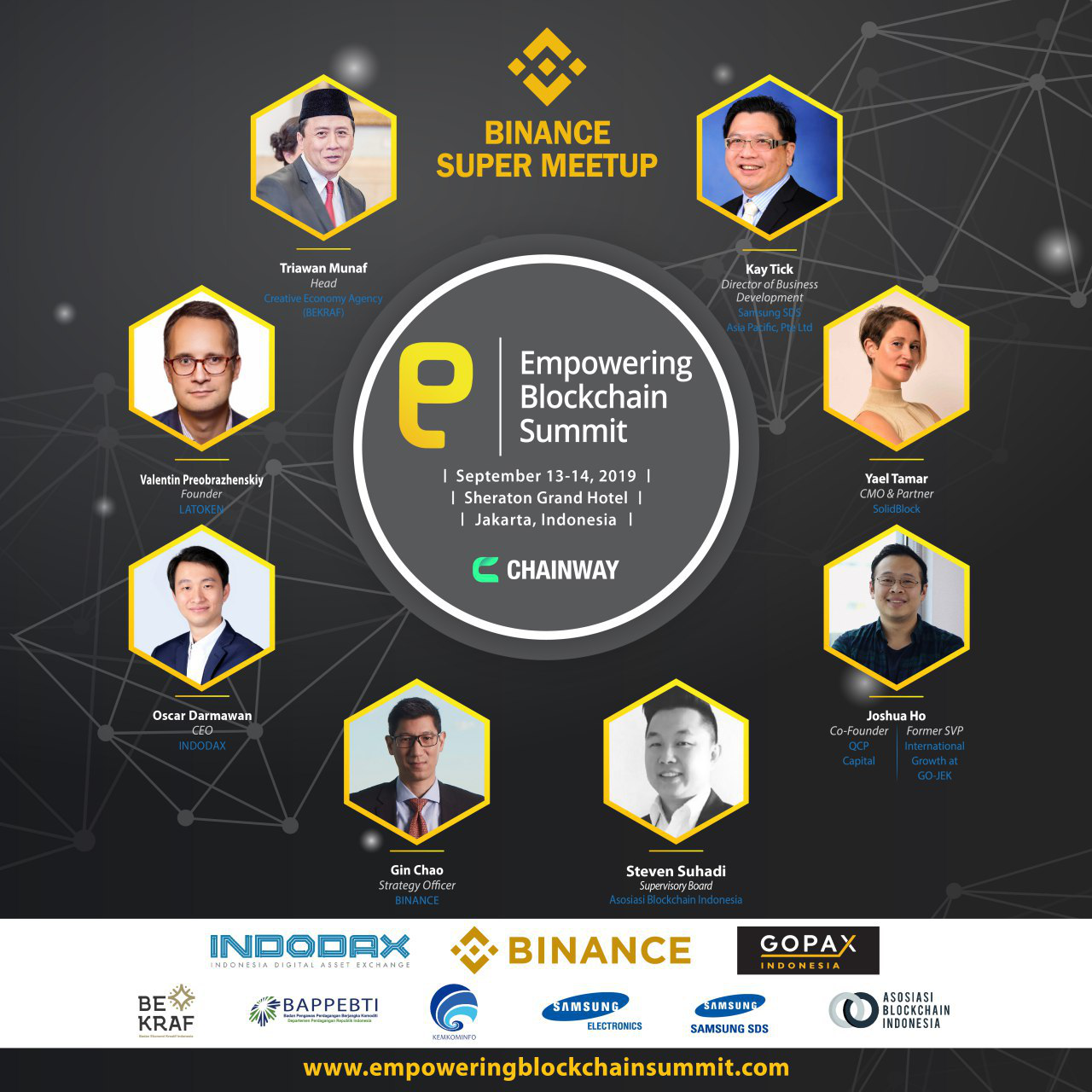 Halo Member Indodax,
Kami dengan senang hati mengundang Anda untuk bergabung ke acara Empowering Blockchain Summit 2019. Acara ini memberikan Anda kesempatan untuk berbincang dengan para pemimpin dari berbagai belahan dunia. Anda akan mendapatkan pandangan baru bagaimana cara mengadopsi Blockchain untuk bisnis Anda. Tidak hanya itu, Anda berkesempatan memperluas koneksi Anda. Berikut adalah informasi lengkap dari Empowering Blockchain Summit.
Tanggal: 13-14 September 2019
Tempat: Sheraton Grand Hotel, Jakarta
Waktu: 09.30 WIB – Selesai
Pembicara:
Triawan Munaf, Head Creative Economy Agency (BEKRAF)
Gin Chao, Strategy Officer BINANCE
Valentin Preobrazhenskiy, Founder LATOKEN
Oscar Darmawan, CEO INDODAX
Kay Tick, Director of Business Development Samsung SDS Asia Pacific, Pte Ltd
Yael Tamar, CMO & Partner SolidBlock
Joshua Ho, Co-founder QCP Capital & Former SVP International Growth at GO-JEK
Risman Adnan, Director Software at Samsung R&D Indonesia (SRIN)
Eddy Travia, CEO Coinsilium
Lindy Chen, Founder & CEO Chinadirect Sourcing & Founding President Australian Blockchain Alliance
Steven Suhadi, Supervisory Board Asosiasi Blockchain Indonesia
Dan Clarke, Global Digital Marketing BINANCE
Jiayi Lee, Director of Events BINANCE
Riki Arif Gunawan, Head Sub Directorate Technology, Directorate Information Security, Ministry of Communications & Information
Sri Bramantoro Abdinagoro Doctor, Bina Nusantara University
Jean Daniel Gauthier, Co-Founder Blockchain Zoo
Sidharth Sogani, Founder CREBACO Global Inc
Yeunjin Kong, Co-Founder & CTO GOPAX
Tiago Costa Alves, VP of Asia Pacific AppCoins
Gebhard Scherrer, Sales Director APAC Securosys HK Ltd
Reservasi dan info selengkapnya bisa dicek di link berikut ini.
Salam,
INDODAX – Indonesia Digital Asset Exchange