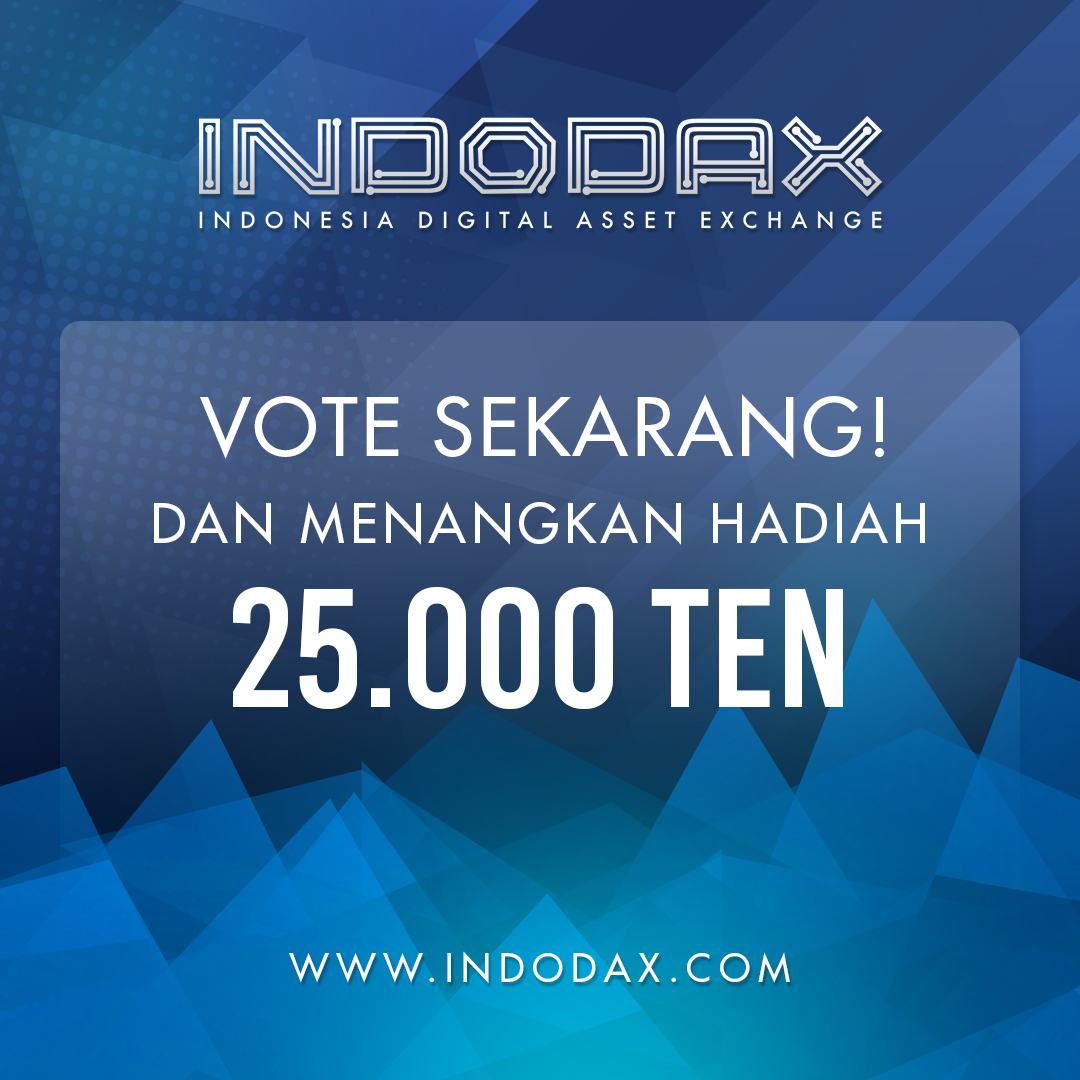 For English version see below.
Halo member Indodax,
Sebagai bentuk tekad kami untuk menghadirkan coin dan token yang berkualitas dengan penyeleksian yang lebih ketat maka kami menyelenggarakan Community Coin Voting periode II. Kami menyediakan total 25.000 TEN untuk setiap member yang mengikuti voting dalam Community Coin Voting periode II.
Cara voting Coin:
1. Login pada akun Indodax Anda
2. Pilih menu Community Coin Voting
3. Klik Vote pada Coin Favoritmu
4. Masukan jumlah vote yang diinginkan
5. Klik Vote
Syarat dan ketentuan:
1. Pemenang merupakan member INDODAX yang sudah terverifikasi.
2. Pemenang mengikuti voting di dalam Community Coin Voting periode II (11 Juni 2018-18 Juni 2018).
3. Pemenang akan dipilih secara acak oleh sistem.
4. Hadiah:
– 1.000 TEN masing-masing untuk 10 orang pemenang.
– 50 TEN masing-masing untuk 300 orang pemenang.
5. Pemenang akan diumumkan 1 minggu setelah pemenang Community Coin Voting periode II diumumkan.
6. Hadiah akan dibagikan 1 hari setelah pengumuman pemenang diumumkan.
7. Keputusan manajemen bersifat mutlak dan tidak dapat diganggu gugat.
Peraturan Community Coin Voting II sama dengan periode sebelumnya, di mana setiap member dapat berpartisipasi dengan menukarkan 0.1 TEN per suara. Untuk keterangan lebih lengkap bisa didapatkan di https://help.indodax.com/community-coin-voting/
Salam,
INDODAX – Indonesia Digital Asset Exchange
We are attempt to add new qualified coins and tokens, so we have organized Community Coin Voting II. And we will give you a total of 25,000 TEN for members who participate in the Community Coin Voting II.
How to vote Coin:
1. Login on your Indodax account
2. Select the Community Coin Voting menu
3. Click Vote on your Favorite Coin
4. Enter the desired number of votes
5. Click Vote
Terms and Conditions:
1. Winner is a verified member of INDODAX.
2. Winners who participate the Community Coin Voting II (June 11th-June 18th, 2018).
3. Winners will be randomly selected by the system.
4. Rewards:
– 1,000 TEN each for 10 winners.
– 50 TENs each for 300 winners.
5. Winners will be announced 1 week after the winner of the Community Coin Voting II  is announced.
6. Prizes will be distributed 1 day after the announcement of the winner is announced.
7. Management's decision is absolute.
The Community Coin Voting II rule is same as previous Community Coin Voting I, members can participate by exchanging 0.1 TEN per vote. For more details please visit https://help.indodax.com/community-coin-voting/
Regards,
INDODAX – Indonesia Digital Asset Exchange