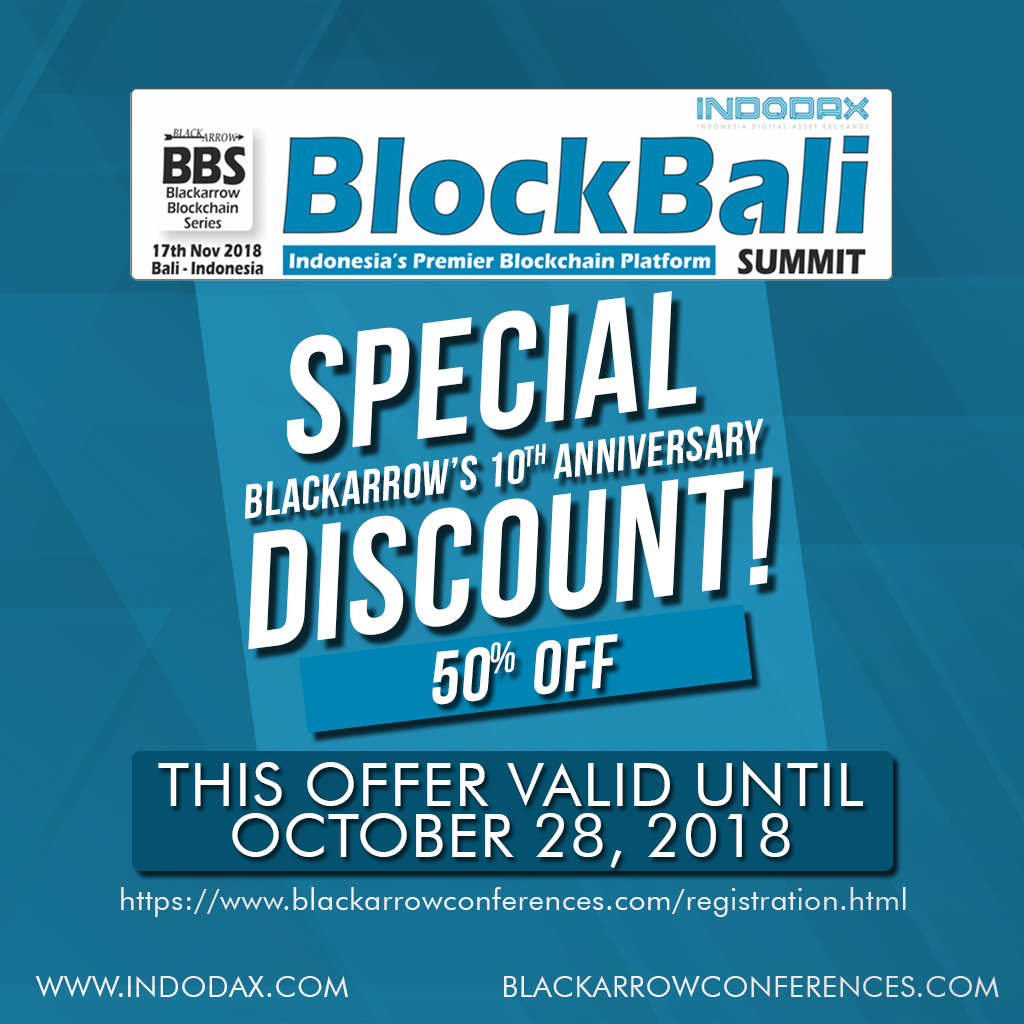 For English version see below
Halo Member Indodax,
Dalam rangka merayakan anniversary ke-10 nya, Blackarrow Conferences memberikan spesial diskon 50% untuk tiket Blockbali 2018 Konfrensi Blockchain terbesar di Asia Tenggara. Penawaran ini hanya berlaku untuk 72 jam (Hari Jumat, 26 Oktober, pukul 04.00 WIB-Hari Minggu, 28 Oktober 2018, pukul 16.00 WIB)dan untuk 50 pembeli pertama saja.
Harga Reguler
Rp 1.500.000,-
Harga Spesial Diskon
Rp 750.000,-
*Penawaran ini hanya berlaku hingga hari Minggu, 28 Oktober 2018.
Jangan lewatkan kesempatan ini, dapatkan tiketmu sekarang juga di https://www.blackarrowconferences.com/registration.html
Salam,
INDODAX
Hello Indodax member,
Blackarrow Conferences proudly celebrates its 10th Anniversary. Get exciting 50% discount on the largest Blockbali 2018 Conference Blockchain ticket in Southeast Asia. This offer is only valid for 72 hours (Friday, October 26 at 04.00 AM UTC + 7 till Sunday, October 28 04.00 PM UTC + 7) at the first 50 buyers only. Blockbali conference tickets.
Regular Price
Rp 1.500.000,-
Special Discount Price
Rp 750.000,-
*This offer valid until Sunday, October 28, 2018.
Get your ticket with this special price right now!
https://www.blackarrowconferences.com/registration.html
Regards,
INDODAX