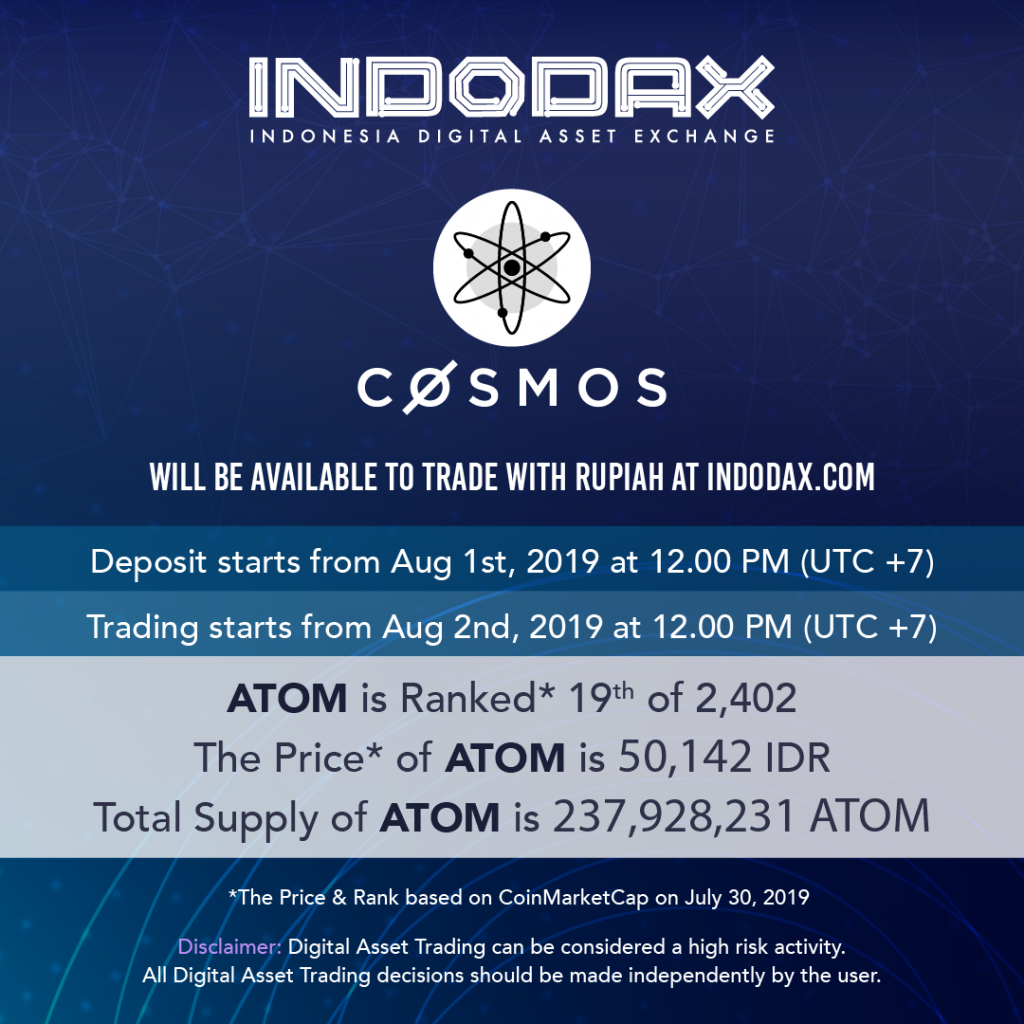 For English Version see below
Halo Member Indodax,
Dengan bangga kami mengumumkan bahwa Cosmos (ATOM) akan ditambahkan ke marketplace Indodax. Deposit ATOM dimulai hari Kamis, 1 Agustus 2019 pukul 12.00 WIB dan trading dimulai hari Jumat, 2 Agustus 2019 pukul 12.00 WIB. ATOM merupakan pilihan manajemen Indodax untuk dapat ditradingkan.
Tentang Atom
Atom (ATOM) adalah aset digital utama yang ada di atas platform Cosmos yang dirancang untuk memfasilitasi komunikasi, penskalaan dan interoperasi antara jaringan independen. Dikenal sebagai "Internet blockchain", Cosmos berupaya menyatukan berbagai blockchain dalam satu platform dan menyelesaikan beberapa masalah utama yang mengganggu teknologi ini sejak awal.
Saat ini ATOM berada pada ranking 19* dari total 2.402 aset digital yang terdaftar pada coinmarketcap.com. Serta kini memiliki harga Rp 50.142,-* dengan maksimal total supply 237.928.231 ATOM.
*berdasarkan data tanggal 30 Juli 2019
Apabila mempunyai pertanyaan, silakan hubungi [email protected] atau melalui fitur livechat di website Indodax.com.
Salam,
Indodax
Hello Indodax Member,
We are excited to announce that we will list ATOM with Rupiah pair in Indodax.com. Deposit starts from Thursday, August 2, 2019 at 12.00 PM (UTC+7) and trading starts from Friday, August 2, 2019 at 12.00 PM (UTC+7).
About ATOM
Atom (ATOM) is the main cryptocurrency existing on top of the Cosmos platform which is designed to facilitate communication, scaling and interoperation between independent chains. Billed as "the Internet of blockchains", the Cosmos seeks to bring together various blockchains within a single platform and resolve several key issues plaguing this technology from the outset.
ATOM ranked 19th* from total 2.402 digital assets registered in coinmarketcap.com. ATOM price is 50.142* IDR with total supply 237.928.231 ATOM .
*based on coinmarketcap.com per 30 July 2019
If you have any question, suggestion or critic, please feel free to contact us to [email protected].
Regards,
Indodax – Indonesia Digital Asset Exchange