Congrats For CCV 13 Winners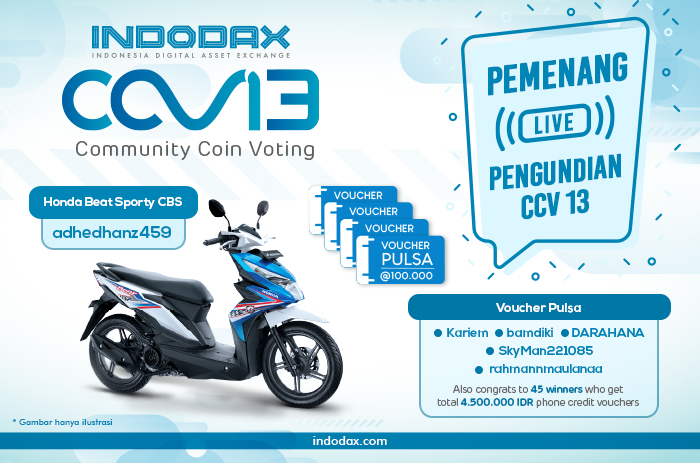 For English version see below
Halo Member Indodax,
Community Coin Voting 13 telah berjalan dengan sukses. Terima kasih kepada seluruh member dan komunitas yang telah berpartisipasi dalam tahap voting periode ini. Sesuai dengan hasil pengundian secara live pada tanggal 7 Januari 2020, berikut adalah pemenang beruntung yang berhak mendapatkan hadiah 1 unit motor Honda Beat Sporty CBS dan 50 Voucher Pulsa 100.000.
Berikut daftar nama pemenang:
Pemenang Honda Beat Sporty CBS:
adhedhanz459
Pemenang Voucher Pulsa 100.000:

SkyMan221085
Kariem
bamdiki
DARAHANA
rahmannmaulanaa
ibrahimbim
ahlul27
machroezar
bibi
rudihh01
cmox
Zaradzhemb
dracheking
asgel
siroffi
viando
Boss_jadijadian
mrtrader
s3indonesia888
Abmhtr
wahyoehaa
just4play
Titalunz
SEMARJAYA
Basuki74
se_tong
reynard
cg7700
FreddyKurniawan
Dwiprasodjo
DefriAulia
Diamond18
oktatisa
Pulaukijang
greatsteel
dodding84
dharmasu2406
ardhiyanto
Delka00
Nandol1623
yiyinz08
iiZhH
Nafizi
nvza
evaclasic
elvin007
Richy
klikme
Para pemenang akan dihubungi oleh tim Indodax terkait pengambilan hadiah dan detail lainnya.
Selamat bagi para pemenang! Selalu nantikan event dari kami selanjutnya!
Salam,
INDODAX – Indonesia Digital Asset Exchange
Hello Indodax Member,
Community Coin Voting 13 was successfully held. Thank you for our members and communities who participated in the process. As the result of live draw on 7 January 2020, we gladly announce lucky winners of Honda Beat Sporty CBS and 50 vouchers Rp. 100.000.
Here is a list the winners:
Winner of Honda Beat Sporty CBS:
adhedhanz459
Winner of Voucher 100.000:
SkyMan221085
Kariem
bamdiki
DARAHANA
rahmannmaulanaa
ibrahimbim
ahlul27
machroezar
bibi
rudihh01
cmox
Zaradzhemb
dracheking
asgel
siroffi
viando
Boss_jadijadian
mrtrader
s3indonesia888
Abmhtr
wahyoehaa
just4play
Titalunz
SEMARJAYA
pastorhoki
denis-yungcen
Basuki74
se_tong
reynard
cg7700
FreddyKurniawan
Dwiprasodjo
DefriAulia
Diamond18
oktatisa
Pulaukijang
greatsteel
dodding84
dharmasu2406
ardhiyanto
Delka00
Nandol1623
yiyinz08
iiZhH
Nafizi
nvza
evaclasic
elvin007
Richy
klikme
Winners will be contacted by our team for more details.
Congratulations to all the winners!
Regards,
INDODAX – Indonesia Digital Asset Exchange