COMMUNITY COIN VOTING 13 RESULT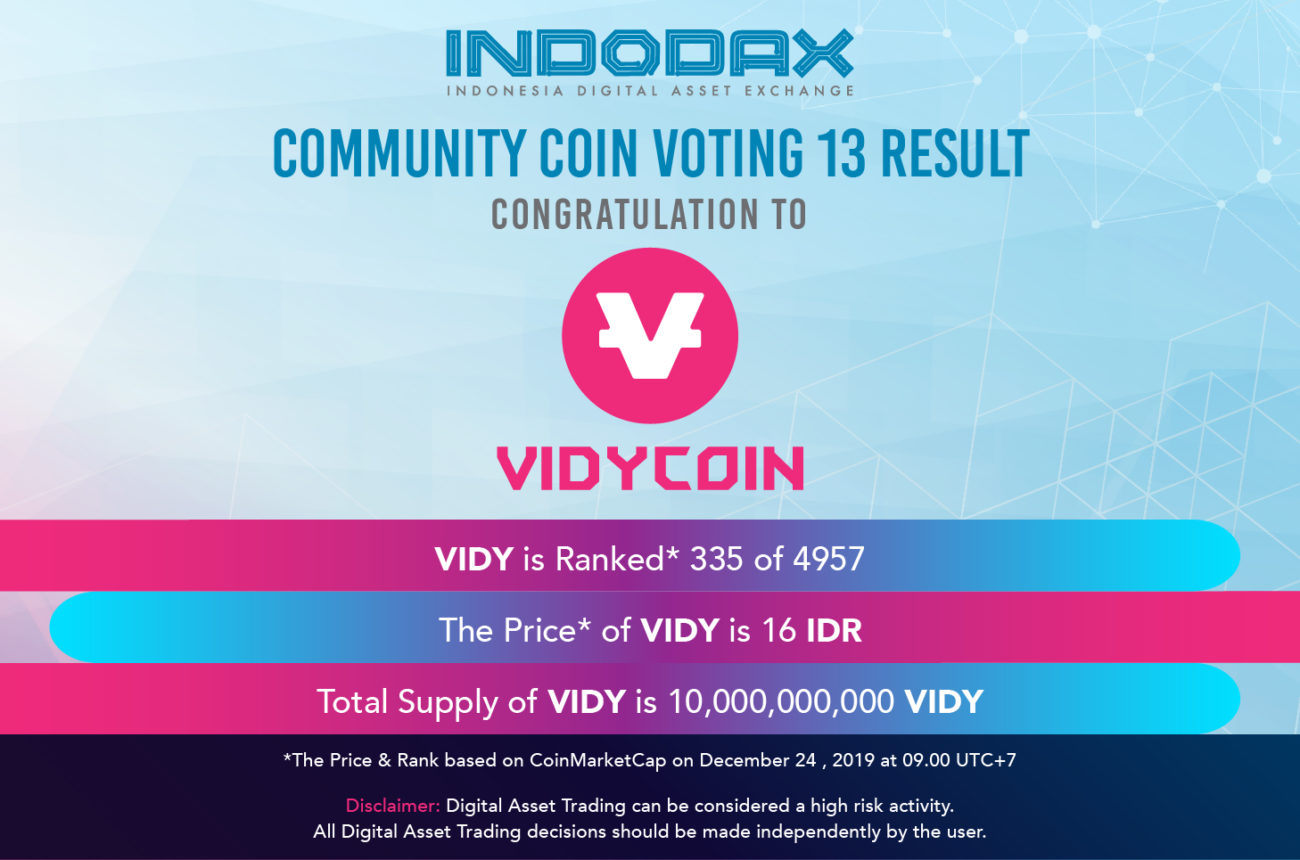 [For English Version See Below]
Halo Member Indodax,
Selamat kepada Vidy (VIDY) yang telah memenangkan Community Coin Voting 13. Vidy adalah ekosistem iklan terdesentralisasi pertama di dunia yang menempatkan iklan video di ratusan juta halaman web melalui open-source NLP consensus protocol yang digerakkan oleh para penambang.
Saat ini VIDY menempati peringkat ke 335* dari 4957 aset digital dengan harga Rp 16* Rupiah. Total supplynya adalah 10,000,000,000 VIDY. Untuk informasi lebih lengkap mengenai VIDY silakan kunjungi link berikut.
*data berdasarkan Coinmarketcap per 24 Desember 2019 pukul 09.00 WIB.
Tim Indodax akan melakukan Due Diligence terlebih dahulu sebelum melakukan listing. Apabila Due Diligence dinyatakan tidak lolos, maka Community Coin Voting 13 ini akan dimenangkan oleh ranking berikutnya.
Due Diligence ini dilakukan untuk verifikasi dokumen dan ketentuan legal lainnya. Lama waktu Due Diligence ini tergantung kepada aset digital pemenang dalam pemenuhan segala ketentuan yang kami butuhkan.
Pengumuman mengenai listing akan diumumkan setelah Due Diligence selesai. Ikuti terus blog dan sosial media kami untuk mendapatkan informasi selanjutnya.
Informasi lebih lanjut mengenai CCV silakan kunjungi halaman berikut.
Salam,
Indodax – Indonesia Digital Asset Exchange
~
Hello Indodax Member,
Congratulations to Vidy (VIDY) for winning Community Coin Voting 13. Vidy is the world's first decentralized Ad ecosystem placing video ads across hundreds of millions of web pages via an open-source NLP consensus protocol driven by miners.
VIDY ranked 335* from 4957 digital assets registered in Coinmarketcap. The price is 16 IDR with total supply 10,000,000,000 VIDY. For more information about VIDY, please click this link.
*data based on Coinmarketcap per 24 December 2019 at 09.00 UTC+7.
Indodax team will conduct Due Diligence before list VIDY to our marketplace. If VIDY does not pass Due Diligence, Community Coin Voting 13 will be won by the next ranking.
This Due Diligence is carried out to verify documents and other legal provisions. Due Diligence process will depend on the winner to fulfill all the required documents.
Information about listing will be announced after the Due Diligence is done. Follow our blog and social media to get further information.
More information about CCV please visit the following page.
Regards,
Indodax – Indonesia Digital Asset Exchange