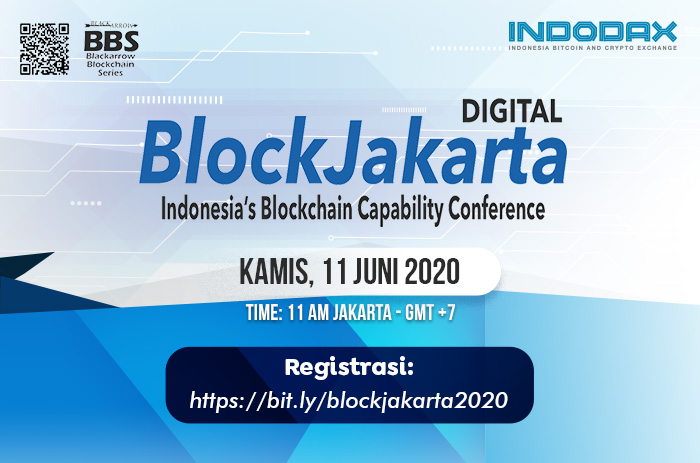 Halo, Blockchain Enthusiast!
Yuk, ikuti konferensi online tanpa batas yang penuh dengan kesempatan emas!
Dalam situasi pandemi Covid-19 ini, ekonomi digital tentu menghadapi peluang serta tantangan yang besar. Untuk itu, perlu banget nih kita tahu dimana peran penting blockchain dan aset kripto dalam melakukan transformasi digital pasca pandemi!
BlockJakarta 2020 merupakan konferensi digital yang berlangsung satu hari penuh pada Kamis, 11 Juni 2020 dengan lebih dari 30 pembicara dari berbagai negara dan latar belakang di bidang ekonomi digital, blockchain, dan aset kripto. Selain mendapat pengetahuan dari pembicara berkelas, kalian juga bisa melebarkan koneksi secara luas!
BlockJakarta 2020 Speakers:
1. Oscar Darmawan – CEO, INDODAX (Indonesia's Largest Crypto Exchange – Over 2 million users)
2. Muhammad Neil El Himam – Director for Applications and Governance of Digital Economy, Ministry of Tourism and Creative Economy
3. Ir. Dharmayugo Hermansyah – Head of the Center for Domestic Trade Studies, Trade Research and Development Agency, Ministry of Trade
4. Colonel Dr. Ir. Arwin Sumari – Senior Officer Communications & Electronics, Indonesian Air force Defense / Univ Polinema
5. Roger Ver – Executive Chairman, Bitcoin.com
6. Jack Shaw – Innovation & Technology Strategist, Breakthrough Business Technologies
7. Ir Budi Rahardjo – STEI, Institut Teknologi Bandung
8. Chris de Lavigne – Partner Financial Advisory, Deloitte (SEA)
9. Melanie Mohr – Founder & CEO, WOM Protocol
10. Marta Piekarska-Geater – Director of Ecosystem, Hyperledger
11. Professor Olinga Ta'eed – Director, CCEG, UK
12. Dr Naseem Naqvi – President, The British Blockchain Association
13. Miko Matsumura – Cofounder, Evercoin
14. David Chaum – Founder, xx network
15. Pandu Sastrowardoyo – VP Consulting, Blocksphere.id
16. Dr Robin Kiera – CEO, Digitalscouting.de
17. Sonny Mohanty – Regional Director, LATOKEN
18. Shiliang Tang – Chief Investment Officer, Ledgerprime
19. Maria Stankevich – Head of Business Development, EXMO
20. Antony Welfare – Group MD, LUXOFT
21. Andre A de Castro – Founder & CEO, Blockchain of Things, Inc
22. Tzahi Kanza – CEO, VentureRocket | Securer
23. Meinhard Benn – CEO, Satoshipay
24. Yael Tamar – CMO & Partner, SolidBlock'
Tunggu apalagi? Daftarkan dirimu sekarang melalui: https://bit.ly/blockjakarta2020
Info selengkapnya silakan kunjungi link berikut.
#Indodax #AsetMasaDepan #Blockjakarta