BitUniverse Grid Trading Bot is On Indodax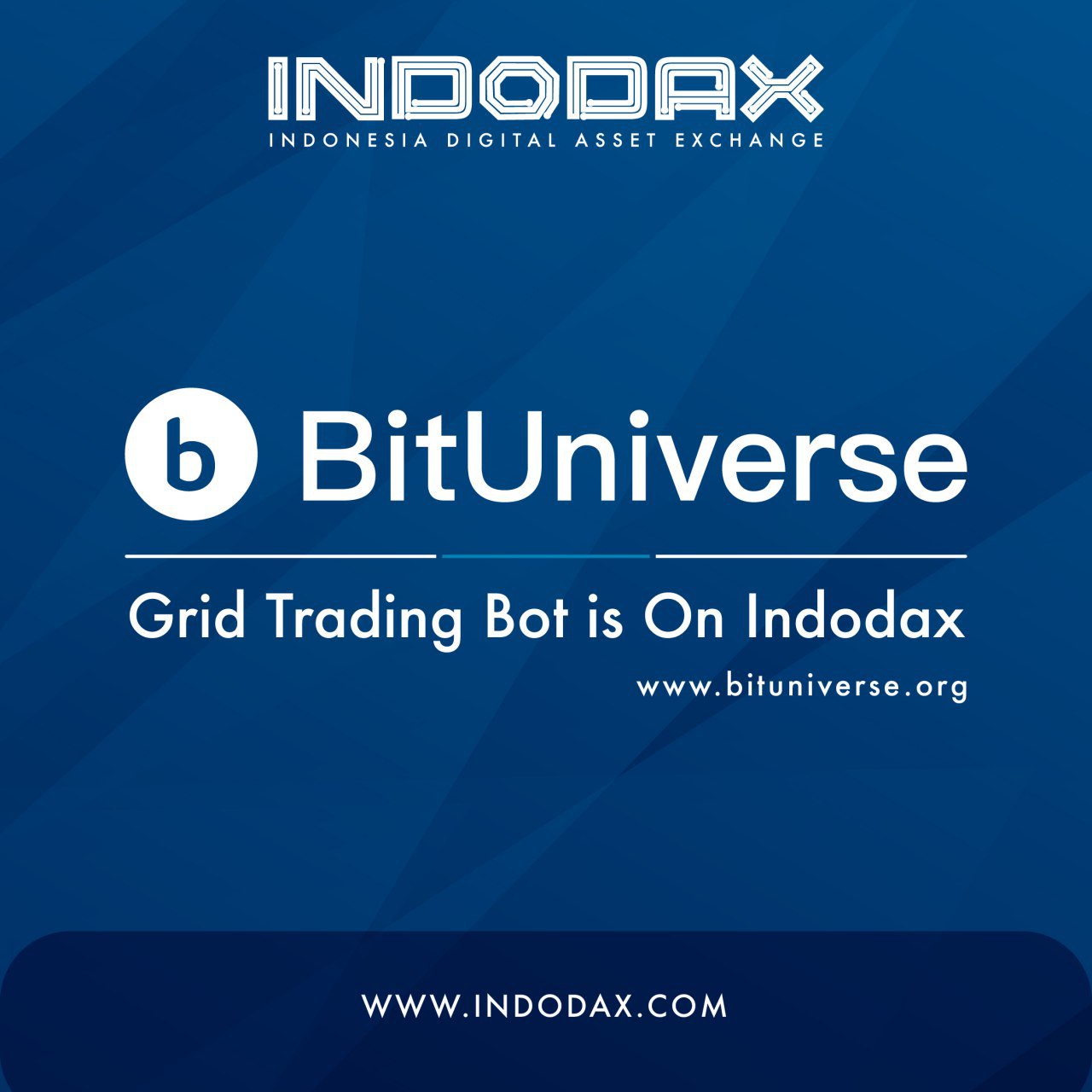 For English version see below:
Halo Member Indodax,
Dengan bangga kami mengumumkan integrasi dengan aplikasi mobile trading, BitUniverse. Aplikasi ini akan menambahkan support untuk Indodax. Berkat adanya kerjasama ini, member Indodax dapat melakukan transaksi dengan aplikasi BitUniverse dengan lebih mudah.
BitUniverse memiliki sistem bernama Grid Trading Bot yang dapat membantu Anda memperdagangkan semua jenis aset di pasar yang berbeda dengan cara yang lebih mudah. Dengan Grid Trading Bot member Indodax dapat melakukan trading 24/7 tanpa perlu menatap layar terlalu lama untuk memantau pasar. Setelah mengimpor kunci API pada akun Indodax ke aplikasi BitUniverse, member akan terhubung secara otomatis ke bursa dan mengaktifkan fungsi Grid Trading secara mudah.
Platform Indodax dapat terhubung dengan aplikasi ini melalui API key yang dibuat pada akun Indodax. Teknologi ini memenuhi standar keamanan tinggi. Pengguna juga dapat mengelola transaksi trading mereka melalui BitUniverse, tapi secara fisik akan dilakukan di exchanger. Serta terminal tidak bisa mendapatkan akses ke simpanan aset milik penggunanya.
Update terbaru mengenai integrasi API Bituniverse dan Indodax akan kami umumkan pada blog Indodax.
Untuk informasi lebih detail mengenai integrasi ini, silakan hubungi kami di [email protected] atau melalui livechat di website Indodax.com
Salam,
INDODAX
PERHATIAN: PT. Indodax Nasional Indonesia TIDAK bertanggung jawab atas penggunaan Bitcoin, Ethereum, atau digital asset lain yang dimiliki para member. Seluruh penggunaan dan kepemilikan Bitcoin, Ethereum atau digital asset lain menjadi tanggung jawab pribadi masing-masing para member.
~
English Version
We are proud to announce that Indodax will have an API Integration with the mobile trading application, BitUniverse. With this API collaboration, we wish that Indodax members can make transactions with the BitUniverse application easily.
BitUniverse has a system called Grid Trading Bot that can help you trade all types of assets in different markets in an easier way. With Grid Trading Bot, members of Indodax can trade 7 days 24 hours without needing to stare at the screen for too long to monitor the market. After importing the API key on the Indodax account into the BitUniverse application, members will automatically connect to the exchange and activate the Grid Trading function easily.
The Indodax platform can be connected with this application through the API key created on the Indodax account. This technology meets high security standards. Users can also manage their trading transactions through BitUniverse, but physically it will be done on an exchanger. And the terminal cannot get access to the user's assets.
The latest update regarding the integration of the BitUniverse and Indodax APIs will be announced on the Indodax blog.
For more detailed information regarding this integration, please contact us at [email protected] and our live-chat on Indodax.com.
Best Regards,
INDODAX
For more information:
Website : https://www.bituniverse.org
Telegram : https://t.me/bituniverseid
WhatsApp : https://chat.whatsapp.com/HMKyXucNTUmKsOZvFChdG1

CAUTION: PT. Indodax Nasional Indonesia is NOT responsible for the use of Bitcoin, Ethereum, or other digital assets owned by members. All uses and ownership of Bitcoin, Ethereum or other digital assets are the personal responsibility of each member.