AOA and SCC Listing on Indodax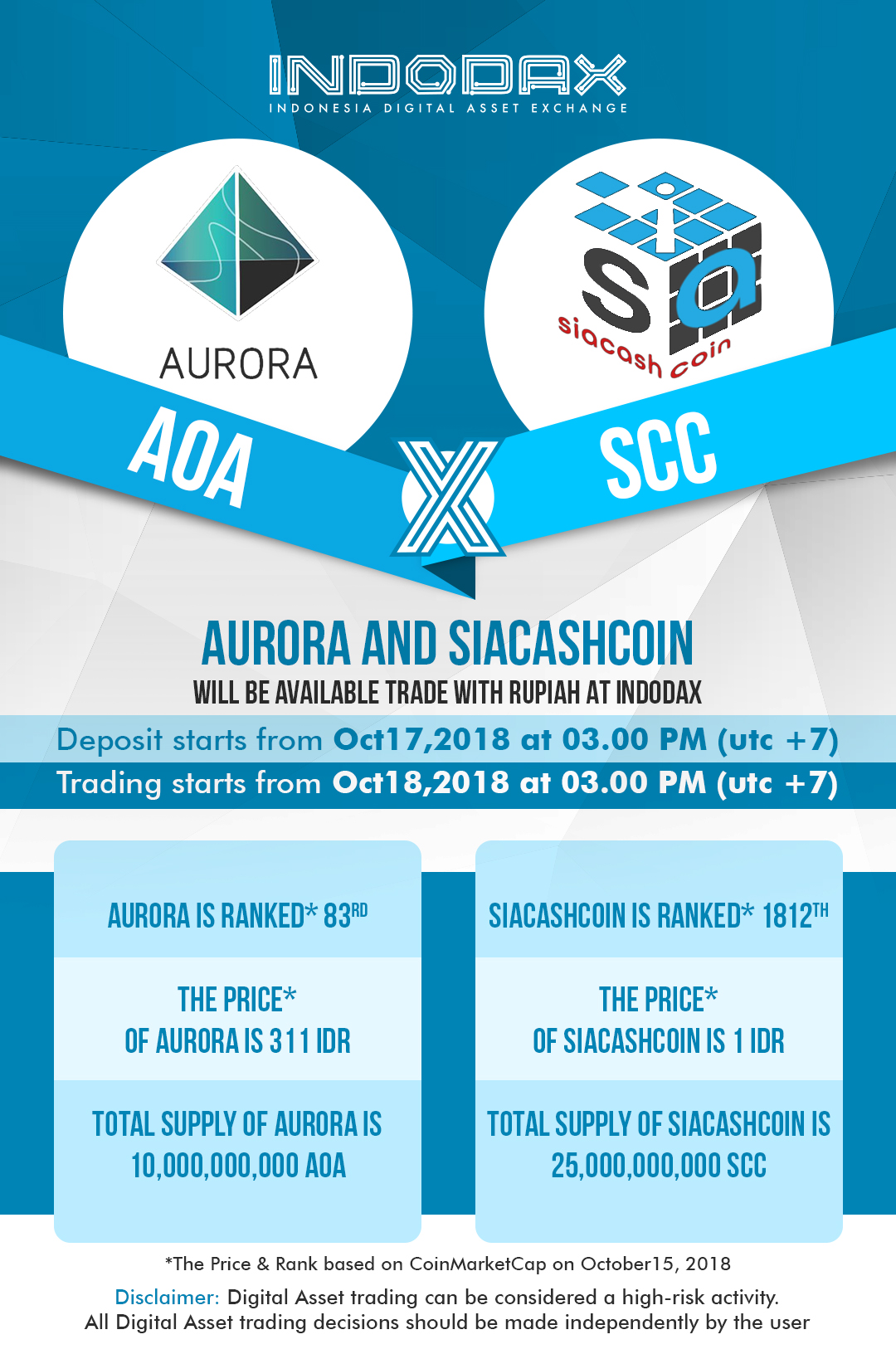 For English version see below
Halo Member Indodax,
Dengan senang hati kami umumkan bahwa Anda dapat melakukan deposit Aurora (AOA) dan SiaCashCoin (SCC) mulai hari Rabu, 17 Oktober 2018 pukul 15.00 WIB dan dapat ditradingkan pada Kamis, 18 Oktober 2018 pukul 15.00 WIB. AOA merupakan pilihan manajemen Indodax untuk dapat ditradingkan dan SCC adalah dari Community Coin Voting periode IV.
Aurora (AOA) merupakan sebuah protokol blockchain yang dapat digunakan untuk membuat token dan ekosistem blockchain didalamnya. Aurora Chain menawarkan aplikasi yang cerdas dan memungkinkan untuk mengembangkan multi-chain paralel untuk menciptakan transaksi per detik yang sangat tinggi dengan pemeliharaan keamanan. AOA merupakan Ranking* 82 (top 100) dari 2079 pada peringkat di Coinmarketcap.com
SiaCashCoin (SCC) adalah aset digital yang akan menjadi pembayaran di database mereka, yang berisi ribuan solusi penyimpanan yang aman dan hemat biaya di seluruh dunia. SCC berada pada peringkat* 1812 dari total 2079 pada Coinmarketcap.com.
*Ranking berdasarkan tanggal 15 Oktober 2018
Salam,
Indodax
Perhatian! Perdagangan Aset Digital merupakan aktivitas beresiko tinggi. Harga aset digital sangat fluktuatif, di mana harga dapat berubah secara signifikan dari waktu ke waktu. Indodax tidak memaksa pengguna untuk membeli atau menjual Aset Digital, atau aksi mencari keuntungan. Semua keputusan perdagangan Aset Digital merupakan keputusan independen oleh pengguna.
Hello Indodax Member,
We are excited to announce that you can start deposit Aurora (AOA) and SiaCashCoin (SCC) from Wednesday, 17 October 2018 at 03.00 PM (UTC+7) and can be traded from Thursday, 18 October 2018n at 03.00 PM (UTC+7). AOA is Indodax management choice to be traded and SCC is from Community Coin Voting periode IV.
Aurora (AOA) is a blockchain protocol where you can use it to make token and blockchain ecosystem. Aurora Chain offers intelligent application isolation and enables multi-chain parallel expansion to create an extremely high TPS with security maintain. AOA ranked* 82 (Top 100) from 2079 digital assets in Coinmarketcap.com.
SiaCashCoin (SCC) is a digital asset which will be payment on their database, containing thousands of secure and cost effective storage solutions throughout the world. SCC ranked* 1812 from 2079 digital assets in Coinmarketcap.com.
*Ranked based on October 15, 2018
Regards,
INDODAX
Disclaimer : Digital Asset trading can be considered a high-risk activity, where Digital Asset prices are volatile, and can swing wildly, from day to day. Indodax is not soliciting for users to buy or sell Digital Assets, or for profit. All Digital Asset trading decisions should be made independently by the user.