Announcement about BCHABC and BCHSV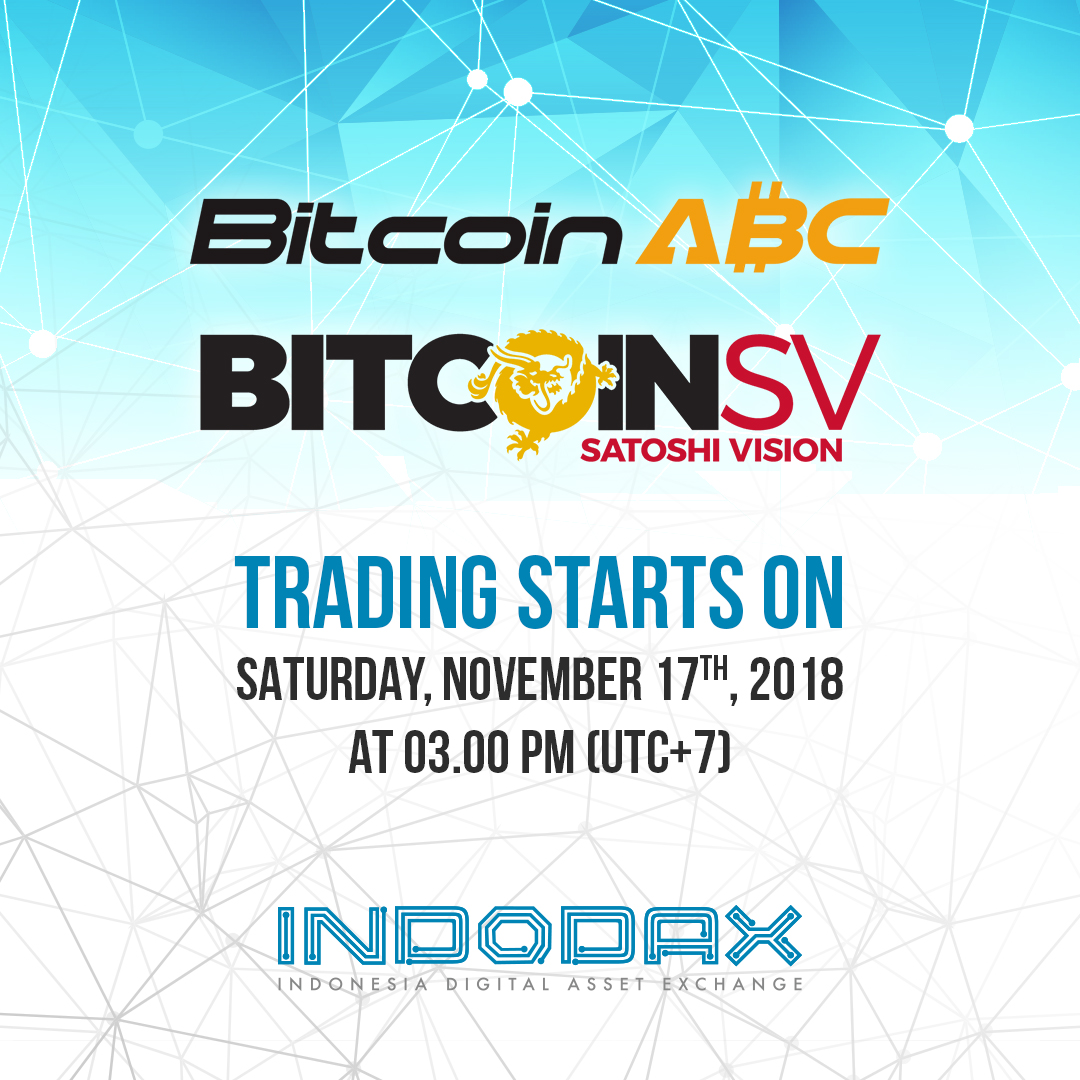 For English version see below
Halo Member Indodax,
Kami akan melakukan distribusi terhadap Bitcoin Cash ABC (BCHABC) dan Bitcoin Cash SV (BCHSV) kepada seluruh member yang memiliki saldo aset Bitcoin Cash (BCH) berdasarkan snapshot yang dilakukan pada tanggal 15 November 2018 pukul 23.40 WIB. Aset BCH akan dihapus dari Indodax digantikan oleh kedua coin tersebut dan market BCH/IDR akan dihapus dari Indodax.
Sehubungan dengan hardfork yang dilakukan, seluruh saldo BCH akan digantikan dengan saldo BCHABC dan BCHSV dengan rasio yang didistribusikan adalah 1 BCH = 1 BCHABC dan 1 BCH = 1 BCHSV.
Indodax akan membuka trading BCHABC/IDR dan BCHSV/IDR pada Sabtu, 17 November 2018 pukul 15.00 WIB.
Deposit dan withdraw BCHABC dan BCHSV akan dibuka kembali setelah kami merasa network Blockchain BCHABC dan BCHSV sudah stabil dan aman, kami akan mengumumkan secara terpisah mengenai hal ini.
Apabila memiliki pertanyaan, silakan menghubungi [email protected]
Salam,
Indodax
Hello Indodax Member,
Indodax will distribute both Bitcoin Cash ABC (BCHABC) and Bitcoin Cash SV (BCHSV) to all eligible users, based on the snapshot of all Bitcoin Cash (BCH) balances taken on Thursday, November 15, 2018 at 11:40 PM (UTC+7). All prior BCH balances will be removed from user accounts and BCH/IDR market trading pairs will be delisted from Indodax.
All prior BCH balance has been changed to BCHABC and BCHSV were each distributed to users in a ratio of 1 BCH = 1 BCHABC and 1 BCH = 1 BCHSV.
Indodax will open trading for BCHABC/IDR and BCHSV/IDR on Saturday, November 17th, 2018 at 03.00 PM (UTC+7).
Deposits and withdrawals of BCHABC and BCHSV will open after we deem the blockchains and wallets to be usable and stable.
If you have any question, feel free to contact us at [email protected]
Regards,
Indodax