TOTAL 25000 TEN FOR 1515 WINNERS!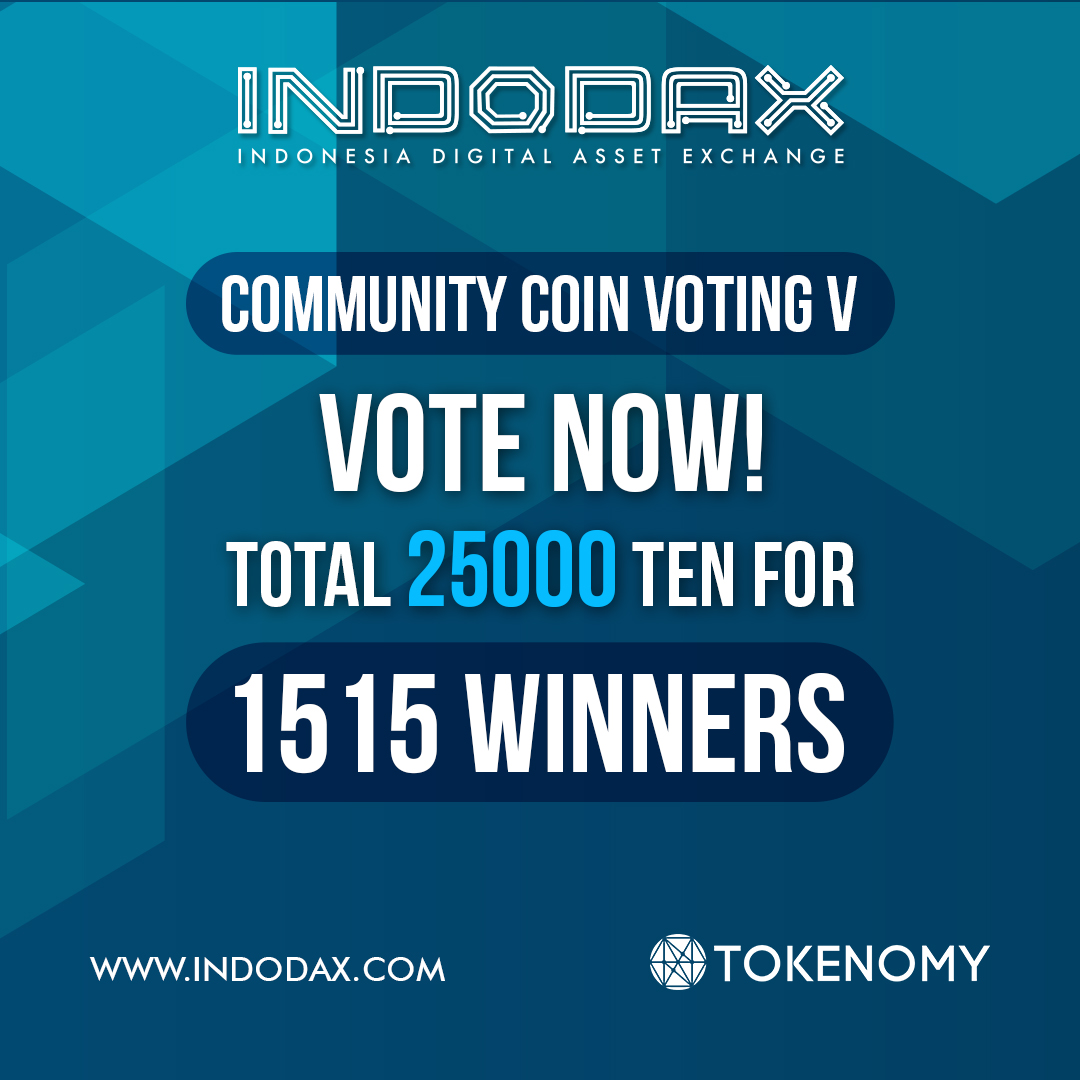 [For English and Chinese version see below]
Halo member Indodax,
Community Coin Voting V telah hadir kembali!
Total hadiah 25000 TEN akan dibagikan untuk 1515 voters beruntung pada Community Coin Voting periode V. Raih kesempatan untuk mendapatkan 2000 TEN dengan cara vote coin favoritmu pada periode voting kali ini.
Periode voting akan dibuka pada tanggal 5 November 2018 pukul 15.00 WIB.
Syarat dan ketentuan:
1. Pemenang merupakan member INDODAX yang sudah terverifikasi.
2. Pemenang mengikuti voting di dalam Community Coin Voting periode V
3. Pemenang akan dipilih secara acak oleh sistem.
4. Hadiah:
– 2000 TEN masing-masing untuk 5 orang pemenang.
– 500 TEN masing-masing untuk 10 pemenang
– 10 TEN masing-masing untuk 500 orang pemenang.
– 5 TEN dibagikan ke 1000 orang pemenang
5. Pemenang akan diumumkan 1 minggu setelah pemenang Community Coin Voting periode V diumumkan.
6. Hadiah akan dibagikan 1 hari setelah pengumuman pemenang diumumkan.
7. Keputusan manajemen bersifat mutlak dan tidak dapat diganggu gugat.
Cara voting Coin:
1. Login pada akun Indodax Anda
2. Pilih menu Community Coin Voting
3. Klik Vote pada Coin Favoritmu
4. Masukan jumlah vote yang diinginkan
5. Klik Vote
Semoga beruntung!
Salam,
Indodax
.
Hello Indodax Member,
Community Coin Voting period V has started.
We have 25000 TEN for 1515 lucky winners who participate in the voting process. Try your luck to get 2000 TEN. All you need to do is vote your favorite coin in this voting period.
Voting period will start on November 5, 2018 at 03.00 PM (UTC+7).
Terms and Conditions:
1. Winner is a verified member of INDODAX.
2. Winners are members who participate in the Community Coin Voting V
3. Winners will be randomly selected by the system.
4. Rewards:
–2000 TEN each for 5 winners
–500 TEN each for 10 winners
–10 TEN each for 500 winners
–5 TEN each for 1000 winners
5. Winners will be announced 1 week after the winner of the Community Coin Voting V is announced.
6. Prizes will be distributed 1 day after the announcement of the winner is announced.
7. Management's decision is absolute.
How to Vote:
1. Login to your Indodax account
2. Choose Community Coin Voting
3. Choose your favorite coin and click Vote
4. Enter the desired number of votes
5. Click vote
Good luck!
Regards,
Indodax
会员您好,
第五轮社区投币投票已开始. 我们为1515个参与投票的幸运获奖者准备了25000个 TEN币, 试下您的运气得到2000 TEN币. 您只需要在投票期间投票您最喜爱的代币.
投票期将于 2018年11月5日03.00 下午 (UTC+7) 开始.
条款与条件:
1. 获奖者需为已认证的INDODAX会员
2. 获奖者需为参与第五期社区投币投票的会员
3. 获奖者将被系统随机选择
4. 奖励
– 5获奖者赢取2000 个TEN币
– 10获奖者赢取500 个TEN币
– 500获奖者赢取10 个TEN币
– 1000获奖者赢取5 个TEN币
5. 我们首先宣布的社区投票的获胜项目方, 一星期后我们宣布投票用户名单。
6. 奖品将在公告发布1天后才派发
7. 管理层拥有最终决定权
如何投票数字资产:
1. 登录您的 Indodax 帐户
2. 选择社区投币投票列单
3. 选择您最喜爱的代币, 然后点击投票
4.  输入期望的票数
5. 点击投票
祝您好运!
此致敬意,
INDODAX