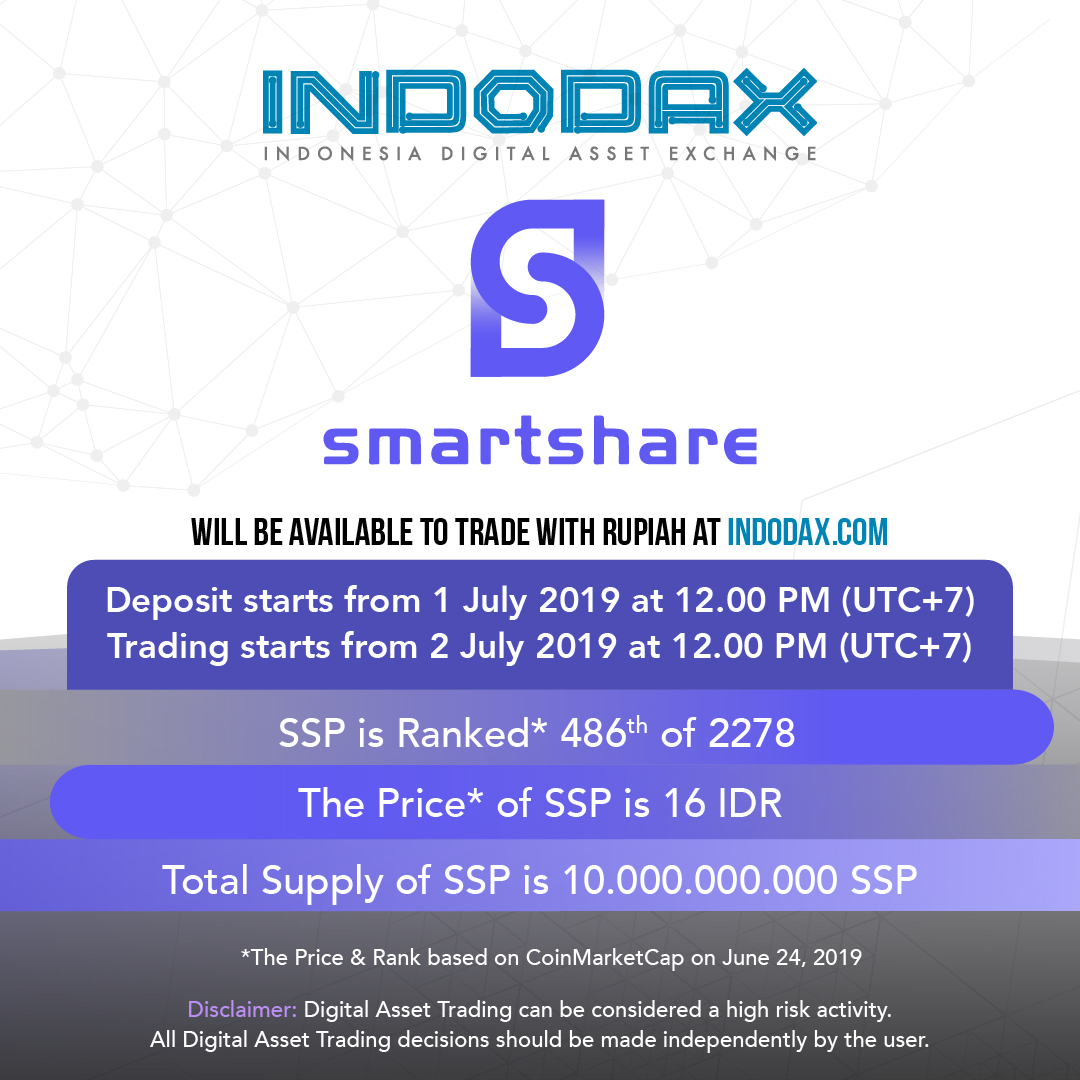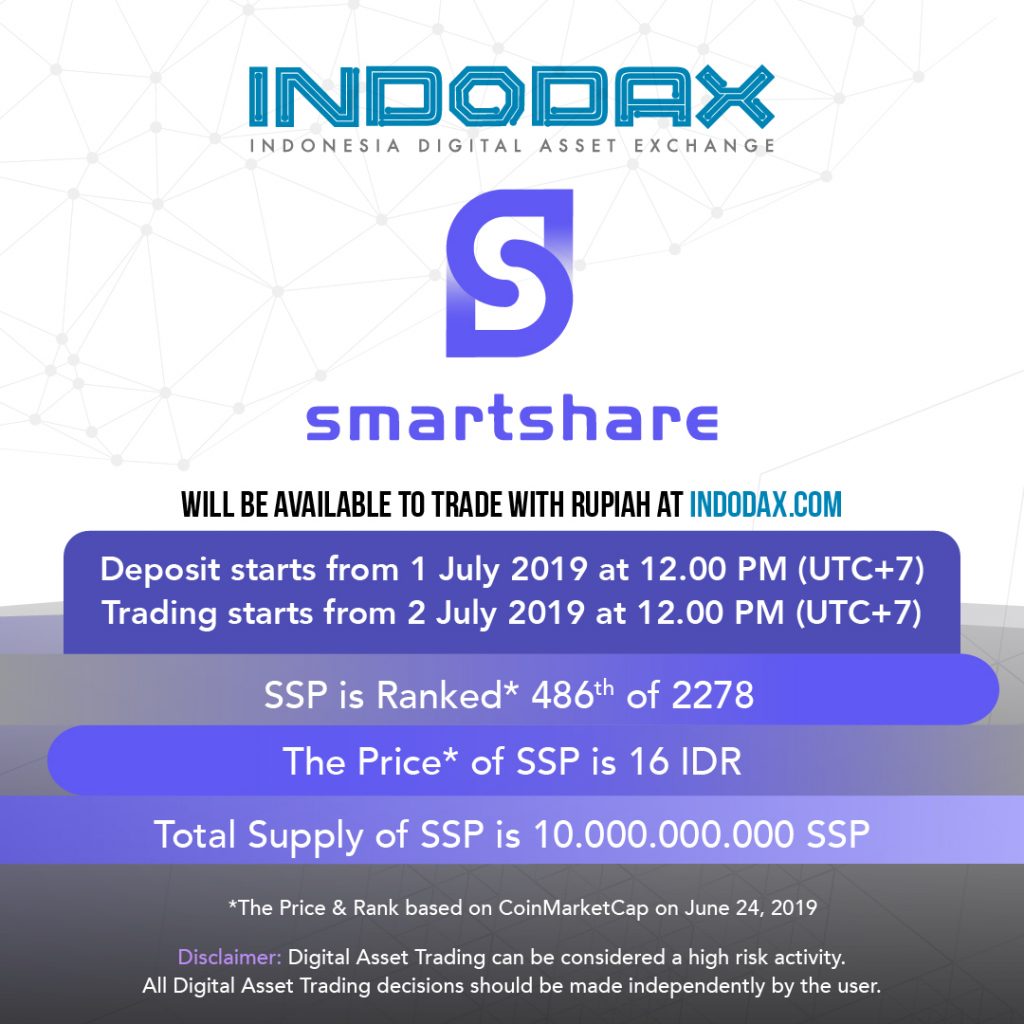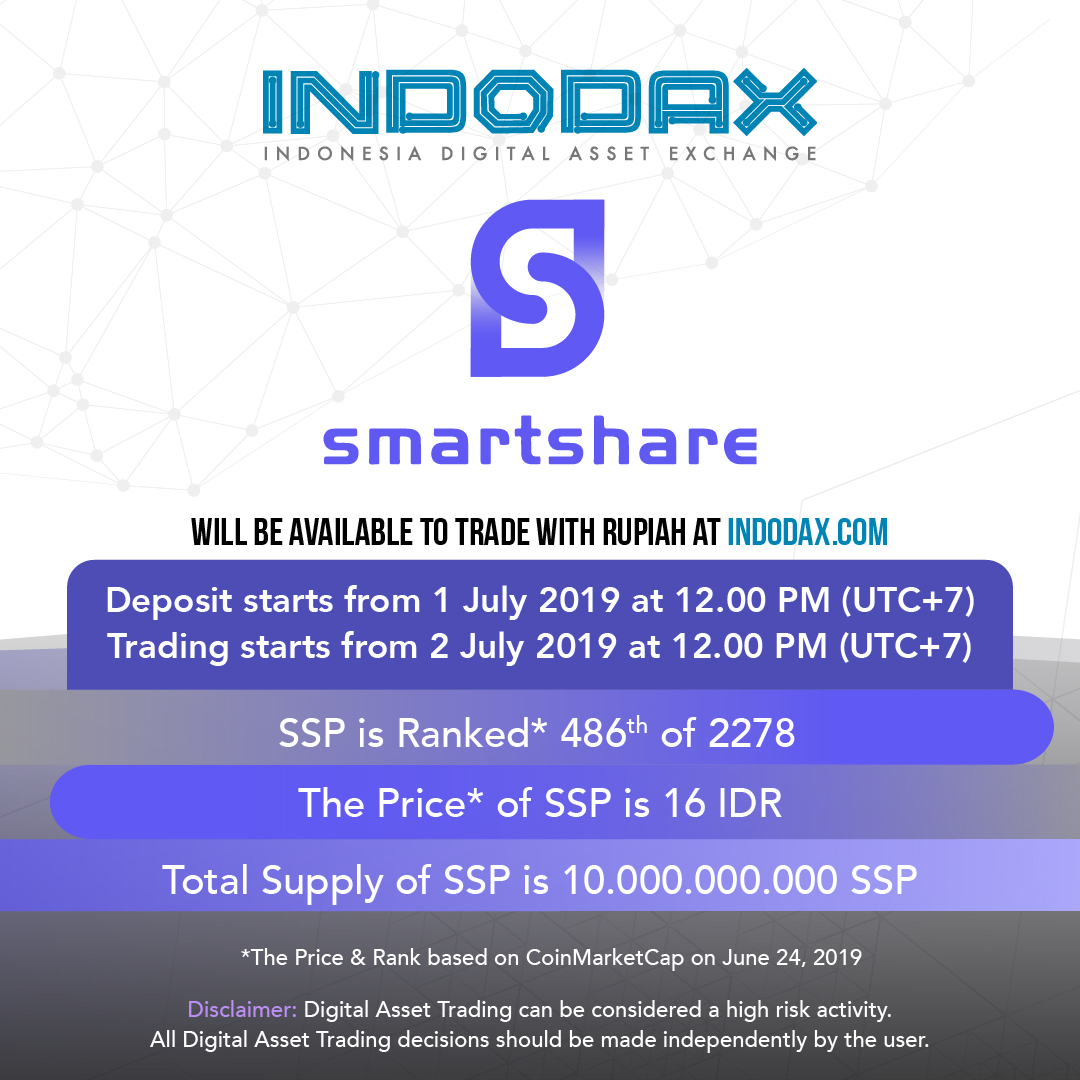 For English version see below
Halo Member Indodax,
Kami telah selesai melakukan Due Diligence dan proses integrasi pada Smartshare (SSP), aset digital pemenang Community Coin Voting 9. Anda bisa mulai deposit SSP pada hari Senin, 1 Juli 2019 pukul 12.00 WIB dan trading dimulai pada hari Selasa, 2 Juli 2019 pukul 12.00 WIB.
Tentang SSP:
Smartshare adalah platform teknologi blockchain terdesentralisasi yang cerdas dan kredibel yang dirancang untuk membentuk kembali ekosistem nilai dan nilai Internet of Things (IoT). Produk dan teknologi Smartshare akan menerapkan tiga fase berikut, fase pertama Smartshare adalah menciptakan rantai industri publik dan membangun ekosistem untuk IoT. Kedua, desentralisasi data platform perdagangan dan sirkulasi nilai dari data terminal akan terwujud. Ketiga, Smartshare bertujuan untuk mencapai interkoneksi semua hal dan perdagangan nilai terminal.
Saat ini SSP menempati peringkat ke 486* dari 2278 aset digital dengan harga Rp 16*. Total supplynya adalah 10.000.000.000 SSP. Untuk informasi lebih lengkap SSP silakan kunjungi link berikut.
*berdasarkan Coinmarketcap per 24 Juni 2019
Apabila mempunyai pertanyaan, silakan hubungi [email protected] atau melalui fitur livechat di website Indodax.com.
Salam,
Indodax
Hello Indodax Member,
We have finished conducting Due Diligence and integration process on Smartshare (SSP), winner of Community Coin Voting 9. You can start deposit SSP on Monday, 1 July 2019 at 12.00PM (UTC+7) and trading start on Tuesday, 2 July 2019 at 12.00PM (UTC+7).
About SSP:
Smartshare is an intelligent and credible decentralized blockchain technology platform designed to reshape the value ecosystem and data value of the Internet of things. Smartshare's products and technologies will implement the following three phases, first phase Smartshare is creating a public chain of industry values and is building a value ecosystem for the Internet of Things. Second, the decentralization of the data trading platform and the value circulation of the terminal data will be realized. Third, Smartshare aims to achieve the interconnection of all things and terminal value trading.
SSP ranked 486* from 2278 digital assets registered in Coinmarketcap. The price is 16* IDR with total supply 10.000.000.000 SSP. For more information about SSP, please click this link.
*based on Coinmarketcap per 24 June 2019
If you have any question, please feel free to contact us to [email protected] or via live chat on Indodax.com.
Regards,
Indodax