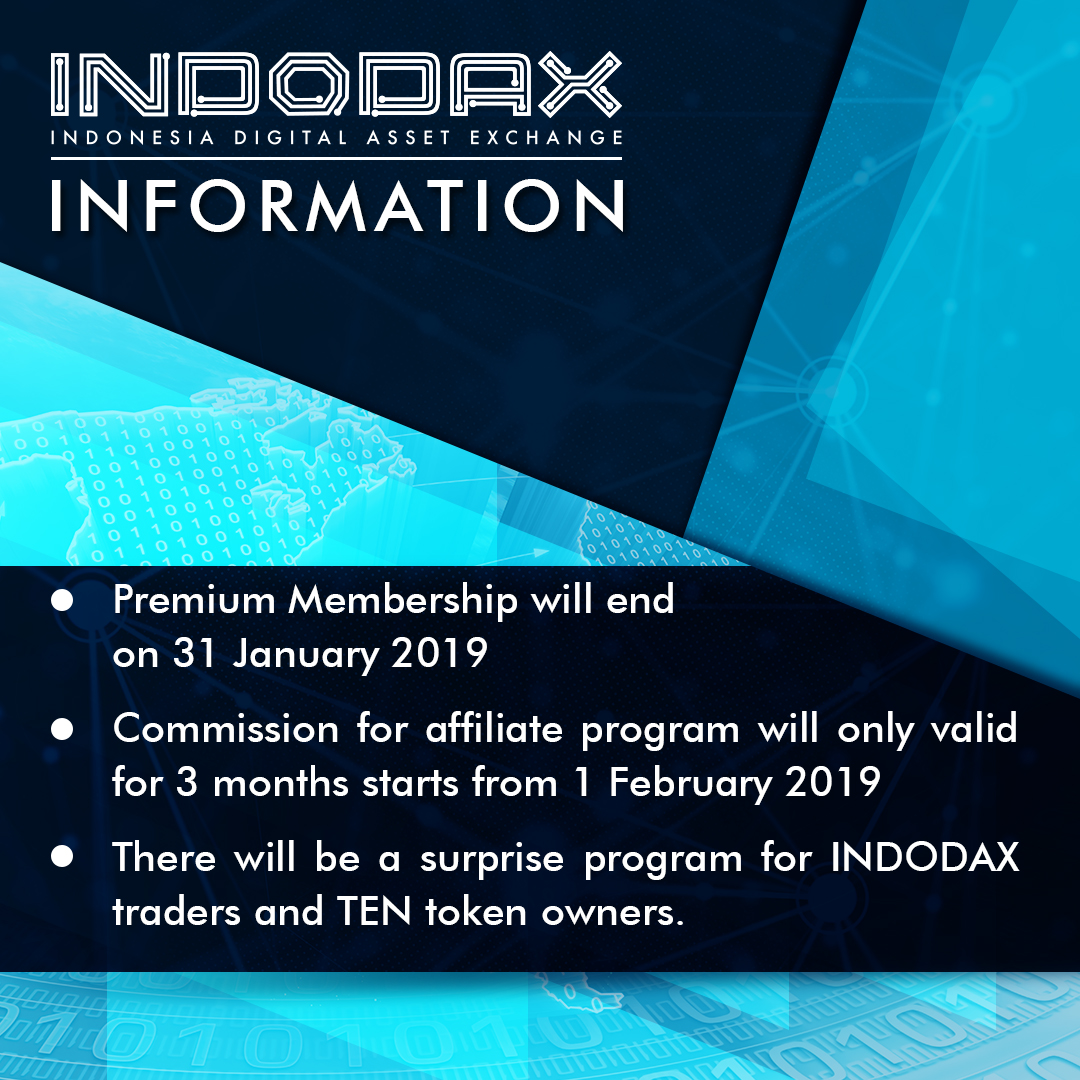 For English Version See Below
Halo Member Indodax,
Kami memiliki beberapa informasi terkait Indodax. Seperti:
Sesuai dengan pengumuman mengenai Premium Membership kami sebelumnya, periode Premium Membership akan berakhir pada tanggal 31 Januari 2019. Semua TEN yang sudah terkunci akan dikembalikan secara otomatis
Terdapat perubahan pada program afiliasi Indodax per 1 Februari 2019. Komisi afiliasi hanya berlaku untuk 3 bulan pertama pada saat member yang direkomendasikan terdaftar di Indodax, sebelumnya komisi afiliasi ini berlaku selamanya.
Bagi Anda yang memiliki downline yang terdaftar pada akun Anda sebelum 1 November 2018, komisi afiliasi downline tersebut akan berhenti diberikan pada 1 Februari 2019.

Contoh:
Nina di 1 Desember 2018 memiliki downline yang aktif jual-beli aset digital sebagai market taker. Ia mendapatkan komisi dari downlinenya tersebut. Namun setelah 3 bulan yaitu pada 1 Maret 2019, Nina tidak mendapatkan komisi afiliasi dari transaksi downline tersebut.
Akan ada program kejutan untuk trader Indodax dan pemilik token TEN. Nantikan update terbaru dari Indodax.
Terima kasih kepada member yang telah menggunakan dan berpartisipasi dalam program dan fitur kami.
Apabila memiliki pertanyaan, saran maupun kritik silakan hubungi [email protected].
Salam
Indodax – Indonesia Digital Asset Exchange
~
Hello Indodax Member,
We have some informations for our members:
According to our previous information about Premium Membership, this program will end on 31 January 2019.
All locked TEN token will be returned automatically.
There are changes to the Indodax affiliate program that starts 1 February 2019. This new affiliate program will only be valid for the first 3 months after being registered as a downline. Before, affiliate program was permanent.
For you who have downline registered to your account before 1 November 2018, affiliate commission will no longer given to your account on 1 Februari 2019.


Example:
On 1 Desember 2018 Nina has a downline who actively trade as market taker. She get commission from her downline. But after 3 months, on 1 March 2019 exactly, Nina no longer get any commission from her transaction fee of her downline.
There will be a surprise program for Indodax traders and TEN token owners. Please look forward to our update soon.
Thank you for participating in our program and enjoying our features.
If you have any question, suggestion or critic please feel free to contact [email protected].
Regards,
Indodax – Indonesia Digital Asset Exchange