Open Trading Pair Market USDT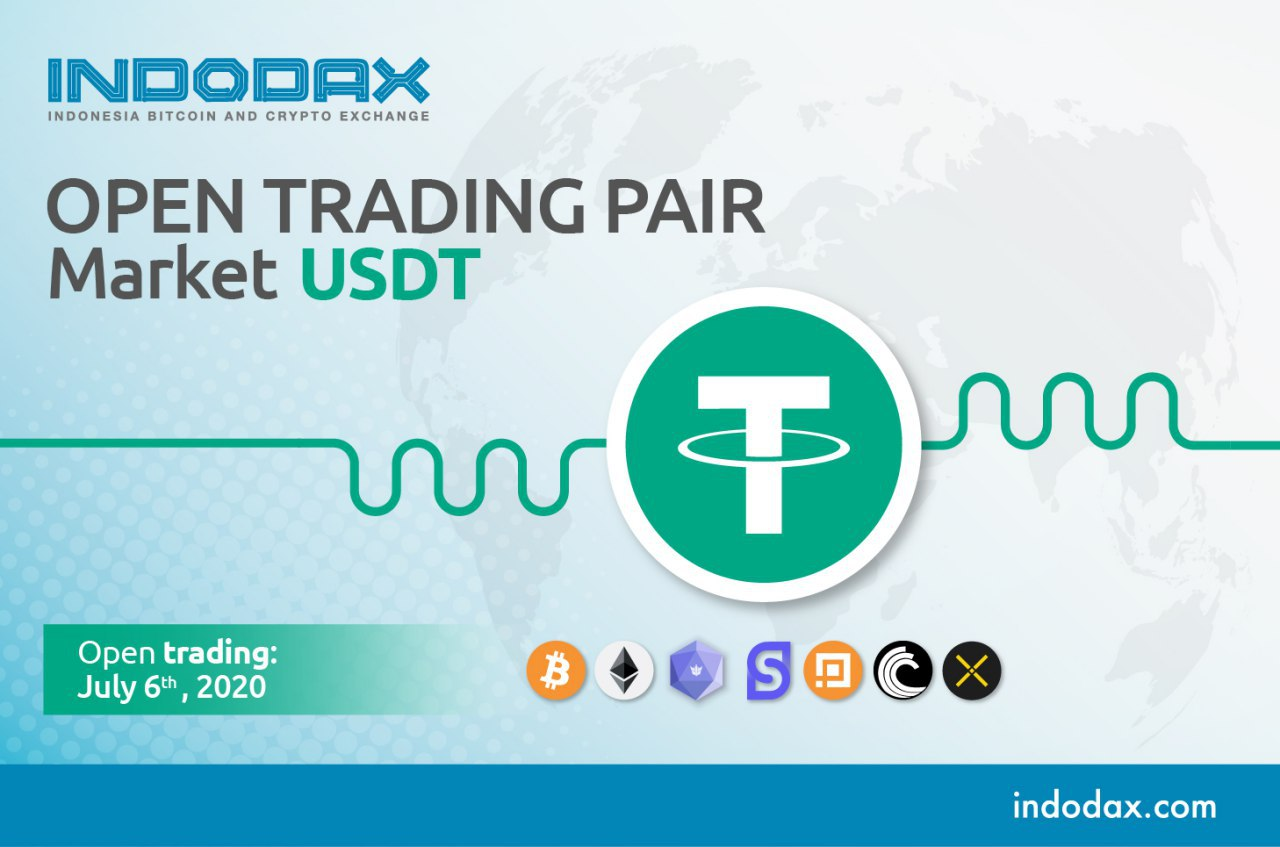 [For English Version See Below]
Halo, member Indodax,
Sebagai bentuk komitmen kami untuk meningkatkan pelayanan dan kenyamanan member dalam melakukan aktivitas jual beli aset kripto, dengan senang hati kami mengumumkan bahwa trading pair baru yaitu market USDT akan dibuka dengan aset kripto yang tersedia yaitu, BTC, ETH, GARD, SSP, PXG, NPXS dan BTT.
Open trading dimulai tanggal 6 Juli 2020, pukul 15.00 WIB.
Sebagai informasi tambahan, kami akan menonaktifkan market BTC dan untuk aset kripto yang tersedia dalam market USDT akan dilakukan penonaktifan dari market Rupiah kecuali BTC, ETH dan BTT. Biaya transaksi market pair USDT sebesar 0% untuk Maker dan 0.3% untuk Taker dari jumlah transaksi. Minimal transaksi untuk market USDT sebesar 1 USDT.
Seluruh order pending akan otomatis dibatalkan (auto-cancelled) dan Anda dapat melakukan order kembali pada market yang baru yaitu USDT.
Apabila Anda memiliki pertanyaan lebih lanjut, silakan hubungi [email protected] atau melalui Call Center kami 021-50525588
Salam,
INDODAX – Indonesia Bitcoin & Crypto Exchange
~
Hello, Indodax member,
As a form of our commitment to improve service and convenience for your crypto asset's trading experience, we are pleased to announce that a new pair USDT market trading will be opened. Available crypto assets are BTC, ETH, GARD, SSP, PXG, NPXS, and BTT. If you have already purchased crypto assets using Rupiah pairs, you can trade them back in USDT pairs as usual.
You can start trading on USDT market on July 6, 2020, at 3:00 PM.
Additional Information:
1. We will deactivate the BTC market
2. Crypto assets available in the USDT market will be deactivated from Rupiah market except BTC, ETH and BTT
3. Transaction fees are 0% maker and taker 0.3% of the transaction amount.
4. Minimum transaction for the USDT market is 1 USDT.
All pending orders will be automatically canceled (auto-cancelled) and you can re-order on the new USDT market.
If you have further questions, please contact [email protected] or through our Call Center 021-50525588.
Regards,
INDODAX – Indonesia Bitcoin & Crypto Exchange