Indodax × BitUniverse 2020 Global Grid Trading Contest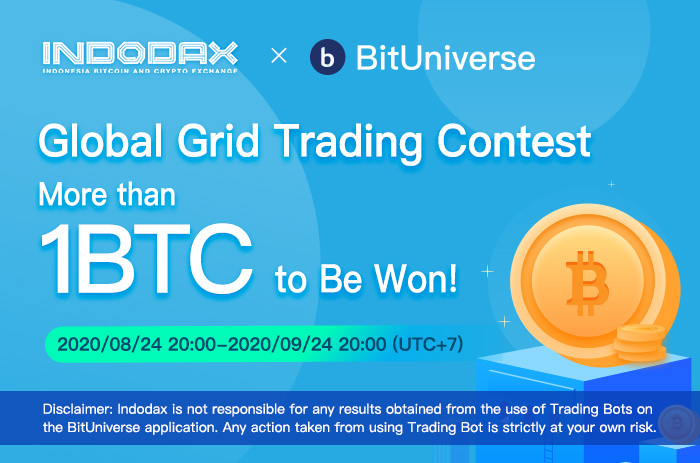 [For English Version See Below]
Indodax × BitUniverse 2020 Global Grid Trading Contest
* Trading Contest di Bituniverse dan menu "Trade" hanya tersedia di Android
Dengan senang hati, kami mengumumkan bahwa trading contest hadir kembali di Indodax. Trading contest kali ini bekerja sama dengan penyedia layanan bot trading, BitUniverse.
Kegiatan ini berlangsung dari 24 Agustus 2020 pukul 20:00 WIB hingga 24 September 2020 pukul 20:00 WIB dengan total hadiah 1,05 BTC atau senilai ± 181 juta Rupiah.
Untuk mengikuti trading contest ini, peserta dapat mendaftar melalui: https://bit.ly/SignupIndodaxBitUniverse
Aturan Umum:
Peserta harus menggunakan BitUniverse Grid Bot di Indodax dan hanya trading yang dilakukan pada market BTC/IDR, ETH/IDR, BTC/USDT, dan ETH/USDT yang akan dihitung;
Peserta harus melakukan pendaftaran melalui tautan berikut: https://bit.ly/SignupIndodaxBitUniverse;
Peserta harus memiliki aplikasi BitUniverse yang dapat diunduh melalui: https://www.bituniverse.org;
Peserta harus membuat BitUniverse Grid Bot dengan akun Indodax. Tutorial membuat bot trading dapat diakses melalui tautan berikut: https://bit.ly/TutorialBitUniverseGrid;
Peserta harus melakukan trading dengan nilai minimal 100 USDT atau lebih untuk mendapatkan hadiah senilai $10 sebagai hadiah partisipasi trading contest;
Waktu minimal bot berjalan harus lebih dari 12 jam dan pada lebih dari 30 transaksi.
Kategori Pemenang:
Pemenang pertama akan mendapatkan 0,05 BTC;
Pemenang kedua dan ketiga masing-masing akan mendapatkan 0,03 BTC;
Pemenang 4–10 teratas masing-masing akan mendapatkan 0,02 BTC;
Pemenang 11–50 teratas masing-masing akan mendapatkan 0,01 BTC; dan
Partisipan acara yang tercepat untuk mendaftar dalam acara trading contest ini, akan mendapatkan total hadiah 0,4 BTC atau senilai masing-masing $10 (-/+ 500 peserta pertama) dalam bentuk Bitcoin.
Syarat & Ketentuan:
Penilaian pemenang akan dihitung dan ditentukan berdasarkan jumlah keuntungan yang didapat dari penggunaan bot trading BitUniverse dalam nilai USDT;
Contoh:
Selama kompetisi, A membuat 3 bot Trading Grid. Keuntungan grid atau Grid Profit masing-masing bot tersebut adalah $150, $200, dan $250. Jadi, total keuntungan grid atau Grid Profit yang dihasilkan oleh A adalah $600.
Transaksi yang dihitung adalah transaksi yang tidak termasuk dalam transaksi palsu yang dilakukan oleh diri sendiri. Apabila terdeteksi adanya transaksi palsu (self-dealing), maka akan didiskualifikasi;
Hadiah dalam bentuk Bitcoin akan dibagikan ke akun Indodax masing-masing pemenang dalam waktu 2 minggu setelah acara trading contest ini berakhir;
Segala risiko yang ditimbulkan dari aktivitas jual dan beli aset kripto adalah tanggung jawab penuh peserta. BitUniverse dan Indodax hanya berperan sebagai penyedia layanan trading dan marketplace;
Indodax dan BitUniverse berhak melakukan intervensi pada berlangsungnya acara apabila terdapat kendala maupun kecurangan;
Indodax berhak melakukan pembatalan transaksi atau membatalkan trading contest sewaktu-waktu, tanpa pemberitahuan terlebih dahulu kepada peserta, terutama jika terdapat penggunaan bot trading yang terindikasi penipuan;
Indodax berhak mengubah syarat dan ketentuan promo sewaktu-waktu;
Indodax tidak bertanggung jawab atas penggunaan bot trading yang dilakukan di BitUniverse dan segala risiko serta kerugian yang timbul akan dikembalikan kepada peserta.
Peserta yang mendaftar dengan lebih dari satu akun akan didiskualifikasi untuk semua kategori hadiah.
Jika Anda memiliki pertanyaan lebih lanjut, silakan hubungi [email protected] atau melalui Call Center kami di 021-50525588.
Salam,
INDODAX – Indonesia Bitcoin & Crypto Exchange
~
Hello Indodax Member,
Indodax × BitUniverse 2020 Global Grid Trading Contest
* Trading Contest on Bituniverse and "Trade" menu is only available on Android
We are happy to announce that the trading contest is back at Indodax! This trading contest is a collaboration with a trading bot service provider, BitUniverse.
This activity will take place from August 24th, 2020 at 20:00 WIB to September 24th, 2020 at 20:00 WIB with a total prize of 1.05 BTC or ± 181 million Rupiah!
To enter this trading contest, participants can register via: https://bit.ly/SignupIndodaxBitUniverse
Event Rules:
Participants must use BitUniverse Grid Bot on Indodax and only trades in BTC/IDR, ETH/IDR, BTC/USDT, or ETH/USDT markets will be counted;
Participants must register via the following link: https://bit.ly/SignupIndodaxBitUniverse;
Participants must have the BitUniverse application which can be downloaded via: https://www.bituniverse.org;
Participants must create a BitUniverse Grid Bot with an Indodax account. The tutorial for creating a trading bot can be accessed via the following link: https://bit.ly/TutorialBitUniverseGrid;
Participants must trade with a minimum value of 100 USDT or more to get a prize of $10 for participating in the trading contest;
The minimum time for the bot to run must be more than 12 hours and on more than 30 transactions.
Winner Category:
The first winner will get 0.05 BTC;
The second and the third winners will get 0.03 BTC each;
The top 4–10 winners will get 0.02 BTC each;
The top 11–50 winners will get 0.01 BTC each; and
The fastest participants to register in this trading contest will get a total prize of 0.4 BTC or $10 each (for ± first 500 participants) in Bitcoin value.
Terms and Conditions:
The winner's rating will be calculated and determined based on the amount of profit earned from using the BitUniverse trading bot in USDT;
Example:
During the competition, A created 3 Grid Trading Bots. The grid profit for each one of them is $150, $200, and $250. So, the total grid profit for A is $600.
The considered transactions do not include fake transactions dealt out by yourself. If self-dealing is detected, you will be disqualified;
The prizes will be distributed in Bitcoin to the winners' Indodax accounts within 2 weeks after the trading contest ends;
Any risk obtained from buying and selling crypto assets is the participant's full responsibility. BitUniverse and Indodax only act as a trading service provider and marketplace;
Indodax and BitUniverse have the rights to intervene if any obstacles or fraud is found during the event;
Indodax has the rights to cancel a transaction or the trading contest at any time, without prior notification to the participant, especially if a fraud indication is found from the use of the trading bot;
Indodax has the rights to change the promo's terms and conditions at any time;
Indodax is not responsible for any results obtained from the use of Trading Bots on BitUniverse.
Any loss emerges from using the Trading Bot is strictly at your own risk;
The participants who join with more than one account will be disqualified to all the awards.
If you have further questions, please contact [email protected] or through our Call Center at 021-50525588.
Regards,
INDODAX – Indonesia Bitcoin & Crypto Exchange