Indodax Integrated with Bitsgap, Goodcrypto & Neironix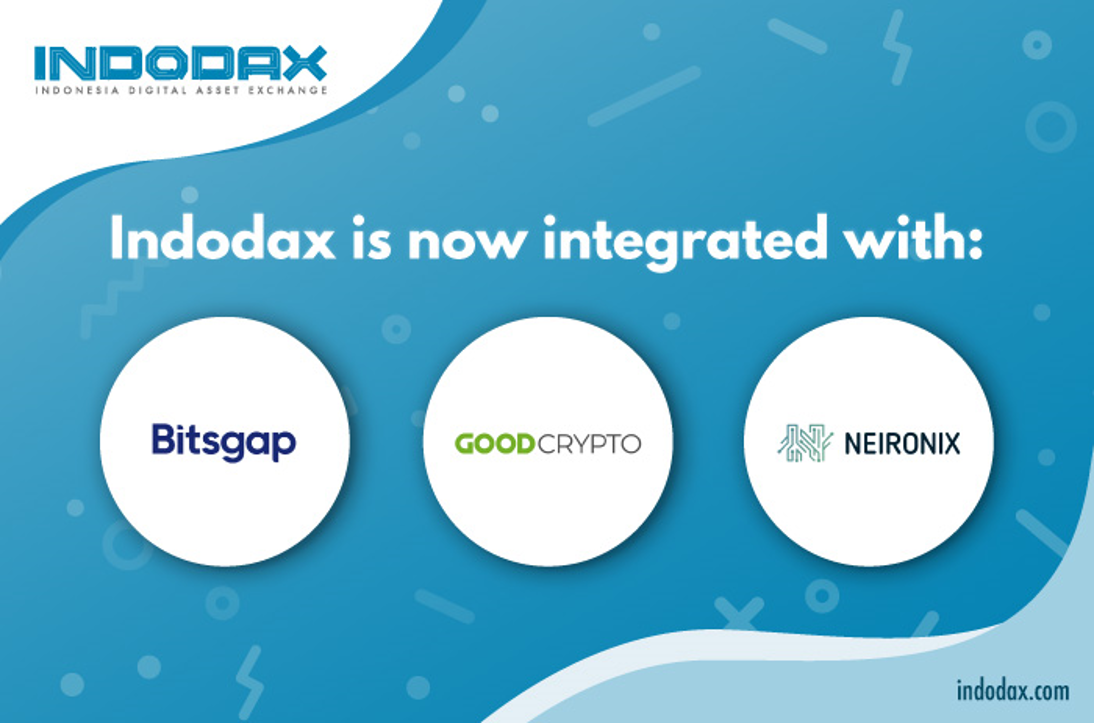 For English version see below
Halo Member Indodax,
Indodax kini telah selesai melakukan integrasi dengan dua layanan aplikasi bot trading yaitu Bitsgap dan Goodcrypto. Serta aplikasi informasi mengenai aset digital yaitu Neironix. 
Bitsgap adalah sebuah layanan yang diperuntukan bagi para trader yang ingin mengelola aset digital secara mudah. Penggunaan bot trading Bitsgap secara otomatis akan memproses aktifitas jual/beli pada situasi pasar dengan proses yang singkat. Platform ini memiliki berbagai fitur, seperti diantaranya; bot trading, signal trading, portfolio, dan demo mode trading. 
Untuk memulai dengan Bitsgap, anda hanya perlu menghubungkan akun Indodax Anda melalui API yang dapat Anda akses melalui menu yang berada pada laman website akun Indodax Anda. Untuk mengetahui Informasi lebih lanjut, dapat dilihat pada tautan berikut.
GoodCrypto adalah sebuah layanan bot trading yang memungkinkan pengguna untuk melakukan trading asset digital secara otomatis. GoodCrypto memungkinkan para pengguna untuk dapat menerima notifikasi dan memasang pengingat serta dapat melacak riwayat trading. Saat ini, GoodCrypto telah tersedia di platform iOS dan Android. Untuk mengetahui Informasi lebih lanjut, dapat melihat tautan berikut.
Neironix adalah layanan penyedia informasi dan analisa tentang pasar aset digital, yang mana sangat diperlukan bagi trader untuk mempelajari lebih lanjut mengenai aset digital dan membuat keputusan dalam melakukan trading. 
Neironix memberikan akses tanpa batas pada beberapa fitur, yaitu; informasi terbaru aset digital, portofolio trading pribadi, notifikasi trading pribadi, kalender aset digital, kalkulator trading, dan analisa pasar aset digital. 
Applikasi Neironix telah tersedia di IOS dan Android. Untuk mengetahui informasi lebih lanjut terkait penggunaan layanan Neironix, dapat mengakses tautan berikut.
Dengan adanya integrasi ini, kami mengharapkan dapat membantu dan mempermudah member Indodax dalam melakukan trading asset digital di Indodax serta memantau portfolio juga mengetahui informasi terbaru mengenai suatu project Aset Digital. 
PERHATIAN: PT. Indodax Nasional Indonesia TIDAK bertanggung jawab atas penggunaan Bitcoin, Ethereum, atau digital asset lain yang dimiliki para member. Seluruh penggunaan dan kepemilikan Bitcoin, Ethereum atau digital asset lain menjadi tanggung jawab pribadi masing-masing para member.
Salam,
INDODAX – Indonesia Digital Asset Exchange
Hello Indodax Member,
Indodax has now finished integrating with two bot trading services, Bitsgap and GoodCrypto. We are also successfully integrating with Neironix as an Information Service Application for Digital Assets.
Bitsgap is an application service intended for traders who want to manage digital assets efficiently. The use of Bitsgap, process buying and selling activities in a market situation automatically with a simple and short process. This platform has various features, such as; trading bot, trading signals, portfolio and demo mode trading.
To get started with Bitsgap, you only need to connect your Indodax account through an API that you can access through the menu section on your Indodax account's website page. For further information, kindly check the following link.
GoodCrypto is a trading bot service that allows users to trade digital assets automatically. It allows users to receive notifications and set reminders. It also can be able to track trading history. GoodCrypto is available on iOS and Android platforms. Further information, kindly check the following link.
Neironix is a service provider of information and analysis about the digital asset market, which is very much needed for traders to learn more about digital assets and make decisions in trading. 
Neironix provides unlimited access to several features, such as; the latest information about digital assets, personal trading portfolio, personal trading notifications, digital asset calendars, trading calculators and digital asset market analysis.
Neironix is available on IOS and Android. For further information, you can access the following link.
With this integration, we hope to be able to help and facilitate Indodax members in trading digital assets at Indodax, monitoring the portfolio as well as getting the latest information about a Digital Asset project.
CAUTION: PT. Indodax Nasional Indonesia is NOT responsible for the use of Bitcoin, Ethereum, or other digital assets owned by members. All uses and ownership of Bitcoin, Ethereum or other digital assets are the personal responsibility of each member.
Regards,
INDODAX – Indonesia Digital Asset Exchange